Our mission is to offer the products and capabilities of a national manufacturer, the care and service of a small business, and a fierce commitment to building relationships. We are a family company first, a
relationship-builder second, and a quality
product and service provider always.
Since 1984, we've been creating best-in-class
products and growing our business by providing
effective solutions for our customers. We stand apart
by offering our clients a full range of premium products
with the personalized service of a trusted local business,
so that our customers experience the best of both worlds.
Our team of exceptional people makes it their priority every day to provide remarkable products, service, and support. We're passionate about our people; from our amazing employees, to our vendor partners, to the distributor and contractor customers we serve. Through our unwavering commitment to our core values, we build relationships to drive product quality and innovation, and best-in-class customer service.
---
Free Online Roof Visualizer Tool
Help homeowners find the perfect shingle color for their home with PABCO® Roofing Products' Roof Visualizer. Most homeowners have a difficult time picturing how their new shingles will look on their roof. Help your customers better imagine their new roof by directing them to PABCO's free visualizer tool!
This tool is mutually beneficial for you and your customers. They get an idea of what their home will look like, while you have a visual representation of what they want allowing you to easily deliver what they want for their home.
---
PABCO Roofing live at WRE
---
Sign up for PABCO's Blog
The Rooftop Reader is a blog about Asphalt Shingle Residential Roofing from PABCO® Roofing Products for homeowners and contractors alike. The blog features plenty of information for contractors on the industry at large, as well as tips and advice on how to successfully run a contracting business. From building a digital brand to discussing if you need universal shingle starters, the Rooftop Reader will give you the scoop on how to better your business.
The blog also features posts that keep homeowners up to date on the newest PABCO products and stories, offering educational resources and vocabulary that will help the homeowner feel confident about their roofing choices. The Rooftop Reader walks homeowners through everything they need to know about high wind and asphalt shingles, to why PABCO shingles have a tapered design. The Rooftop Reader is an invaluable resource to anyone interested in learning more about their roof and PABCO products.
Sign up for Rooftop Reader and start reading the blog today!
---
Pacific Coast Parent Company
Fred Anderson and his wife Pat put everything they owned up for collateral in exchange for a bank loan. (this, after being turned down more than once) Fred could have used Pat's family name and industry reputation, but refused, determined to make it on his own. After leasing a piece of property, they bought an old delivery truck and enough inventory to last them a couple of months. They placed a small ad in the Sacramento Bee newspaper, announcing the grand opening of Anderson Lumber, the Monday following Valentine's Day. Coincidence? We think not.
That little lumber company was built with big heart. Sacrifices were made. Buildings were constructed. Lives were changed. As the saying goes, innovate or follow. Fred and Pat were innovators. Good times and bad, the business grew. Always with a laser focus on people, building. From those humble beginnings, Pacific Coast Building Products and then PABCO® were born.
The story of Pacific Coast Building Products, Inc. and its family of companies is a testament to the importance of honesty, fairness and a concern for the well-being of others in everyday relationships. Much has changed in the years since Fred Anderson began his first lumberyard on a shoestring, but much remains the same.
Fred made it a point to get to know his customers. He listened to what they wanted and delivered a little more. Dealing fairly and honestly with people, providing the best quality building products at a fair price. The company has grown. The culture remains the same today. Treat customers, employees and suppliers like family. Develop relationships based on mutual trust and respect. Hire and train the best people for the job. We're not interested in building things for the sake of selling products. We're interested in building things that last—people, relationships, structures and communities. Speed and convenience are one thing. Quality and care are every-thing.
You spent years learning your craft—designing, planning, building, selling, finishing—and so have we. The early years weren't always pretty, or easy. Time is an investment. And things only get better with time (and a little elbow grease). Always listening, learning and improving. The results are worth the effort. Understanding building codes and regulations, seasons and sales cycles, industry ebbs and flows. Helping you succeed every step of the way. And, just like you, we have a stake in the outcome. Achieving growth, profitability, and a loyal following.
Every member of the PABCO® team listens to what you want, speaks your language, and will treat you like family— with mutual trust and respect. You can count on it. PABCO® Building Products is in the business of people, building. Carefully, consistently, and creatively. What the job demands.
---
Architectural Asphalt Shingles
If you want an upgraded traditional laminated shingle, choose PABCO Prestige®. A combination of a heavyweight, laminated shingle with expanded color choices, PABCO Prestige provides the options you need, backed by an industry leading warranty.
PABCO Prestige is the clear choice for custom homes, commercial steep slope installations, and demanding environments. Whether you're a homeowner or contractor, this is the kind of trust and confidence on which you can build a home and a relationship. Prestige meets UL790 Class A Fire Resistance Standard and is available with Algae Defender®.
Browse our Architectural Shingles Brochure.
---
Signature Cut Shingles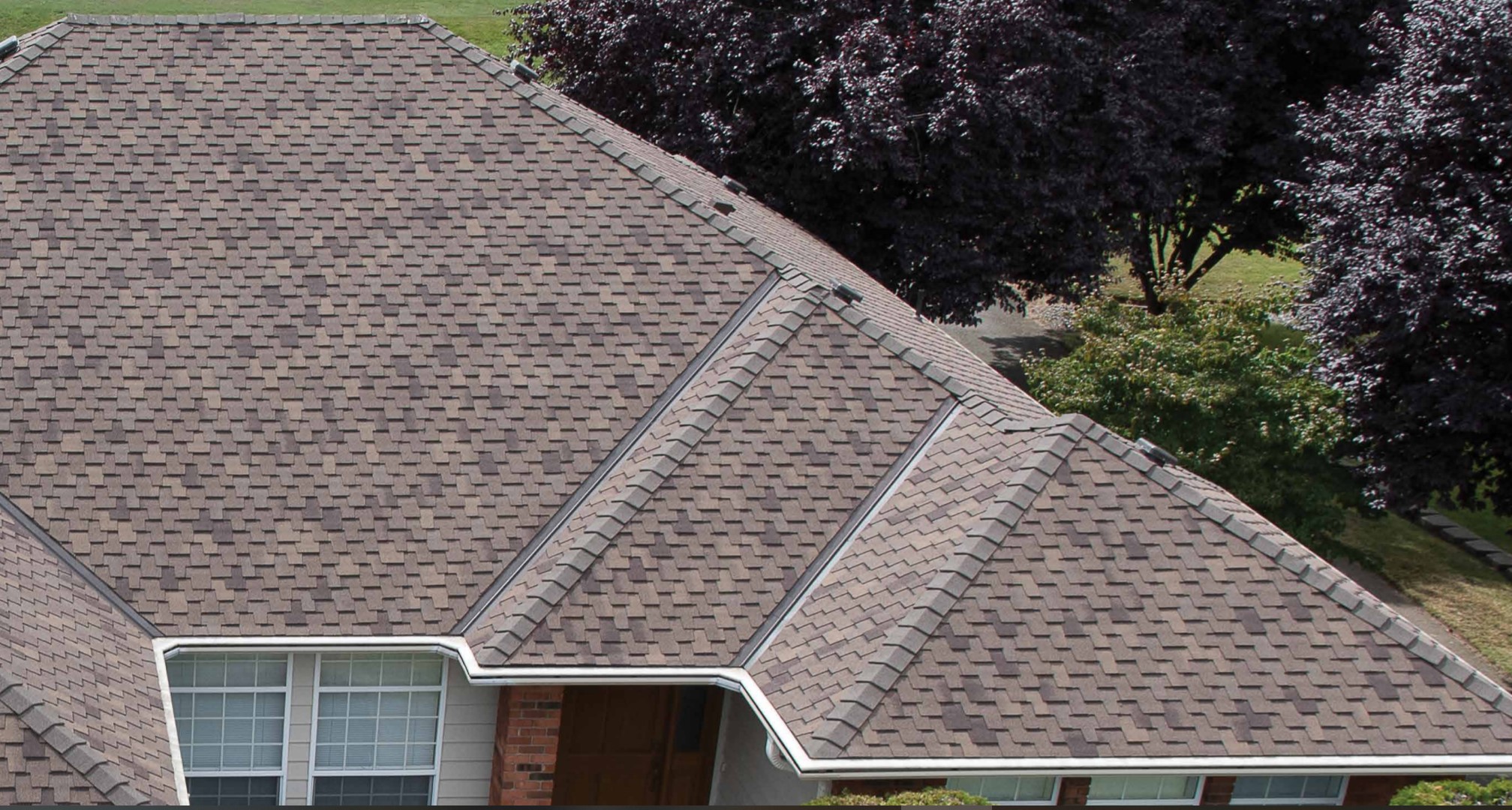 If you're someone who expects the best, look no further. Paramount Advantage® is our top-of-the-line product: a heavyweight, open-tooth, architectural shingle, setting the standard for premium roofing products.
Paramount Advantage is specified by many homeowners' associations due to its bold appearance and proven track record. The security of meeting UL790 Class-A Fire Resistance Standard, combined with the flexibility of four striking color options, a Limited Lifetime warranty, and featuring Algae Defender® protection, makes Paramount Advantage the natural choice.
Browse our Signature Cut Asphalt Shingle Brochure.
---
Cascade™ Signature Cut Shingles
Our unique and distinguished Cascade™ diamond-shaped shingle is the perfect choice for your historical-style home. Featuring our exclusive U.S. patented design, Cascade shingles have a style that honors your home's heritage. The unique shape accentuates steeply-sloped roofs, offering a glimpse into an idyllic past. Cascade is available in four classic colors, meets UL790 Class A Fire Resistance Standard, offers a Limited Lifetime warranty, and features Algae Defender®.
---
Solar Reflective Shingles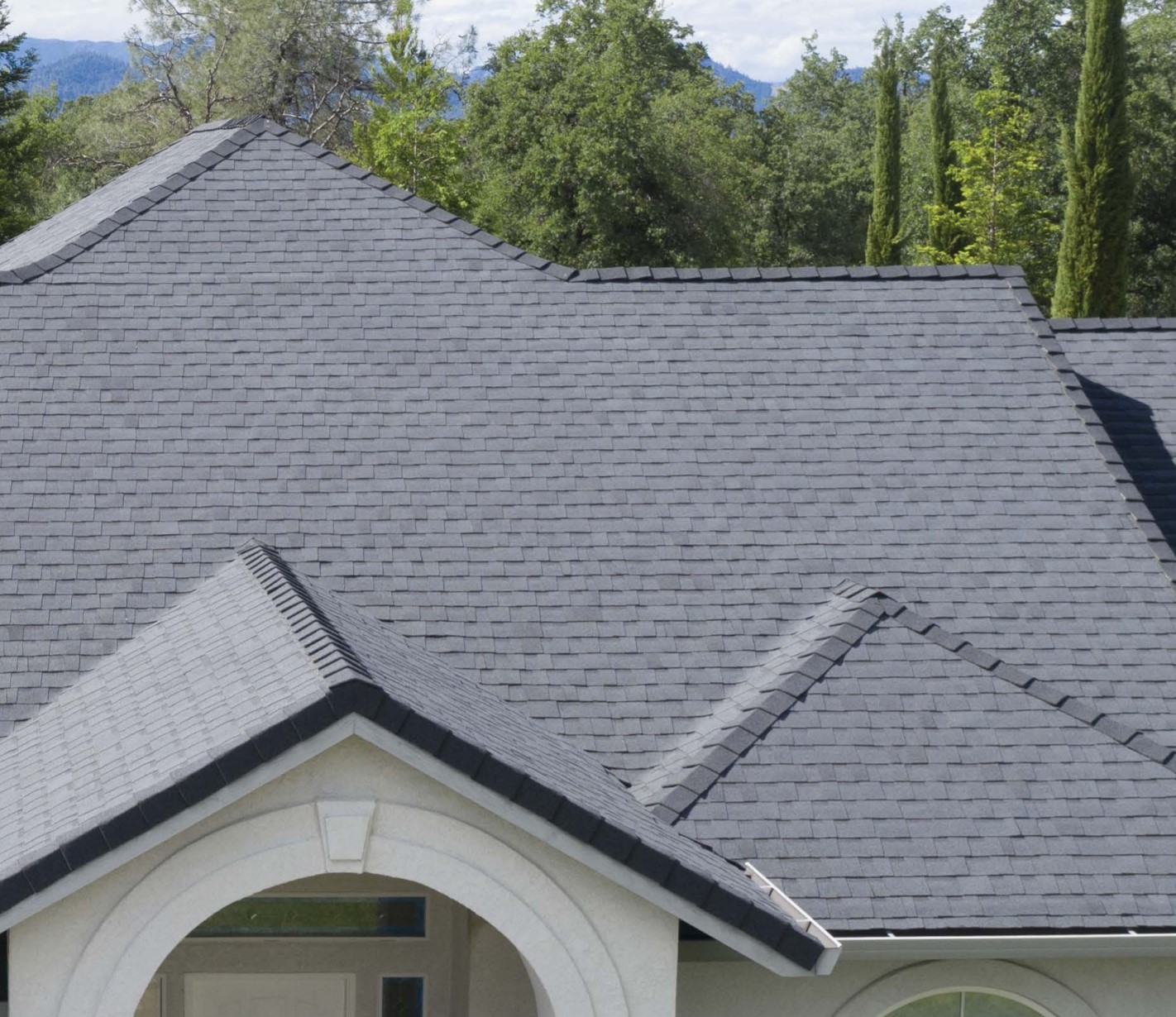 Our Premier Radiance® shingles provide more than just a roof over your head.
Infused with solar-reflective granules, this shingle reflects heat-producing ultraviolet rays from the sun back into the atmosphere, which may reduce heat transfer into your home. Premier Radiance is available in several vibrant colors, so you don't need to compromise on style.
By utilizing PABCO®'s proven cool technology, Premier Radiance solar reflective shingles are perfect for hotter climates where air conditioning use is high. Premier Radiance meets UL790 Class A Fire Resistance Standard.
Browse our Solar Reflective Shingles Brochure.
---
Design Your Roof with our Home View Roof Visualizer
Explore our product line of premium asphalt shingles, from our Signature Cut to our Laminated Fiberglass roofing products.