PABCO Roofing Products Video Playlist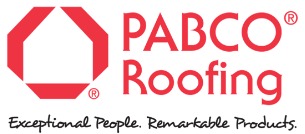 To learn more about PABCO Roofing Products, visit their RCS Directory.
See more videos on our YouTube channel.
---
Signature Cut Shingles
Our Signature Cut asphalt shingles are built for performance and designed for beauty. Explore our premium line of Signature Cut shingles: Signature Cut Shingles.
---
Cascade Diamond-Shaped Shingles
Our unique and distinguished Cascade™ diamond-shaped shingle is the perfect choice for your historical-style home. Featuring our exclusive U.S. patented design, Cascade shingles have a style that honors your home's heritage. The unique shape accentuates steeply-sloped roofs, offering a glimpse into an idyllic past. Cascade is available in four classic colors, meets UL790 Class A Fire Resistance Standard, offers a Limited Lifetime warranty, and features Algae Defender®
---
Premier Radiance Solar Reflective Shingles
BEAT THE HEAT. DO IT IN STYLE. Our Premier Radiance® shingles provide more than just a roof over your head. Infused with solar-reflective granules, this shingle reflects heat-producing ultraviolet rays from the sun back into the atmosphere, which may reduce heat transfer into your home. Premier Radiance is available in several vibrant colors, so you don't need to compromise on style. By utilizing PABCO®'s proven cool technology, Premier Radiance solar reflective shingles are perfect for hotter climates where air conditioning use is high. Premier Radiance meets UL790 Class A Fire Resistance Standard and certain colors are available with Algae Defender®.
---
---