MFM Building Products, founded in 1961, is a manufacturer of self-adhering waterproofing membranes for the residential and commercial roofing marketplace. Our product line includes low-slope roofing membranes, steep-slope roofing underlayments, and roof flashing products and specialty tapes. Roofing contractors depend on MFM's experience and quality products to bring value to each and every project. Whether it is new construction, re-roofing, or roof repair, our membranes provide complete waterproofing protection.
All of our products are easy to use, self-seal around roofing fasteners, and come with a rock-solid warranty. MFM manufactures all of our products in Coshocton, Ohio, and are available through roofing and building product distributors throughout the United States. You can also request a FREE sample of our stocked items through the website. Rely on MFM Building Products for the best waterproofing and sealing solutions available.
---
The Early 1900s Building That This Company Calls Home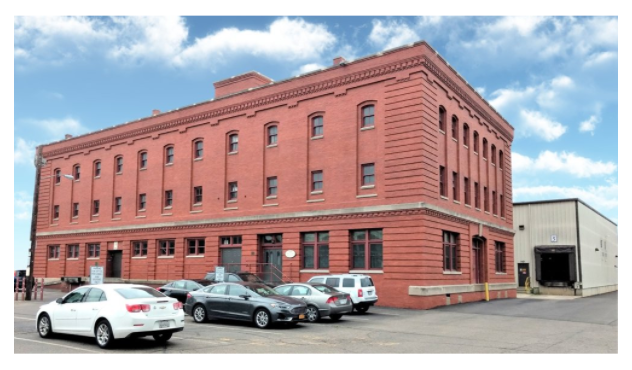 2021 marked the 60th anniversary for MFM Building Products. The company, founded in 1916, celebrated the longevity and legacy of their company, but their corporate headquarters have existed for nearly twice as long! The Eldridge-Higgins Building that MFM calls home is a historic building on the National Registry of historic places. With MFM's Expansion Project in 2021 marking their 60th anniversary, new offices in the main headquarters building were constructed and a new, state-of-the-art Research & Development laboratory was added to the historic site MFM calls home.
Read more about our historic building.
---
DeckWrap PowerBond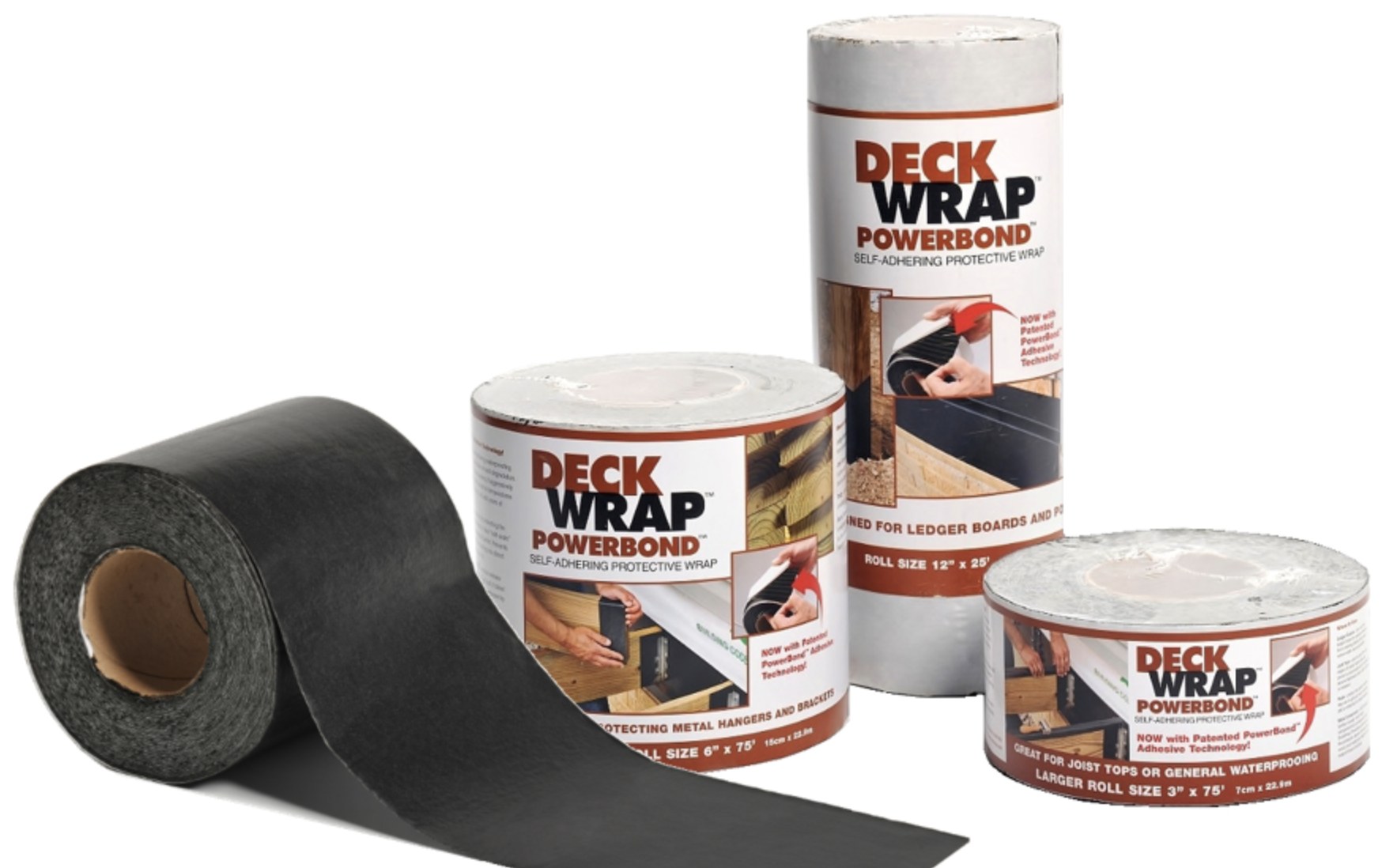 DeckWrap PowerBond® is a self-adhering waterproofing membrane that protects the surface of the wood with a layer of our patented PowerBond™ adhesive system. The asphalt adhesive self-seals around nails, screws, punctures and other fasteners to maintain a waterproof barrier.
DeckWrap PowerBond® Features:
PowerBond™ adhesive aggressively adheres in temperatures as low as 25°F (-4°C)

Prevents the degradation and rot of the wooden support structure and posts

Ideal for professionals and DIY'ers

Can be used with treated, untreated or synthetic wood products

Extends the life of decks and posts
Scroll to the bottom for your free sample!
---
WindowWrap® PSX-20
WindowWrap® PSX-20 is a patented, self-adhering 25
mil waterproofing flashing tape constructed of a tough,
aluminized, multi-layer polymer film. It is coated with a
specially formulated rubberized asphalt to stand up to UV
exposure.
WindowWrap® PSX-20 effectively stops water leaks around
windows and doors while reducing outdoor noise and air
infiltration.
The aggressive adhesive securely bonds the window
flange to the exterior wall, and the rubberized asphalt
self-seals around nails and staples.
PRODUCT FEATURES
Silver polymer construction resists exposure to ultraviolet rays and may be left exposed for 180 days

Aggressive Broad Temperature Spectrum (BTS) adhesive adheres to common window and building materials and remains flexible in low temperatures

Thin, flexible and self-seals around fasteners

Excellent flashing around windows, doors, joints, vents and other exterior openings
Scroll to the bottom for your free sample!
---
MFM Wind & Water Seal™
This is a 40 mil, self-adhering roofing underlayment composed of a non-slip polymer film laminated to a high-temperature rubberized asphalt adhesive. A split release film protects the adhesive and is removed as the underlayment is installed.
MFM Wind & Water Seal™ is engineered for use under all roofing materials including metal, asphalt shingles, shake or concrete shingles, and clay tiles. MFM Wind & Water Seal™ adheres aggressively to most clean, dry substrates including metal, plywood, OSB, foam insulation, house-wrap, rigid vinyl and masonry.
Composed of a non-slip, polymer film

Engineered for use under all roofing materials

Single-ply installation direct to the roof deck surface

Rated for HIGH TEMPERATURE applications

Ideal for secondary water resistance

Install in temperatures at or above 50°F

Self-sealing around fasteners

Minimum slope for installation is 2" per foot

Protects from leaks caused by ice dams and wind-driven rain

May be left exposed for 60 days

Comes with a 10-Year Warranty
Scroll to the bottom for your free sample!
---
Ultra HT Wind & Water Seal® High Temperature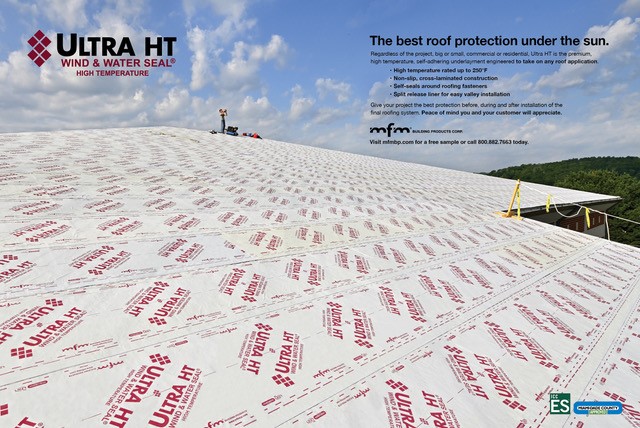 The best roof protection under the sun. Regardless of the project, big or small, commercial or residential, Ultra HT is the premium high temperature, self-adhering underlayment engineered to take on any roof application.
High temperature raised up to 250° F

Non-slip, cross-laminated construction

Self-seals around roofing fasteners

Split release liner for easy valley installation
Give your project the best protection before, during, and after installation of the final roofing system.
Peace of mind you and your customer will appreciate.
View the Ultra HT Wind & Water Seal High Temperature brochure.
---
Peel & Seal: Self-Stick Roll Roofing
Peel & Seal® is the original, self-stick roll roofing specifically designed for low slope residential and commercial applications. Composed of an exclusive formula (consisting of laminated aluminized foil, high-density polymer films and a thick layer of rubberized asphalt), Peel & Seal® provides a long lasting, durable, maintenance-free roofing surface.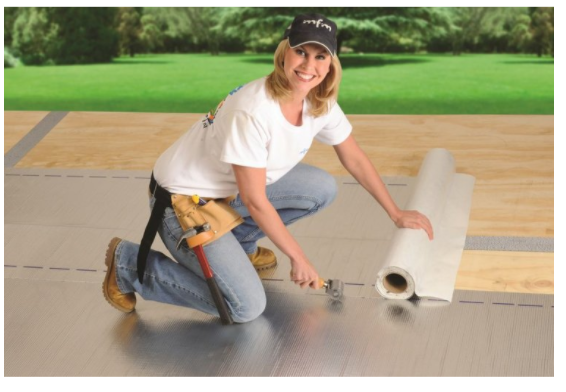 PEEL & SEAL® FEATURES
Single-ply, direct-to-deck installation

No torches, mops, glues or fasteners required

Designed to be left exposed indefinitely to the elements

Maintenance-free, tough, durable aluminum surface

Adhesive system will not crack or dry-out

Surface reflects heat keeping internal temperatures cooler

Available in four color options and seven width sizes
Scroll to the bottom for your free sample!
---
Roof Deck Tape
Roof Deck Tape™ is a 40-mil, self-adhering tape composed of a non-slip film coated with an aggressive asphalt-based adhesive system. The adhesive is protected by a disposable release liner, which is removed prior to application.
Use Roof Deck Tape to tape all joints and seams of a roof deck, preventing water, air and moisture from entering the structure. Once the joints and seams are taped, the roof may be covered with roofing felt, a synthetic underlayment or self-adhering underlayment like those offered by MFM. Some building codes require a roof deck seam tape when used under roofing felt or synthetic underlayment.
The aggressive asphalt-based adhesive used in Roof Deck Tape self-seals around roofing fasteners such as nails, screws and staples to maintain a waterproof barrier. Additionally, it readily sticks to plywood, OSB, rigid foam insulation, metal and other common roof deck materials.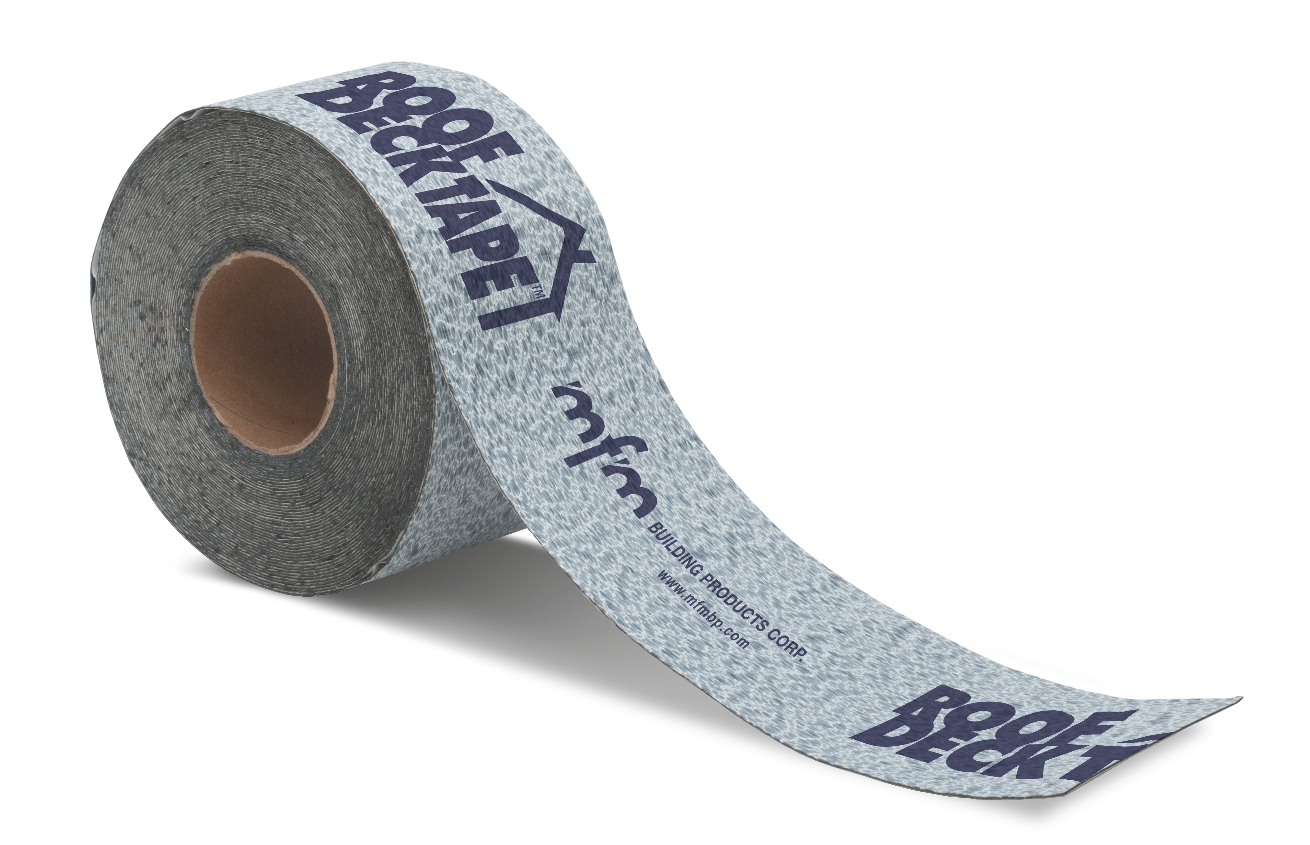 Roof Deck Tape may also be used to prepare a low-slope substrate for Peel & Seal® by taping wider than normal joint and seam gaps. Roof Deck Tape is the easy-to-use and economical way to prevent water from leaking into the building between the roof deck panels!
Scroll to the bottom for your free sample!
---
Self-Adhering ShingleStarter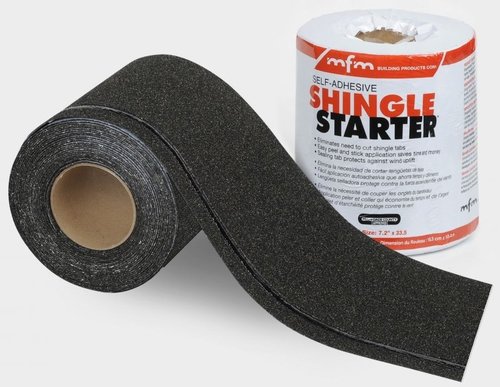 ShingleStarter® is a self-adhesive, 50 mil membrane that eliminates the need to cut shingle tabs saving the roofing contractor valuable time and money. ShingleStarter® comes with a sealing strip to prevent wind uplift at the roof edge.
The peel and stick application allows fast installation, saving time and labor. The membrane is waterproof and self-sealing around nails and other penetrations. ShingleStarter® may be adhered directly to the roof deck or to Wind & Water Seal™ self-adhering underlayments.
Scroll to the bottom for your free sample!
---
Ultra HT Wind & Water Seal®
Ultra HT Wind & Water Seal® is a 45 mil, self-adhering roofing underlayment composed of a white, non-slip, cross-laminated polymer film, laminated to a HIGH TEMPERATURE rubberized aggressive asphalt adhesive. Product is engineered for whole roof protection under shingle, tile, shake and metal roofing systems.
Ultra HT Wind & Water Seal® bonds to the substrate and seals around fasteners to limit damage caused by water penetration or leaks. It is ideal for secondary water resistance with proper roof ventilation. Product comes with a split release liner for easy installation in valleys, ridges and around chimneys.
Scroll to the bottom for your free sample!
Purchase the Ultra HT Wind & Water Seal.
---
Quality and Commitment
MFM Product Quality
Each of our products are tested and re-tested to ensure that they exceed your expectations for performance and reliability. Our in-house testing facility and strict manufacturing practices are focused on providing our customers with a consistent product, pallet after pallet, box after box.
MFM Commitment to Lowering Costs
At MFM, we continually investigate more effective materials and manufacturing procedures to keep our costs as low as possible. One way to provide our customers with the highest value is by making our products easy to install. Eliminating additional steps or procedures can significantly lower your labor and material costs to add more to the bottom line.
MFM – A Solutions Provider
Our skilled sales force is knowledgeable and experienced in the construction industry and can recommend the right MFM product for your application. Contact one of our professionals today on our FIND A REP page or by calling 800-882-7663 for the right solution to your waterproofing or weather barrier needs.