The Roofing Software Pros for Your Roofing Business or Project
Centerpoint Connect Is a web-based roofing software application that reaches across all devices in your company to form a fully connected workflow based system.
Centerpoint offers industry leading workflows that help contractors become extremely efficient. Streamline your work using this Project Management Software.
From the office to the field, Centerpoint Connect delivers a complete front-end solution for roofing contractors and how YOU do business!
---
Native App
The App for Service Techs is now available in the App Store for iOS devices.
Centerpoint Connect is a Roofing Software designed to handle your sales, service, estimating, and project management.
With the launch of this native iOS app, we are aiming to equip our service technicians so that they can work on their tickets in online or offline mode and to provide them with a better user experience as compared to the web version that they are already using.
---
Project Management & Production Guide - Free Download!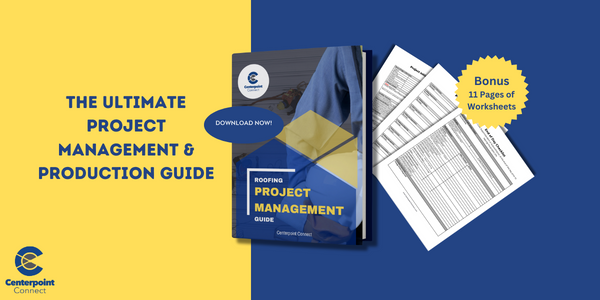 Centerpoint Connect's Free Ultimate Project Management & Production Guide provides Roofing Contractors with 65 pages of Project Management and Production process tips.
There are several factors that impact the delivery and management of a roofing construction project. This manual highlights everything you need to maximize your processes and productivity including sections on:
Project Planning
Project Management & Safety & Risk
Project Management & Estimating
Project Management & Productivity & Quality
Project Management & Service
Project Management & Technology
Project Management & Supply Chain
Plus 11 bonus pages of worksheets.
---
What We Offer
Customer Relationship Management: manage your book of business in a construction focused online environment.
---
Sales Management
Repeatedly sell service or projects while staying organized, and on top of your deals.
---
Service Management
Create work orders and pass them to your service crews for completion, all while communicating with your customer along the way.
---
Production Management
Manage projects daily and share progress updates automatically with your customers.
Project Files / Notes

Project Handoff

Scheduling

Track Schedule Of Values

Checklist

Daily Progress Reporting
---
Client Portal
Provide access to your clients and make it easy for them to buy from you.
Portfolio Access

Work Order Creation

Inspection Results

Real-Time Budgeting

Warranty Information

Inventory Repairs

Reporting