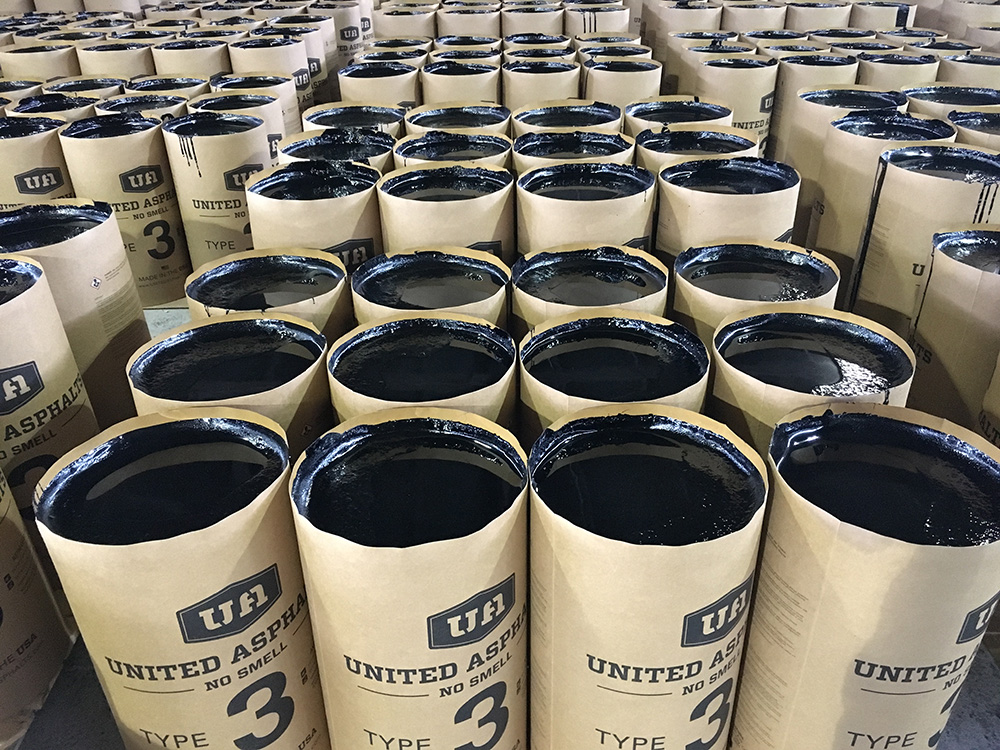 United Asphalts has been manufacturing oxidized asphalt for BUR since 1961. Based in Denver, Colorado, United Asphalts uses premium flux from local suppliers to produce ultra-high quality type 3 and type 4 roofing asphalt as well as type 2 waterproofing asphalt. UA's product has long been recognized as one of the best on the market having been accepted by almost all major manufacturers offering NDL full-system warranty built-up roof systems.
Today, the ever-increasing demand for materials and systems that can withstand the most extreme weather has lead United Asphalts to add the capability to manufacture ENDURAflex HT SEBS modified asphalt. This proprietary brand of SEBS is representative of UA's passion for the advancement of BUR and the belief in the ability of these systems to protect the commercial buildings of the 21st century.
At United Asphalts, we do not use any cheap filler or used motor oils in our asphalt and every pallet of our asphalt is shipped in our heavy 6mil heat shrink shrouds to ensure that your inventory will hold up in the harshest conditions. All of our products are also available in our 50# baby kegs – a United Asphalts exclusive.
Contact a United Asphalts Sales Rep.
---
Join us at the 2022 Western Roofing Expo in Las Vegas!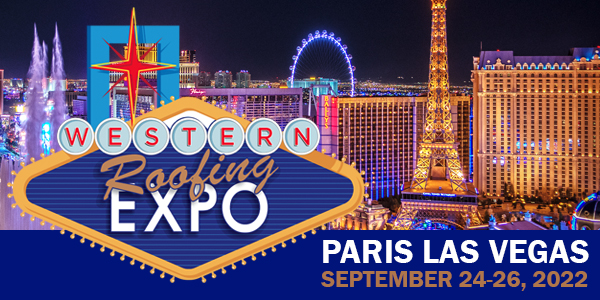 It's almost that time of year again...The annual Western Roofing Expo in Las Vegas is set for September 24th thru 26th, 2022 at Paris Las Vegas. This is the premier regional industry event for Roofers and water-proofers in the US.
The expo features a two-day trade show, 24 educational seminars, two keynote luncheons, The Roofing Games, golf and sporting clays tournaments, welcome event & auction, live demonstrations every hour on the exhibit floor, and networking. And of course, it's Las Vegas, where the recreational opportunities outside of show hours are unrivaled.
We'll be stationed in booth #351 with a full array of information on our lineup of products and happenings in the world of asphalt-based commercial roofing.
We have a lot to talk about at WRE 2022 and we are looking forward to seeing you there!
---
United Asphalts – Advancing Asphalt with ENDURAflex HT & the All-New FastPack Box!
The big news is that ENDURAflex HT is now
available in our all-new FastPack Box! This
amazing 50-pound parcel is easy to handle,
easy to lift and does not require chopping
making loading your kettle a breeze and
cleanup a snap. Plus, unlike melt-packs,
there is no plastic wrapper that will
contribute to coking of your kettle.
FastPack is 100% recyclable and unlike
traditional cartons, there is no metal
bottom to dispose of. Check out the video!
For pricing information, contact one of our
representatives.
---
Introducing ENDURAflex HT from United Asphalts
In early 2020, we launched our newest product, ENDURAflex HT. This SEBS polymer-modified asphalt is the go-to material when you need a built-up roof that can stand up to the most extreme weather conditions. ENDURAflex HT SEBS provides the waterproofing and weatherability of traditional asphalt with additional benefits like increased tensile strength, resistance to UV degradation and remarkable elastic elongation and recovery. These self-healing properties help to make ENDURAflex a key component in BUR systems with Class IV hail ratings.
Now available in our all-new FastPack box!
---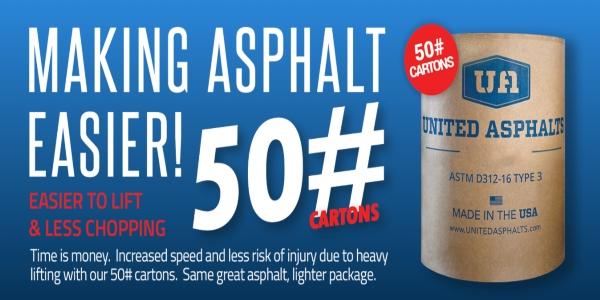 Easy to Ship 50# Cartons
48 Cartons per Pallet
20 Pallets per Truckload
960 Cartons per Truckload
Average Full Truckload Weight = 48,000 lbs.
A United Asphalts exclusive!
---
Superior Packaging
Every pallet of asphalt shipped is protected by our heavy 6mil heat shrink shrouds.
These high-quality, durable shrouds ensure
that our asphalt will hold up in your inventory under the harshest of conditions.
Reduce inventory loss
Order more when prices are lowest
Greater customer satisfaction
---
Customer Testimonial
"I have begun using the 50 pound kegs of asphalt from United Asphalts in the last few months. I have found that the convenience and the reduced heavy lifting for my guys has been a real lifesaver. I'm actually shocked that nobody thought about doing this a long time ago.
I can honestly say that I will never go back to using the hundred pound kegs of asphalt. This has been a revolutionary change for us in the way that we do large projects now. There is less lifting, less cutting, faster melt times, etc. I can't say enough good things about the baby kegs!"
- Chad Cassady of Cassady Roofing