United Asphalts has been manufacturing oxidized asphalt for BUR since 1961. Based in Denver, Colorado, United Asphalts uses premium flux from local suppliers to produce ultra-high quality type 3 and type 4 roofing asphalt as well as type 2 waterproofing asphalt. UA's product has long been recognized as one of the best on the market having been accepted by almost all major manufacturers offering NDL full-system warranty built-up roof systems.
Today, the ever-increasing demand for materials and systems that can withstand the most extreme weather has lead United Asphalts to add the capability to manufacture ENDURAflex HT SEBS modified asphalt. This proprietary brand of SEBS is representative of UA's passion for the advancement of BUR and the belief in the ability of these systems to protect the commercial buildings of the 21st century.
At United Asphalts, we do not use any cheap filler or used motor oils in our asphalt and every pallet of our asphalt is shipped in our heavy 6mil heat shrink shrouds to ensure that your inventory will hold up in the harshest conditions. All of our products are also available in our 50# baby kegs – a United Asphalts exclusive.
Contact a United Asphalts Sales Rep today!
---
Introducing Fast Pack from United Asphalts
---
Introducing ENDURAflex HT from United Asphalts
Learn More About ENDURAflex Here!
---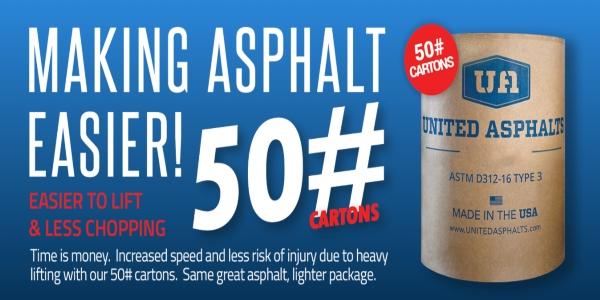 Easy to Ship 50# Cartons
48 Cartons per Pallet
20 Pallets per Truckload
960 Cartons per Truckload
Average Full Truckload Weight = 48,000 lbs.
A United Asphalts Exclusive!
---
United Asphalts Quick Facts
---
Superior Packaging
Every pallet of asphalt shipped is protected by our heavy 6mil heat shrink shrouds.
These high-quality, durable shrouds ensure that our asphalt will hold up in your inventory under the harshest of conditions.
Reduce inventory loss
Order more when prices are lowest
Greater customer satisfaction
Heat Shroud Process
---
Customer Testimonial
"I have begun using the 50 pound kegs of asphalt from United Asphalts in the last few months. I have found that the convenience and the reduced heavy lifting for my guys has been a real lifesaver. I'm actually shocked that nobody thought about doing this a long time ago.
I can honestly say that I will never go back to using the hundred pound kegs of asphalt. This has been a revolutionary change for us in the way that we do large projects now. There is less lifting, less cutting, faster melt times, etc. I can't say enough good things about the baby kegs!"
- Chad Cassady of Cassady Roofing