Watch Who We Are!
---
SOPREMA offers a comprehensive line of commercial roofing, waterproofing, wall protection and civil engineering solutions combining superior products and systems with decades of proven performance. Our solutions include industry-leading SBS-modified bitumen membranes, polymeric PMMA/PMA liquid applied membranes and synthetic single ply PVC membranes. For applications as diverse as roofing, below grade waterproofing, plaza deck and balcony waterproofing, air and vapor barriers and bridge and parking structures, SOPREMA has the solution. SOPREMA's relentless pursuit of technological advancement, sustainability, and product quality has been known and respected around the world for over 100 years.
Roofing
SOPREMA offers a vast array of roofing solutions allowing for choice and peace of mind in design and application. From the proven, redundant, durable protection of SBS-modified bitumen, to the multifunctional problem-solving features of highly flexible PMMA/PMA liquid applied systems, to the aesthetic and functional options of single ply PVC, SOPREMA has the time-tested solution. SOPREMA has been expertly investing in the roofing industry for over 100 years.
Waterproofing
For plaza or parking decks, below grade foundation walls, insulating concrete forms to garden roof systems, SOPREMA offers waterproofing solutions such as SBS-modified bitumen, liquid applied PMMA/PMA products and rubberized asphalt.
---
SOPRANATURE®
SOPRANATURE® vegetated systems offer a wide variety of social, economic and environmental benefits to building owners and communities. In addition to replacing mineral surfaces with permeable and living surfaces within the properties, they compensate for the loss of ecosystem services caused by urban development.
Learn more and request a sample.
---
Meet SOPRA-XPS
WHAT MAKES SOPRA-XPS UNIQUE?
Resistant in all of its aspects - In addition to being resistant to water and water vapor, SOPRA-XPS panels are versatile and capable of withstanding extreme temperature changes and freeze-thaw cycles without permanent damage. Moreover, even when exposed to moisture, SOPRA-XPS resists mold and bacteria.
Toughness & Sustainability - Rigid and non-friable, SOPRA-XPS panels are suitable for a variety of applications. Sharp and clean cuts are easy to make and do not generate dust. Lightweight and easy to install, SOPRA-XPS panels are offered with various compressive strengths to meet all needs. Moreover, they provide one of the highest compressive strengths on the market, whether against heavy or dynamic loads.
Constant Performance - SOPRA-XPS panels are compliant with the CAN ULC S701.1 standard thanks to the following four features: good compressive strength, high R-value (R-5/inch), dimensional stability and very low water absorption. Moreover, they provide a constant long-term R-value (LTTR) of R-5 per inch, even at low temperatures. They maintain their thermal and mechanical performance throughout the life of the building.
---
SOPREMA is your Resource - Find out how.
…WITH TECHNICAL EXPERTISE
SOPREMA has earned its place among the leaders of the building envelope industry by providing outstanding technical support and continuing education.
…WITH QUALITY PRODUCTS
For more than 100 years, SOPREMA has developed its products with the idea that quality, sustainability and reliability of materials must match builders' ambitions and expectations.
…WITH OUTSTANDING SERVICE
From the beginning of a project until its completion, the SOPREMA team delivers advice and knowledge to its customers regarding the design of plans and specifications, competitive pricing and installation techniques so the job is completed on time and on budget.
---
Introducing SOPREMA ECO3 Granule Surfaced Membrane
Request your free sample today!
---
SEEING IS BELIEVING: Watch The Time and Labor Savings With Your Own Eyes!
To back-up our claims of providing you with new time and labor saving products, we have developed a video library to show you just how some of our products can improve your projects.
SOPRASMART®:
Provides ease of application and labor savings by combining multiple layers into one. Whether it is the original SOPRASMART Board, combining the roof membrane and cover board, or SOPRASMART Board 180 ISO, combining the membrane, cover board, and insulation, you will save major time and labor savings.
---
New products
MINIMACADEN
Propelled and self-guided bituminous membrane installation machine designed to unroll, weld and smoothe base sheet and cap sheet membranes. It can be used on roofs, bridges, viaducts and parking decks. Delivered in a robust transport case (product code: 22047)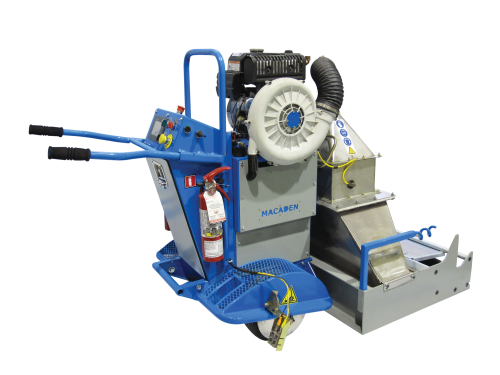 Benefits
4 times faster than manual installation
Lays the base sheet and cap sheet membranes while minimizing the risk of defects
Requires up to 75% less propane than manual installation
Vegetated roofing project at Wayne State University
---
Educational information
Looking for a way to expand the knowledge and skill sets of your current team? Participating in our Contractor Training Program is a great solution! From classroom to hands-on training, they will have the opportunity to learn about proper product and application methods. Check out some photos from previous courses to see what it's all about!