SOPREMA SG: Get a sample today!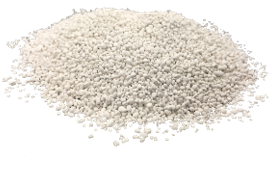 NEW HIGHLY REFLECTIVE GRANULE SURFACED ROOF MEMBRANE DEVELOPED THROUGH COLLABORATION BETWEEN 3M™ AND SOPREMA®
New SOPREMA® SG granule-surfaced cap sheets are improved with 3M™ Highly Reflective Granules, bringing improved durability and an even brighter white appearance to the market. The new 3M™ ultra-reflective granule is integrated into SOPREMA® SG surfaced roof membranes to create solutions that provide the solar reflective index (SRI) ratings needed to comprehensively meet the highest U.S. requirements. Building upon the individual success of SOPREMA® and 3M's reflective roofing products, the new SOPREMA® SG granules provide the proven protection of multi-ply SBS-modified bitumen roof membrane systems.
SG Granule Benefits:
Meets all U.S. reflectivity requirements (Title 24, FBC, IECC)
Lighter weight for easier handling
Highly reflective surface
Increases occupants' comfort while reducing energy costs
A bright white surface that doesn't sacrifice durability or redundancy: Available on SOPRALENE® & ELASTOPHENE® cap sheets
Learn about a project using SG granules.
For more information and to request a sample, visit http://info.soprema.us/sggranules.
---
Share this: