Leading the Spray Foam Roofing Systems Industry
Over the past 25 years, General Coatings has developed
a reputation as a company that provides exceptional
products for industrial, commercial and residential
use.
Our products are manufactured with an emphasis on quality, ensuring they will perform over the years no
matter what the environmental challenges.
Each product has been tested and certified by the authorities in the industry, to provide you with the assurance that they will meet your specific project
needs.
We pride ourselves on building personal relationships and see our customers as our partners. Call us today and speak with one of our knowledgeable salespeople, and you'll find our experience counts. General Coatings Manufacturing Corp. (GCMC) Foam Roof System offers high-density, spray polyurethane foam roofing systems that are designed to stop leaks, reduce energy loss, and extend the life of your existing roof. Constructed by applying multiple layers of strong, durable, and dependable roof coatings, the GCMC Foam Room System is ideal for use over Cap Sheet, Plywood/OSB, Metal, Concrete, ISO Board, Tar and Gravel roof substrates.
Roofing foam and elastomeric coatings for Cool Roof Systems
Tank and cold storage insulation systems.
Building insulation systems
Building materials for waterproofing and protection
Waterproofing for concrete protection
Custom formulations
Full warranties available
All roofing materials and coatings are fully certified
Visit our website.
---
You Could Win FREE Roof Coating Training!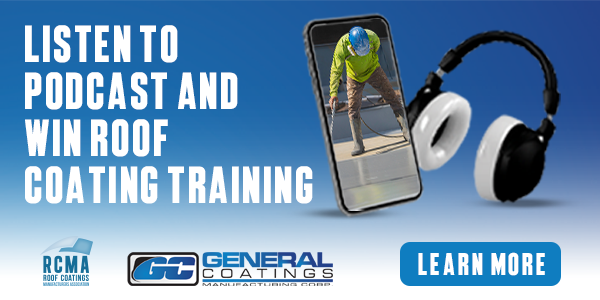 Heidi J. Ellsworth road trips south to catch-up with an amazing friend of RoofersCoffeeShop, Will Lorenz. Will is the newly appointed president of General Coatings and Everroof and the immediate past president of the Roof Coatings Manufacturers Association (RCMA). He will share information about the upcoming Spray Foam show and how foam and coatings are making a huge difference in combatting the material shortage while also providing a long-term sustainable solution. Listeners will have a chance to win free training modules for the RCMA roofing coating educational courses.
---
Coatings Contractor Panel at the 2023 RCMA Summer Meeting - Sponsored by General Coatings
Heidi J. Ellsworth moderates a panel of contractors at the 2023 RCMA summer meeting. They discuss what roofing companies are seeing in the market around coatings, how roof coatings are working for them and what manufacturers and chemical vendors can do better as well as answer questions from the audience.
Thank you to General Coatings for making this informative event possible. Contractors in this panel include: Rudy Gutierrez, Lisa Irby, Dennis Perry and Greg Palya.
---
Polycoat Lax's Legacy "HisStory"
"HisStory" demonstrates what is core to Lax's legacy, the continuation of our family-centric business to the third generation. Great chemistry, great manufacturing, great people, and great relationships have built this company.
---
Spray Foam Roof Details - Residential Flat Roof Recover