Watch Who We Are!
---
Founded in 1904 as the General Roofing Manufacturing Company, CertainTeed Roofing is a leading manufacturer of commercial, residential, metal, and solar roofing products and systems. Headquartered in Malvern, PA, CertainTeed Roofing has eleven manufacturing locations in the United States and a network of contractor and distributor partners across North America.
---
Use these great resources for your next estimate!
CertainTeed has a terrific E-book on demystifying shingle Warranties. Perfect for Homeowners, Get it Here!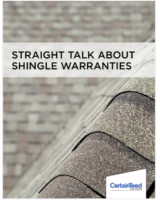 CertainTeed now offers the Matterhorn Metal Roofing Pitch book! Check it out!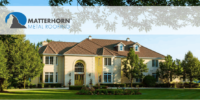 Great Infographic on complete roofing systems! Click here to download!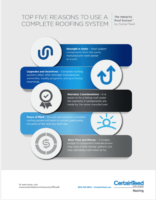 ---
When hail comes calling, you'll need a roof that's engineered to stand up to the assault. NorthGate shingles from CertainTeed are made with rubberizing SBS polymers that provide an industry-best Class 4 impact resistance rating. Find out more.