Low-Slope Roofing Time Trials – Self-Adhered SBS vs TPO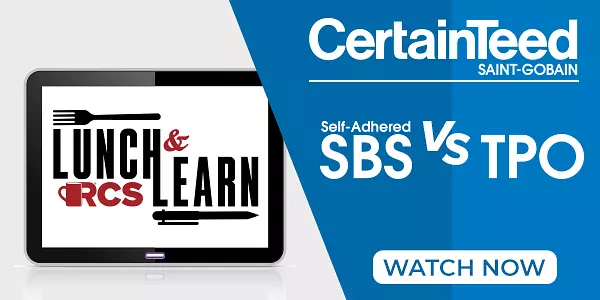 When it comes to speed of installation, too often industry professionals assume they know what is faster, but do they? CertainTeed asked the question as to whether single-ply beats multi-ply roof systems in installation speed. What they found through professional time trials may surprise roofing experts. Join Abby Feinstein as she shares the results of a recent time trial performed by the highly experienced team at Paul Crandall & Associates in 2021. They were asked to install three roof systems on the same roof with the same crew. The three systems were a three-ply SBS modified self-adhered (with half-lapped base ply), a TPO mechanically attached and TPO fully adhered. Watch this fascinating Lunch & Learn to see actual footage of how these system installations performed. Learn how to use this information to improve your production, performance and customer satisfaction.
Be sure to take a photo of your team enjoying this Lunch & Learn and submit your photo here or email us. We will select a winner each month to win a pizza lunch!
Watch below or here.
---
Share this: