The industry leading roofing estimating solution, Estimating Edge is a team of tradesmen and software experts working together to build "cutting-edge" software
for the construction industry. Estimating
Edge has two solutions, a desktop/cloud solution and a mobile application.
The EDGE is a professional-grade take and
cost estimating software solution and is the flagship product that's installed on a local machine. Customized for roofing, but also
for your business needs. For collaboration, multiple estimators can access by hosting critical data in the cloud.
Known for its customer support and software that's Smart – smart enough to calculate materials and labor costs while a user performs the takeoff (clicking directly on imported blueprint images). Once a user completes the on-screen takeoff, they can simply adjust materials and labor rates, correct any missing information, adjust the tax rate, profit target, and bond rate (if needed). All calculations are updated automatically, including change orders, and reports can be generated to assist with project management, accounting, and communication with customers.
EDGE On Site is a mobile application that extends the estimate to the field, allowing teams to track the production including change orders as work is completed. Stay sharp. Take your business to the next level with Estimating Edge.
Visit Our Website Here
---
Listen to our Podcast Playlist
Coffee Conversations: Roofing CEOs' Industry Outlook

S2E15: Join Heidi Ellsworth as she welcomes CEOs Adam Oaks of Estimating Edge, Deryl Kratzer from National Roofing Partners and Will Lorenz of General Coatings. These industry leaders share in depth what the first quarter of 2021 has truly looked like for the industry. Amid a pandemic with a light at the end of a dark tunnel, Heidi chats with these CEOs to get the inside scoop on what they have seen so far and what they think is coming. Join us for this riveting conversation with executives in the roofing industry.
Listen to More Podcasts Here
---
Expert Advice on Choosing Software - New White Paper!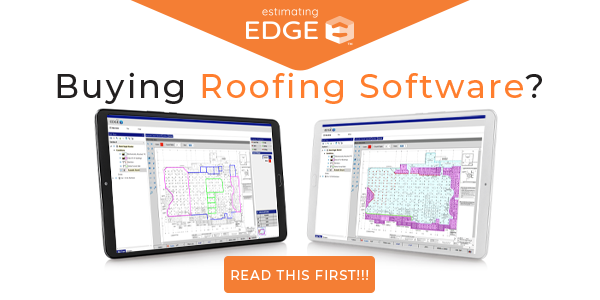 In a new white paper from RoofersCoffeeShop®, Jackie Hart and John Lombardo from Estimating EDGE, two longtime technology salespeople, give their expert advice on the five key considerations to make when selecting a new software. They also talk about the importance of helping roofing contractors understand what they need from an estimating software.
Discovering what you need from software, including how it matches your company culture and vision, is a critical part of selecting software. Jackie and John discuss the importance of relationship sales that help roofing companies understand pain points and needs when it comes to their software.
"Our job is to take what they're working with and try to be in their world and understand what they're facing, the problems or the good things," said John. "You've got to have your ears open and listen and try to understand what their position is."
Learn More Here
---
Contractor Software Success Story with Estimator Danny Boyle
Danny Boyle is a project manager and estimator for Hargrove Roofing's Houston office and has been in the roofing industry for much of his career.
Recently, he was featured on the first episode of Contractor Success Stories, sponsored by Estimating EDGE and made possible through RoofersCoffeeShop®. Danny comes with a wealth of experience using estimation software for project management needs and project takeoffs.
In this special video, he shares his experience and advice
for estimators looking to enhance their businesses with software.
Learn More About The EDGE by Visiting Our Website Here
---
RCS Talks with Ken Scales at the CRA Trade Show
---
The EDGE™ Estimator Roofing Software Features
Exclusive Industry-Leading Features for Takeoff and Estimating. One of The Best Roof Takeoff Systems Available!
The EDGE™ professional roofing estimating software is both robust and powerful, yet easy enough to learn that most roofing contractors or professional estimators will be up and running in a week or less. The EDGE features:
Complete all-in-one roofing takeoff and cost-estimating software solution

Ability to measure tapered insulation and standing seam metal roofing

Calculations for fastener lengths

Customized pricing for local trade rates for accurate roofing bids

Complex calculations for materials and labor costs in real-time
Schedule a Demo Here
---
Estimating Software
Designed by experienced construction industry professionals, The EDGE is the most effective takeoff to estimate solutions in the industry. Not only is The EDGE completely customized to your trade, but it's also customized to your business so that your takeoff sources the exact materials and manufacturers that your business utilizes. Designed for Acoustical Estimating, Drywall Professionals, EIFS, Fireproofing, Flooring Estimators, Painting Contractors, Roofing Estimating, Wall Panels, and much more.
Builder Built. Pro Preferred. The EDGE™ construction takeoff software is a professional-grade takeoff and cost estimating solution that enables commercial subcontractors to prepare estimates with greater accuracy, as well as increased efficiency and consistency. Perform takeoff with precise measurements from project blueprints simply by clicking the screen with your mouse. And because of the in-depth manufacturer databases, The EDGE will update your material and labor costs immediately, while also checking for costly errors. So you can bid with confidence. Designed by experienced construction industry professionals, The EDGE is the most effective takeoff to estimate solution in the industry.
---
EDGE on Site™
EDGE on Site™ extends the power of The EDGE™ Estimator
into the field giving users the power to monitor production
progress in real-time.
You've won the bid with the insanely accurate estimate
built with The EDGE™, but now you have to put it into
production without letting your profit margins slip.
EDGE on Site takes your estimates to the field, allowing
your Foreman to track progress and correct cost overruns
as they occur.
The easy-to-use EDGE on Site production management app runs on an Apple® iPad®, mapping the estimate, drawings, and change orders with virtually no data entry.
Watch More Videos Here
---
Adam Oaks on Coffee Conversations!