Johns Manville is a leading manufacturer and marketer of premium-quality insulation and commercial roofing, along with glass fibers and nonwovens for commercial, industrial and residential applications.
Our history goes back to 1858, when the H.W. Johns Manufacturing Company began operations out of a tenement building in New York City.
Here at Johns Manville, we provide the most complete product offering in the commercial roofing industry supported by numerous service groups to be there for you every step of the way.
Our core values are embedded in everything we do. We are people champions and thrive on our passion for going the extra mile. We perform at a superior level to give you the industry's best products, which protect your roofing systems today, to ensure that they last well into the future. We are proud that Johns Manville has become synonymous with innovation and quality and are excited about continuing our legacy by working with you.
Today, our products are used in a wide variety of industries including building products, aerospace, automotive and transportation, filtration, commercial interiors, waterproofing and wind energy. A proud member of the Berkshire Hathaway family of companies, we serve customers in more than 80 countries around the globe. Now in our 160th year in business, our commitment to our stakeholders is stronger than ever. We are dedicated to long-term partnerships with our customers and suppliers. We are passionate about providing a safe and equitable workplace for our 8,000 global employees. And we are committed to making a positive impact in the communities where we live and work. Our goal is to live by our core values of People, Passion, Perform and Protect.
Our global headquarters is in Denver, Colorado. We also have 46 manufacturing facilities across North America, Europe and China. We continuously invest in our people and our infrastructure to anticipate employee, customer and community needs and provide long-lasting solutions. This approach gives us the strength we need to be the Employer of Choice and the Supplier of Choice in the markets we serve worldwide.
Visit Our Website Here
---
Live Training November 16th - Ins and Outs of JM Two-Part UIA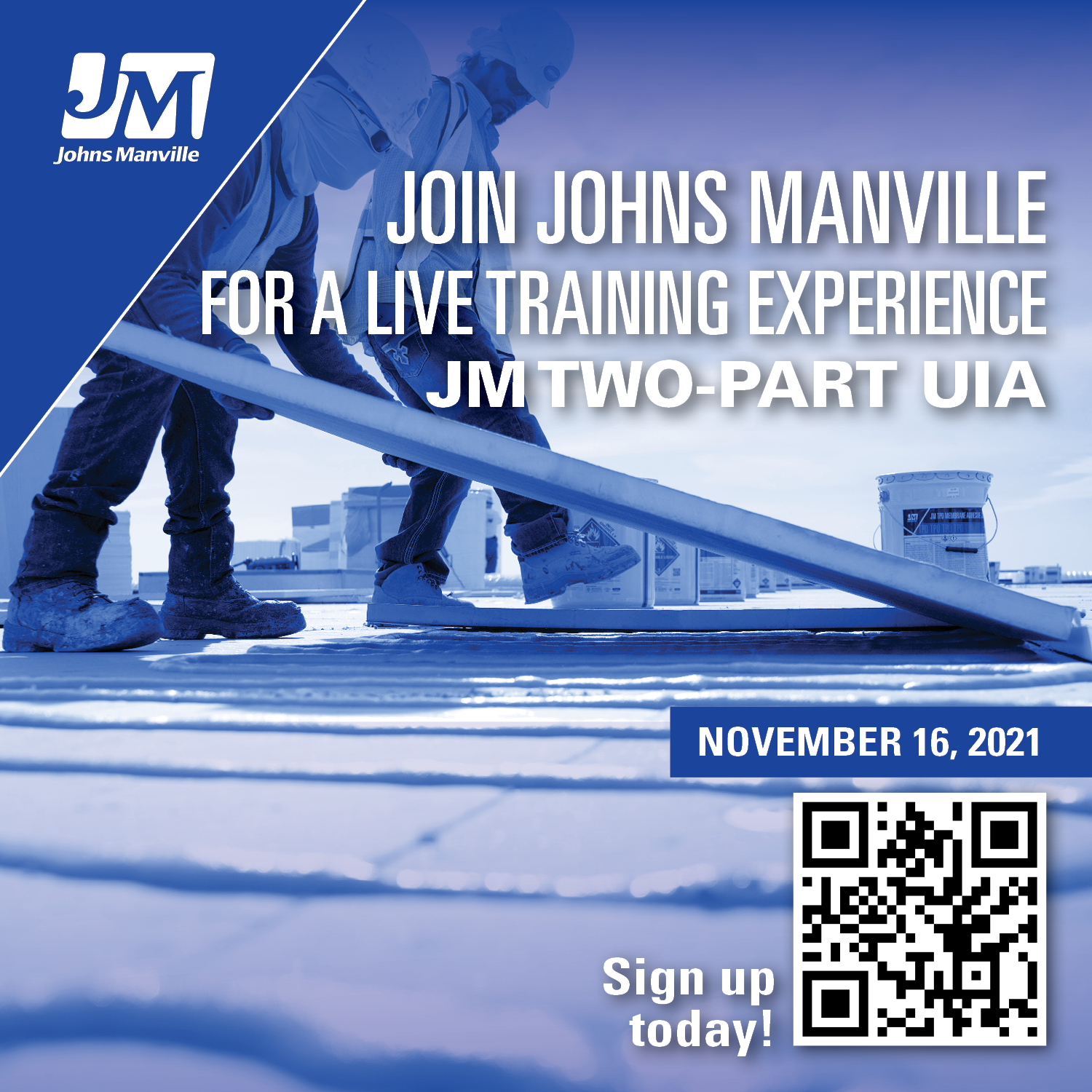 Tune in for our next live demonstration as we show different installation methods for JM Two-Part UIA (Urethane Insulation Adhesive). We will demonstrate the differences between the bead/ribbon application as well as the spatter pattern used to install fleece-backed TPO. You will be able to ask our experts questions during and after the event.
Key learning objectives:
Discover the different properties of JM Two-Part UIA canister and cartridge applications.
Learn proper installation for JM Two-Part Urethane using a bead application or spatter pattern.
Watch as our experts use the spatter pattern of the Two-Part UIA canister to install fleece-backed TPO.
---
Announcing JM PVC All Season Sprayable Bonding Adhesive
Johns Manville is excited to announce an all new sprayable adhesive for JM PVC and JM PVC SD Plus. This new adhesive is designed to work in all seasons with a wide temperature window and quick flash-off times which can result in quicker installs even in cold weather. This product can adhere smooth backed membrane to the field and walls.
Below is the new part number and packaging:
JM PVC All Season Sprayable Bonding Adhesive 40 lb. Canister - 70007720
Existing JM All Season Sprayable Accessories are compatible with this new adhesive and are listed below for your quick reference:
Sprayable Bonding Adhesive 6' Long Hose - 70006367
Sprayable Bonding Adhesive 12' Long Hose - 70006368
Sprayable Bonding Adhesive 18' Long Hose - 70006369
Sprayable Bonding Adhesive Applicator - 70006364
Sprayable Bonding Adhesive 18" Extension Applicator - 70006365
Sprayable Bonding Adhesive 5 Replacement Nozzles - 70006366
JM Sprayable Bonding Adhesive Flush LVOC 14 lb. Canister - 70006370
Learn More Here
---
Conferences
Earn More Than Money. Each year, as you qualify for Summit Club, Pinnacle Council, and 5280 Council, you will get the opportunity to enjoy luxurious travel to amazing destinations - staying in exclusive resorts and 5-star hotels.
See Details Here
---
Training
Learn. Train. Grow. We offer robust training opportunities designed to help you grow your business. In over 40 years, more than 60,000 roofing professionals of all levels of experience have been educated on the latest installation techniques and system knowledge. In addition, we offer On-The-Road training workshops - hands-on instructions and tours of our state-of-the-art manufacturing facilities.
Continue Your Education Here
---
Special Discounts
Enjoy The Perks Of Being A Pro. We are pleased to offer the Peak Advantage Co-Op Buying program. Our members can save significantly on business-related items and services; the program has helped members save over $8 million on essentials like tools, health insurance, cellular services, and more.
Learn How You Can Start Saving Here
---
The Johns Manville Roofing Institute
Allows for our JM Peak Advantage contractors to get hands on training at our Rockdale, IL facility. Our current instructor, Jonas Houchin, teaches best practices when it comes to the details and general installation for single ply and bituminous roofing systems.
Watch Our Video Here