Watch Who We Are!
After working as a lumberjack, carpenter, tool and die maker and soldier, among other jobs, John R. Burt got into the swimming pool business. After a liner he had purchased failed, he recognized the importance of vertical integration to control quality and founded Tri-City Vinyl to manufacture his own pool liners. One day it occurred to him: If his product could keep water in, it could keep water out. In 1978, that insight became the Duro-Last Roofing System.
The majority of roofing system failures then (and still today) are not due to the product itself, but to workmanship on-site. To solve this problem, Duro-Last developed custom prefabrication methods and specialized equipment that allows us to complete nearly 100% of the difficult roof details and up to 85% of field seams under ideal factory-controlled conditions.The result is lower on-site labor costs and better installation quality. Learn more about our prefabrication benefits here.
Duro-Last is now the world's largest manufacturer of custom-fabricated roofing systems. Duro-Last Roofing Systems, our contractor installation team, customer service and best-in-class warranties all set the quality standards for the roofing industry.
---
Discover the Duro-Last® Difference

Duro-Last offers solutions from Edge-to-Edge & Deck-to-Sky. As a full roofing system provider, we offer a complete portfolio of integrated and custom solutions that work together to optimize protection. From edge metal and drainage products through our EXCEPTIONAL® Metals division, which includes unique vinyl-coated products, to fasteners and plates, adhesives and a full line of Duro-Guard® insulation products, we have everything covered.
Learn more about the Duro-Last® Difference!
---
Duro-Life™ 600 Roofing System
Roofing System Overview
The Duro-Life 600 roofing system is designed to deliver 600 consecutive months – that's 50 years – of unparalleled, environmentally friendly roof and insulation performance. This sustainable system is the result of a collaboration between two long-standing, established American roofing materials manufacturers: Duro-Last® and DuPont™. If you seek an energy-efficient, durable, low-slope roofing option, while reducing building materials entering the waste stream, turn to Duro-Life 600.
Duro-Life 600 Information
---
Beats Water, Wind, Sunlight…and the clock.
Learn more about our contractor advantages
The design and formulation of a Duro-Last Roofing System helps it beat the elements. And it helps you beat the clock. Our factory-welded seams eliminate most of your onsite seaming, reduce waste and errors, and dramatically cut your installation time. Proving that the "World's Best Roof®" is good not only for building owners, but for contractors like you.
Duro-Last manufactures a custom-fabricated, single-ply commercial roofing system that is ideal for any flat or low-sloped application. Extremely durable and easily installed by authorized contractors without disrupting building operations, the Duro-Last Roofing System is watertight, highly reflective, resistant to chemicals, fire and high winds, and virtually maintenance-free. Additionally, custom-fabricated roofing systems from Duro-Last eliminate up to 85% of rooftop seaming, resulting in lower labor costs and better installation quality. Learn more about our custom-fabrication benefits here.
Learn more about how to become a Duro-Last contractor.
---
Duro-Last X™ Custom-Cut Single Ply Roofing Membrane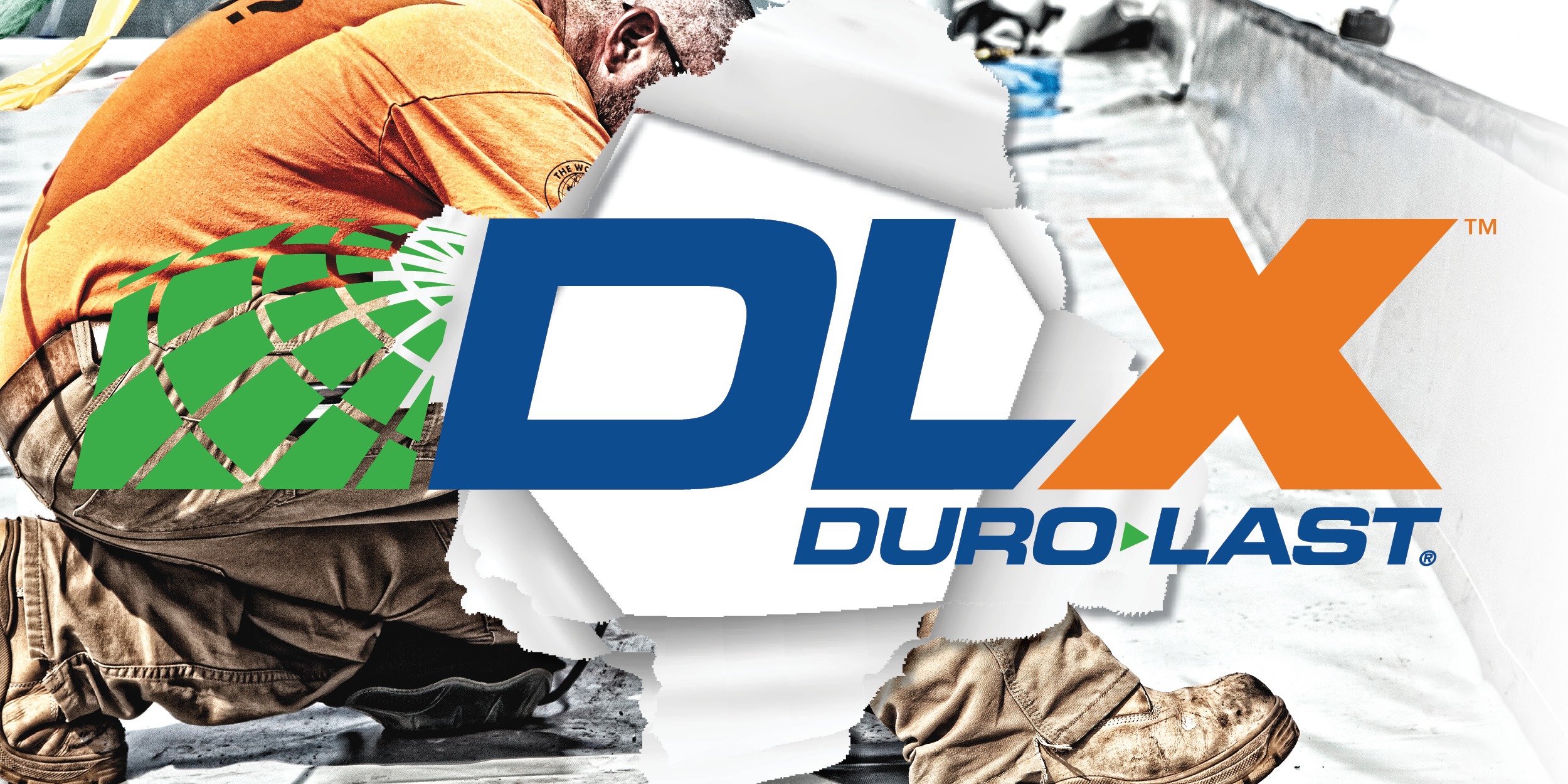 Manufactured with the same formulation as the industry-leading Duro-Last® membrane, Duro-Last X is an excellent choice for contractors seeking the convenience of roll goods coupled with the customization of custom-cut lengths. Designed to reduce scrap and improve installation efficiency over traditional roll goods, the Duro-Last X membrane is available in 10-foot wide rolls that can be custom-cut to any length up to 200 feet. While the formulation is the same, Duro-Last X is manufactured using a different process, resulting in a smooth matte finish. A complete line of custom-fabricated accessories and parapets are also available with Duro-Last X, which are made from the Duro-Last flagship membrane and have a glossier initial appearance.
---
To view the current career opportunities with Duro-Last, click here.
---
Duro-Last has your back with training opportunities! Find out more here.
---
Duro-Last Fire Safety