This project involved a combination of standard KnuckleHead Lite Pipe, Heavy Pipe and Strut Supports along with GREEN LINK custom-molded products that were engineered to fit the specific demands of the roof structure.
An airplane maintenance facility located in southwestern Michigan required replacement of its rooftop pipe system, which utilized wood sleepers of varying sizes.  A section of the steel corrugated roof presented an unusual challenge compared to a standard low-slope design.
Before:
Loose-laid sleepers are subject to movement, over time causing pipes to bend and contort. In addition, the wood will deteriorate and rot from weathering and biological attack. In some cases, the rotting wood allows screws to loosen causing brackets to detach so that they can no longer hold pipes in place. Specially designed polyurethane saddles were custom molded by GREEN LINK to fit on top of the corrugated contours of the roof.  One design accommodated steel strut for supporting multiple large pipes in a perpendicular configuration, while another design accommodated the Lite Pipe KnuckleHead for supporting smaller pipes. Additionally, a section of the roof featured a standard low-slope design. Here, standard Lite Pipe and Heavy Pipe KnuckleHead Supports with extensions and KnucklePads met the requirements of the job.  Both Lite Pipe and Heavy Pipe supports were capped using KnuckleCaps and KnuckleStraps to secure pipes in place.
During installation:
GREEN LINK follow up photo of airport maintenance facilty. It's a clean finish on that steel corrugated roof.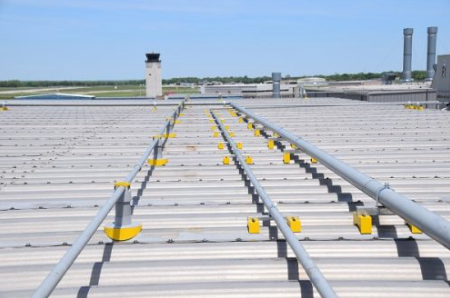 GREEN LINK is an innovative engineering company that develops and produces polymeric architectural products for the construction industry including specialized markets such as controlled environments.  GREEN LINK is committed to processes and products that cause no harm to the environment or human life. Learn more at www.greenlinkengineering.com