For over 50 years, Western Colloid has been recognized in the roofing industry as a leader in Fluid Applied Reinforced Roofing and Reflective Coating Systems. Our energy saving products, customer service and training, fleet of trucks and extensive experience in coatings offer roof and paving solutions that are second to none.
Any size job, big or small!
---
Western Colloid FARR Best Practices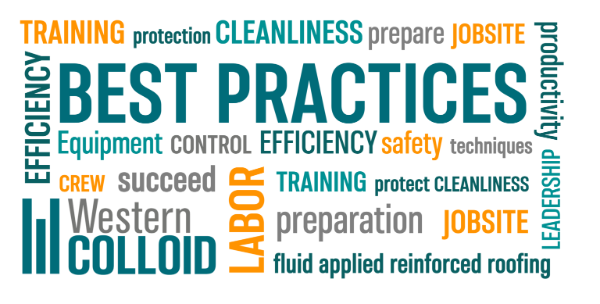 Gain access to this comprehensive training program for jobsite preparation, safety, and efficient installation techniques.

Great products along with a quality installation must be combined with good jobsite preparation. This ensures a successful project where everyone wins.

The Western Colloid team educates on how to prepare the jobsite, the equipment, and how to maximize crew efficiency in real-world scenarios. These techniques, tips and training can save thousands of dollars on labor alone.
---
Join us for the Understanding Roof Restoration Podcast

The Understanding Roof Restoration podcast dives deep into the topic of restoring roofs. As the popularity of roof restoration continues to grow among building owners and contractors, there are many questions that arise. With a wide variety of roofing systems on existing buildings and many available restoration options, we turned to the experts at Western Colloid to answer your questions on roof restoration. Greg Hlavaty, Hal Leland and the team at Western Colloid have been manufacturing and installing these systems for more than 50 years and they have seen it all! We will tackle a different topic each month and answer questions submitted by you, our listeners.
You can listen here or find these Podcasts at your favorite spots: Spotify, IHeartRadio, Google Podcasts, & Amazon Music. https://westerncolloid.com/understanding-roof-restoration/

---
Offering Live Demos in the West!
Want to learn about the lucrative business of fluid applied coatings? Watch this video and attend our next demonstration.
Learn the secrets, tips and tricks to being efficient and productive. Install a quality roof with less guys.
---
Unlike any other company, Western Colloid works with contractors to help build their business.
If you are new to Fluid Applied Reinforced Roofing let Western Colloid introduce you to these profitable roofing systems. The quality of the products combined with our excellent training programs and customer support create many opportunities for roofing contractors. Best of all, we can help lower your liability while helping you be more profitable!
We are proud of the relationships we have built over the years with our customers. We don't just sell the products; we're with you every step of the way. Offering Sales Support, Installation Training, Exceptional Warranties & Maintenance Programs.