Close More Deals. Save More Time. Stand out against
your competition. Project Map It is an all-in-one sales
and marketing tool designed to leverage your company's portfolio, reviews and craftsmanship. Increase your company's reach, reliability and book of work
through our fully customizable mapping
portfolio.
Project Map It is a more efficient, time-effective way to
close new business. Give your sales staff and team the
tools they need to scale your business. Stop wasting time
skimming through endless documents and paperwork. Project Map It is a great tool to amplify your sales process.
As you visit a prospective customer's home, you're asked many questions regarding your business, services and process. Give them the answers and examples they need efficiently and in real-time, helping them make a confident, more informed purchase decision. Show them the work you've done in their neighborhood, the shingle color or product type they're interested in, and all the positive reviews your business has received, all in one touch.
---
Strengthening Your Online Presence - A Guide for Roofing Contractors!
---
Schedule Your PMI Demo

Choose a time that works best for you and your team. Learn how Project Map It can help you close more deals, save more time and stand out over your competition!
Find a time to meet with Project Map It.
Check out our pricing that scales as you do.
---
CertainTeed's Affinity Marketing Program
We are a proud vendor of CertainTeed's Affinity Marketing Program.
With our partnership, we are able to create your map for you, using your SureStart Plus warranty data.
If you'd like us to make a map using your warranties, we will do that for free, so that you can then make an informed decision as to whether or not you want to subscribe to our services.
Feel free to just shoot us an email at info@projectmapit.com and someone will get in touch with you right away!

---
Why Choose Us?
Close More Deals:
Let your work speak for itself. Showcase your expertise, attention to detail and craftsmanship through our visual mapping portfolio. Give potential customers the confidence and reassurance they need to make an informed decision about your company and service offerings. Expedite your sales process and close more deals with Project Map It.
Save More Time:
We know your time is valuable, so we created a tool that will help you focus on your craft. With Project Map It, everything is expedited, automated and updated in real-time. Upload photos, write project descriptions, and manage and collect reviews — all on one platform.
Stand Out Against Your Competition:
While word-of-mouth marketing and lawn signs are great, they don't compare to the value Project Map It brings to the table. As consumers search online for home improvement contractors, they turn to visuals, detailed examples of work and customer reviews. They turn to their neighbors and online community for referrals. What better way to showcase your company's presence and previous work than on an interactive digital mapping portfolio?
Project Map It allows you to fully customize your portfolio to fit your branding, logo and color scheme. Easily share project pins or your portfolio to potential clients before a sales consultation. Differentiate yourself from the competition with a digital portfolio and review system that grows with you.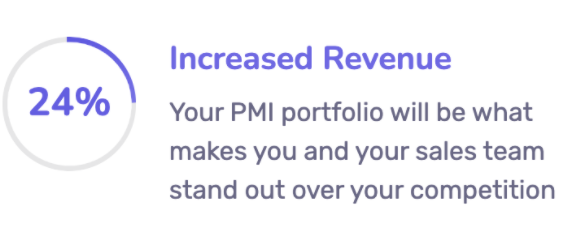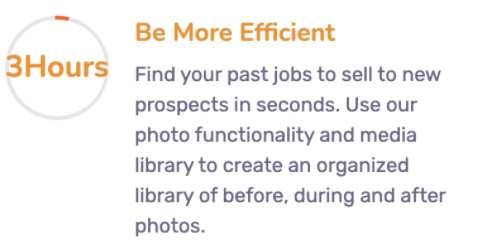 ---
A Digital Portfolio That Grows With You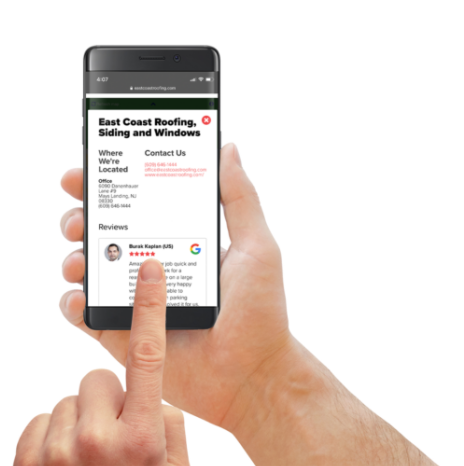 As you take on more projects, organizing and managing your portfolio becomes difficult and time-consuming. Project Map It is an interactive map that showcases all your previous work and lets customers search by area, project category, or even product type.
Easily embed the map on your website, share your projects on social media, or share your portfolio during sales consultations. Give prospective customers everything they need to take the next step, with you.
We know how important reviews are. They are the key to success in the home improvement industry. That's why we made it easier than ever before to collect new reviews and display existing reviews from Google and Facebook, all in one place.
Send survey reminder emails, manage your reviews, or make them private all within your dashboard. Project Map It allows you to create your custom survey, so you can conduct reviews in person (after the project is complete), or email it later.
---
Customizations Made Just For You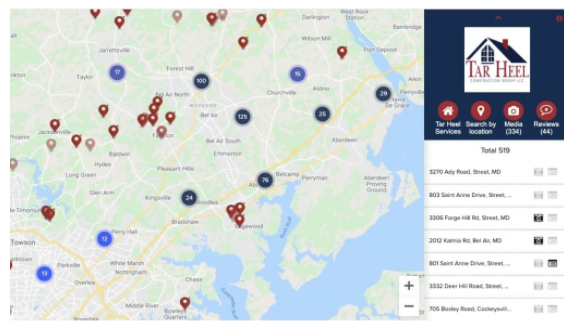 Project Map It is user-friendly and customizable to your business. Add your company logo, choose a color theme, and use a variety of colored pins on your map to represent different service offerings. Increase your brand awareness and presence in your community with Project Map It.
Use clusters or individual pins
Use a variety of colored pins
A variety of map themes available
Heat map for privacy of addresses
---
Put Your Company on the Map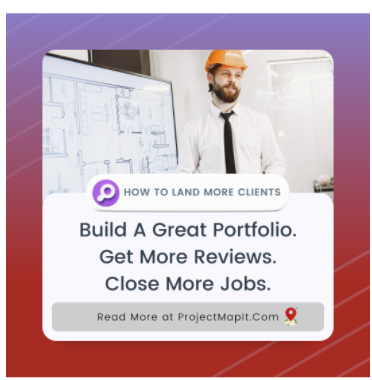 Our Project Map It team is here to set you up for success. Give us a call for more information or request a demo today. In as little as fifteen minutes, we will walk you through the simplicity of our digital mapping marketing tool and how to get started.
Ready to take the next step? Put your company on the map and onboard in as little as 48 hours. Our team is available for training and support, on your time.
Get the full Project Map It experience for 30 days, for free. Our team will help set up your portfolio and will be there for you throughout your onboarding experience.
---
Exterior Remodeling: Roofing, Siding, Windows & Doors, Decking & Fencing
As you visit a prospective customer's house, first impressions matter. Arrive on the scene with a digital portfolio to showcase your attention to detail, craftsmanship, and professionalism. Easily search and share a specific style of roof you've installed or the shingle colors you offer. Allow customers to read reviews, project descriptions, and see how many roofs you've worked on in their neighborhood.
Project Map It helps you build trust with your customers and close deals more effectively and efficiently. Post-installation, you can take and upload as many photos of your roofing project and instantly have customers fill out a survey. Update your portfolio in real-time through a phone, tablet, or computer.