National Women in Roofing (NWIR) is a volunteer-based organization that supports and advances the careers of women roofing professionals. We provide networking, mentoring, education and recruitment opportunities from the rooftop to the boardroom, for the young professional at the start of her career to the seasoned manager in the executive suite.
Our focus is on connecting and empowering women so that their training and leadership skills can help drive the overall betterment and professionalism of the roofing industry. Our membership also includes and welcomes men who support the inclusion of women in the roofing industry. Working together, we are bringing the industry to a new level of excellence by supporting and promoting the contributions of women as an essential component to the future of roofing.
Learn more about joining National Women in Roofing.
---
NWIR Day!
Two Months Until NWiR Day! We are hosting the fourth annual National Women in Roofing Day in Las Vegas, Nevada on August 8th in advance of IRE. By attending, you will connect, discover, and cultivate new relationships with roofing professionals.
---
Lynette Morgan and Alicia McMahon speak with Heidi about NWIR
---
Together More Than Ever Webinar Series
Click the graphic below to see NWiR's full calendar of events for upcoming webinars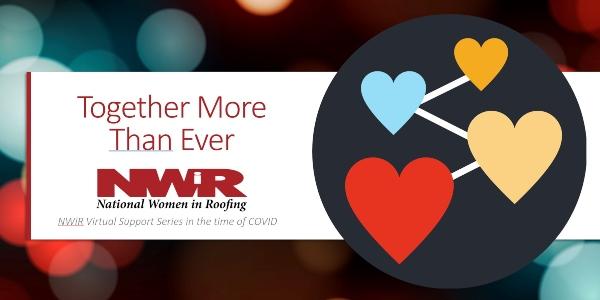 ---