National Women in Roofing (NWIR) is a volunteer-based organization that supports and advances the careers of women roofing professionals. We provide networking, mentoring, education and recruitment opportunities from the rooftop to the boardroom, for the young professional at the start of her career to the seasoned manager in the executive suite.
Our focus is on connecting and empowering women so that their training and leadership skills can help drive the overall betterment and professionalism of the roofing industry. Our membership also includes and welcomes men who support the inclusion of women in the roofing industry. Working together, we are bringing the industry to a new level of excellence by supporting and promoting the contributions of women as an essential component to the future of roofing.
Learn more about joining National Women in Roofing.
---
NWiR Day 2022!
We are just a few weeks away from this year's NWiR Day. The 5th annual event will take place on January 30th in New Orleans, Louisiana in advance of IRE. Come join us as we connect, discover, and cultivate new relationships with roofing professionals.
Still on the fence about registering? With over 30 sessions being offered, there's something for everyone!
The fifth annual NWiR Day is the premier conference for multidisciplinary women professionals in the roofing industry to get together to learn about the latest business strategies and tactics and share their secrets to success. Connect with professional, like-minded, good-spirited women from all facets of the roofing industry and experience insight, inspiration, and fun.
The is a FULL DAY program!
---
Lynette Morgan and Alicia McMahon speak with Heidi about NWIR
---
Together More Than Ever Webinar Series
Click the graphic below to see NWiR's full calendar of events for upcoming webinars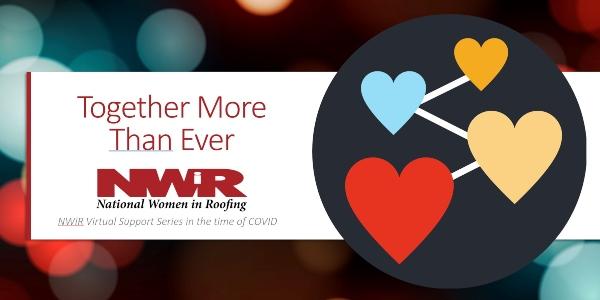 ---