Since 1886, the National Roofing Contractors Association has been the home for generations of entrepreneurial craftsmen and enterprises who shelter and protect America's families and businesses and each other. Our vision is the recognition of our members as professionals and to unite the industry to that purpose. NRCA is one of the construction industry's most respected trade associations and the voice of roofing professionals and leading authority in the roofing industry for information, education, technology and advocacy. It represents all segments of the roofing industry, including contractors; manufacturers; distributors; architects; consultants; engineers; building owners; and city, state and government agencies.
---
Certifications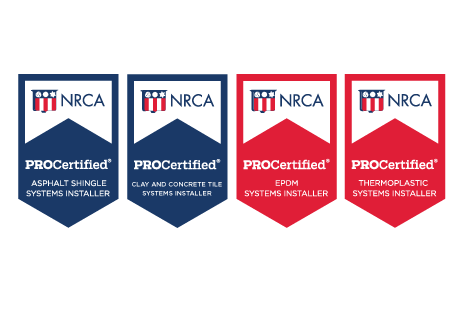 It's now more convenient than ever for experienced workers to become NRCA ProCertified Rather than passing an online exam for each type of roof system, installer applicants now only need to pass NRCA's low-slope or steep-slope online knowledge exam, which can be taken anywhere, any time, as many times as needed.
Installers can even take the online exam before they apply for NRCA ProCertification to measure their readiness. Once installers pass the online exam, they are eligible to take the hands-on performance exam. NRCA provides the resources installers need to help them on their paths to NRCA ProCertification, and all content is available in English and Spanish.
Have your workers apply today!
---
Qualified Assessor Program
NRCA ProCertification Qualified Assessors are designated in specific types of roof systems for which they evaluate the hands-on performance of roof system installers seeking NRCA ProCertification. Qualified Assessors must complete system-specific computer-based training, demonstrate technical and safety competence and pass a computer-based exam.
Qualified Assessor designations are currently available in asphalt shingle, clay and concrete tile, EPDM, and thermoplastic roof systems. Ultimately, more than a dozen designations will be available for all major roofing, waterproofing and rooftop photovoltaic system installations plus roof system repair and maintenance.
To get started, review the Qualified Assessor Quick Start Guide and eligibility requirements. Once you've read and understand these guidelines and requirements you are ready to complete your application.
---
NRCA Metal Panel Roof Pro-Certification
Experienced installers who demonstrate substantial skills and knowledge of metal panel roof systems now can apply to become NRCA ProCertified® Metal Panel Roof Systems Installers.
Give your company a significant competitive advantage and your roofing workers the national recognition they deserve!