Integrity Insurance & Bonding Inc is a family-owned company located in the Pacific Northwest specializing in insurance geared towards the roofing industry. Client relationships and exceptional service is a top priority.
We put in the extra effort to build an insurance program that specifically meets your needs. Integrity Insurance & Bonding Inc has the honor of serving numerous industries.
The following is a list of our industries served: Construction, Logging, Transportation, Real Estate, Sports & Recreation, Manufacturing, Wood Products, Habitational, Professional Services and Small Business.
Integrity Insurance & Bonding Inc was formed in 2018 by Seth and Ashley Pietsch. We both saw the need for a good independent agency that truly values their clients. Our agency goal is to create a relationship with our clients that is unbreakable. We trust our added services will exceed all expectations as we provide more than just an insurance policy. We provide a comprehensive insurance program that is custom built to cover what is most important to you. Having previously come from a family owned independent agency it is our desire to rebuild a legacy that will be handed down to generations to come. When you choose to work with us you become part of a legacy, we all can be proud of.
Mission Statement: Our mission at Integrity Insurance is to secure the future of our customers, agents, employees and community. We do this by being intentional about living our brand every day. With honesty, transparency and consistency being of the utmost importance we work hard to exceed all expectations. Our goal is to provide the best coverage with exceptional service, while developing lasting relationships with the greater purpose of creating a positive impact that spreads into our communities.
Vision Statement: Our vision is to set the standard of excellence among insurance agencies while expressing our values through our actions.
Core Values: Integrity is a concept of consistency of actions, values, methods, measures, principles, expectations, andoutcomes. Our growth is based on mutual success surrounding these values. When our customers and our employees grow, we grow. Honesty is the foundation that trust is built upon. At Integrity we will earn your trust by holding ourselves to the highest level of ethical standards. Transparency is the antidote to hypocrisy. At Integrity we value and encourage open minds who speak thoughtfully and respect diversity, giving everyone a chance to be seen and heard. Consistency is what transforms average into excellence. At Integrity we relentlessly strive to produce high-quality experiences. We're constantly developing, testing and improving to make sure we are delivering our very best personally and professionally.
---
We Have Moved!
To accommodate growing business demands, we have decided to move our office to a new suite.
Our new address is:
9201 SE 91ST AVENUE, SUITE 220
HAPPY VALLEY, OR 97086
All of our other contact information remains the same.
---
Forum - Roofing Contractor Insurance Questions Answered
This is your chance to ask important questions about your insurance policy. Seth Pietsch - RCS Influencer and President of Integrity Insurance & Bonding Inc. provides answers that can save you money and mitigate your risk.
Seth began working in the insurance industry in December of 2007 at the start of the Great Recession. He knows the importance of keeping insurance costs low, but at the same time keeping coverage intact. Seth has agreed to help roofing contractors answer the top 10 questions that should be asked of any insurance policy.
---
Top 10 Endorsements to Avoid In Your Insurance Policy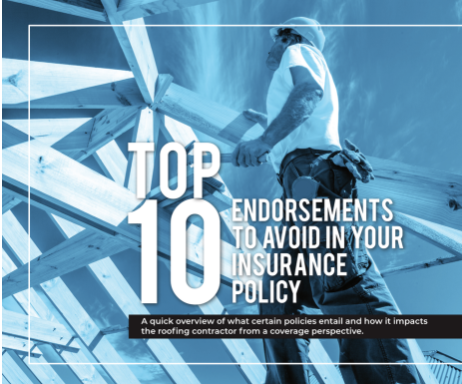 Integrity Insurance & Bonding is an independent agency that offers a comprehensive insurance program custom built to cover what is important to you.
Owners Seth and Ashley Pietsch started their insurance careers in a family-owned independent agency and they have centered Integrity Insurance on building a legacy for generations to come.
Here, they talk all about insurance and what roofing contractors need to be wary of in terms of their policy's coverage.
---
Customer Testimonials
"Integrity Insurance & Bonding is fantastic! Integrity is indeed the prevailing attitude of Seth and Ashley. Their willingness to go the extra mile for their clients is second to none; from quick responses to any question to reviewing the appropriate coverages! Stephens Homes, LLC highly recommends Integrity Insurance & Bonding."
— Sheila Zentz Stephens, Stephens Homes LLC
"We use Integrity for our business insurance and have been nothing but impressed with their honesty and customer service."
— C C & L Roofing Co
"There are a lot of companies that throw around words like integrity and honesty. Seth and Ash truly personify these words. I worked with them on several occasions and would recommend them to anyone. No one in this industry will work harder on your business needs. They make sure you're covered and that you understand why."
— Wendy Marvin, Matrix Roofing & Home Solutions