Save the Date!
FRSA's 100th Annual Convention and the Florida Roofing & Sheet Metal Expo
Date: July 19-22, 2022
FRSA's 100th Annual Convention and the Florida Roofing & Sheet Metal Expo
FRSA's convention consists of three full days of education, networking, family fun, sports and friends, along with two days of FRSA's highly recognized trade show, the Florida Roofing & Sheet Metal Expo.
More Information Coming Soon!
---
The Florida Roofing and Sheet Metal Contractors Association was founded in 1922 to bring together contractors as well as businesses with related interests. FRSA's purpose is to foster and encourage a high standard of business ethics among its members and to inform the general public of the importance of doing business with competent and ethical firms. FRSA encourages quality through research, education, and recognition of competence. The Association provides potential economies through the cooperative purchasing of insurance, financial services and other products and services designated by the Board of Directors. FRSA represents the interests and acts as the voice of its membership before government and regulatory bodies of all kinds and works to improve the overall industry in keeping with the general purposes of the Association.
Did you know FRSA offers online education? - For a complete list of online courses, Click Here!
RoofersCoffeeShop is on FloridaRoof.com! Proud to Partner with FRSA!
---
Check out what our members are saying:
---
Get your team involved in the Roofing Apprenticeship Program!!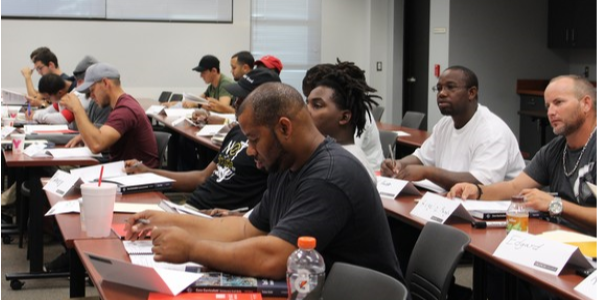 The ABC Roofing Apprenticeship Program is a three-year accelerated program, offering a mix of classroom and hands-on training, in addition to on the job training.
The program consists of 144 classroom hours per year, for a total of 432 hours and 2,000 on the job training hours per year (40-hour week) for a total of 6,000 hours.
Students who successfully complete the Roofing Apprenticeship Program will be trained on industry-specific topics, by industry instructors and will have experience in the following areas: (to name a few!)
Basic Safety - Complies with OSHA-10 Hour Training Requirements
Introduction to Hand Tools and Tools of the Trade
Introduction to Power Tools
Basic Rigging
Introduction to Material Handling
Overview of Built-Up Roofing
Roof Drains
Staging of Dumpster, Kettle and Chute or Crane
Roof Calculations and Measurements
Basic Communication Skills
Basic Employability Skills
Nails, Fasteners and Adhesives
Physical Characteristics/Properties of Metal
Steel and Other Metals
Principles of Layout
Sheet Metal Processes
And MUCH MORE!
Visit FRSA's website and learn how you can invest in your employees', your company's and the industry's future