An American, family owned company with global reach
and a reputation built on 55+ years of quality
craftsmanship and knowledgeable staff.
ATAS International is a leading, innovative manufacturer
of metal walls, metal roof systems, accessories and more.
The ATAS portfolio features an expansive selection of products available in aluminum, steel, zinc, stainless
steel and copper.
Check out our Color Chart or request a Color Chip.
---
New Modular Wall Panel Series Offered by ATAS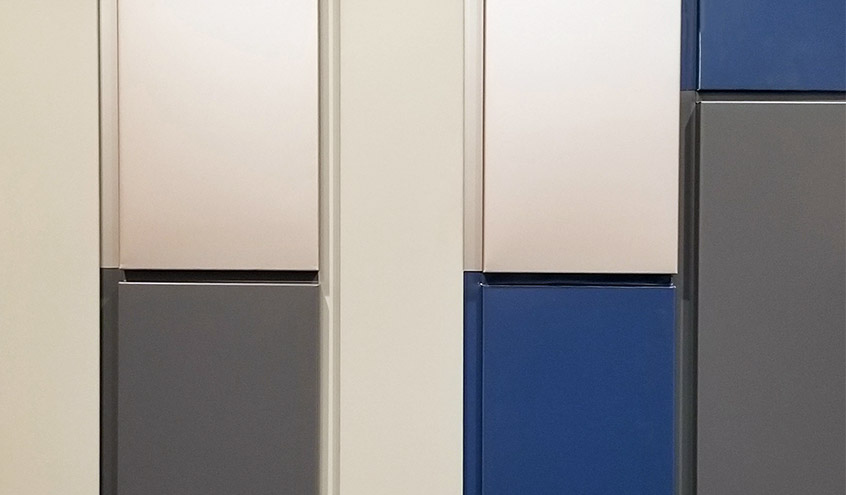 ATAS International has added another profile to their concealed fastener wall panel offering. The Design Wall™ Reveal is a modular wall panel series designed as a drained and back ventilated (D/BV) assembly.
This puts an air gap and drainage plane between the panel system and structural wall, allowing wind-driven rain or moisture to escape the building envelope without entering the building.
D/BV systems are also designed to remove moisture that penetrates it through vapor drive from within the building or from the outside environment.
The panels are offered in various widths, depths, and lengths to create a unique appearance. It may be installed horizontally or vertically without the need for any sealants, gaskets, or splines to create the dry joint. Panels are installed from the top of the wall down, and from left to right.
Design Wall Reveal is a great light-gauge alternative to other heavier plate and Metal Composite Material (MCM) panels. This new modular panel can be perforated, for use as equipment screens, sunshades, or for other building aesthetics.
---
INSPIRE HP
I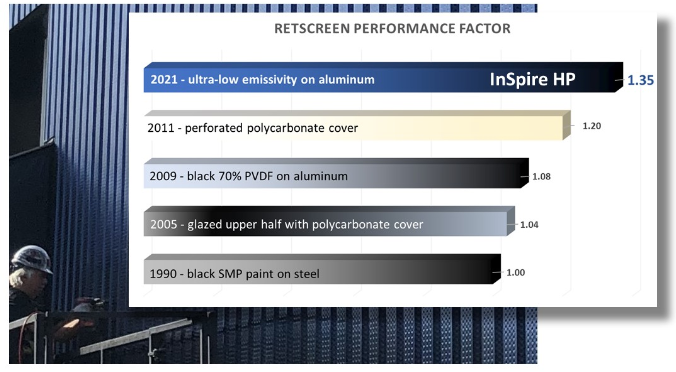 NSPIRE HP Opens up a New World of Opportunities!
Because of such high, breakthrough performance, the InSpire HP from ATAS International opens a full range of new possibilities for solar air, such as:
Direct heating of open-space buildings
Water-preheating in the summer
Coupling with heat pumps for heating in the harshest winter conditions
Regeneration of desiccant wheel systems
And much more
Knowledge Gain
Maximum heating temperature of the InSpire HP is as high as 90°F above ambient.

No other competing solar heater known has achieved better than 60°F above ambient.

Solar heating output results showed 25% to 30% increase over previously tested solar air heating collectors.

Solar yield has shown to be 35% greater as compared to other tested transpired solar collectors.
---
New ATAS Online Education Course
ATAS International has a new education course on Hanley Wood University. "Using Technologically Advanced Metal Building Products in LEED, Net Zero, and Passive Buildings" is approved by the AIA (for one LU/HSW) and GBCI (for one continuing education hour).
This course appears in the June issue of Architect magazine and on the Hanley Wood University website. The learning objectives for this course include:
Understand the basic design principles behind LEED, Net Zero, and Passive House buildings.
Examine how technologically advanced metal siding and roofing products can be used in sustainable building design.
Discover how these innovative metal building technologies can help projects meet LEED, Net Zero, and Passive House standards.
Explore case studies where metal building products were used to meet green building standards in both commercial and residential projects.
Four case studies are incorporated into the course. A university building in Illinois pursuing LEED Gold certification and a middle school in Pennsylvania which already achieved LEED Gold are included. Another university building in Pennsylvania which achieved Zero Energy certification is featured, and solar-ready metal roofing helped them achieve that goal. As well, readers will learn about a multifamily residence in New York that earned both Passive House and Net-Zero Ready certifications.
Lee Ann Slattery, LEED AP BD+C, said, "Metal building components can assist in achieving many different green building certifications. From insulated metal roof and wall panels, to transpired solar collectors, to above sheathing ventilation, to energy efficient paint coatings and solar-ready metal roofing, they all contribute toward creating a sustainable building and a better environment for its occupants."
---
Belvedere™ PenumWall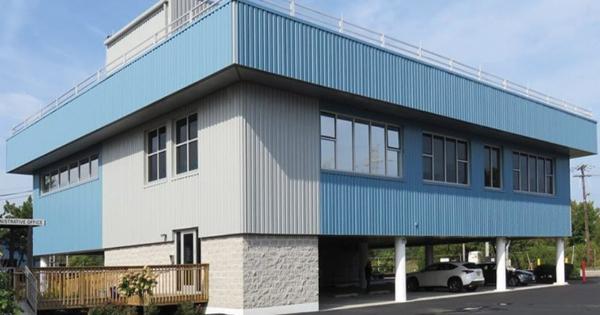 Belvedere PenumWall panels can be installed either on solid substrate or open framing. Belvedere PenumWall is a structural wall panel that offers design freedom for all types of buildings. Shadow lines create architectural detail.
The panel can be installed either on a solid substrate or spaced framing. It is through-fastened using colormatched, exposed fasteners. You can also enhance aesthetics of Belvedere PenumWall by using factory fabricated Elite Series, including the Z Box.
---
Introducing Our New Product - Omawall™
Omawall™ is a modular wall panel series designed to be used as a back ventilated or drained and back ventilated (D/BV) assembly in standard and custom size options. It offers a unique dry joint interlocking system that allows for quick and easy installation without gaskets or metal splines. Standard panels come in either stacked or staggered formation.
---
Cool Roofing
ATAS is redefining cool with its cool metal roofing products and capabilities. Many options are available to create roofs for residential and commercial construction with customized cool components.
Cool pigment paint reflects infrared radiation, allowing the color to appear the same while keeping the material cooler. This helps in reducing the urban heat island effect, and many of our colors qualify for LEED® Heat Island Credits. The 70% PVDF finishes that are used carry a 30-year limited warranty addressing fading and chalking.
ATAS coated materials are non-staining and virtually maintenance free. Any surface residue is easily removed with conventional cleaning solutions or detergents. The coatings are so cool that they meet national energy standards and guidelines. Many ATAS roofing products comply with the stringent California Title 24 Energy Efficiency Standards. LEED® credits also can be acquired because the ATAS coatings meet the minimum required solar reflectance index value set by the U.S. Green Building Council. An added bonus is that metal roofs can contribute LEED® points beyond what the coating contributes; for instance, adding points with solar systems.
Additionally, our new patented Above Sheathing Ventilation Spacer Shim creates energy savings by reducing air-conditioning costs in the summer, providing ventilation spaces in increments of 3/8″.
---
Did You Know Series
Rumba Shake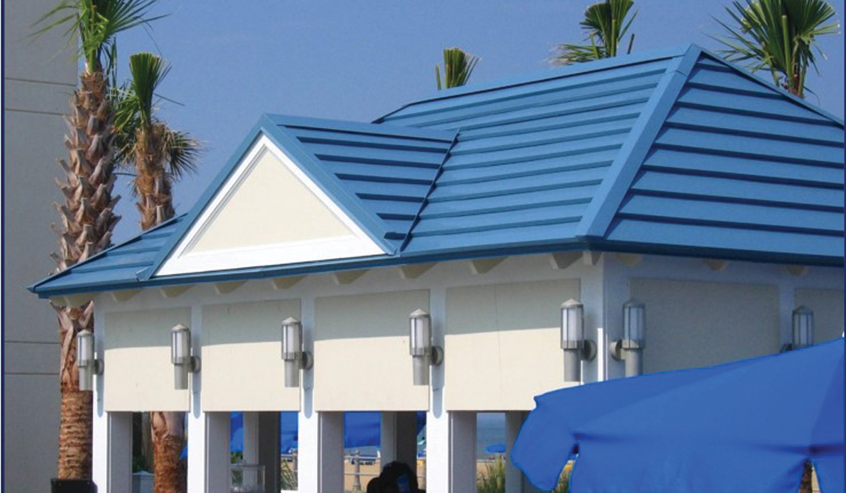 ATAS International, Inc. offers a unique, Bermuda style metal shingle called Rumba Shake, for roof and wall applications. For nearly 400 years the Bermuda style roofs have offered a unique aesthetic. Bermuda style roofs are available with time proven flashings, panel clips, proper gauges, and a PVDF coating. The ATAS Rumba Shake has been installed in applications that required 140 mph wind ratings.
Versa-Lok™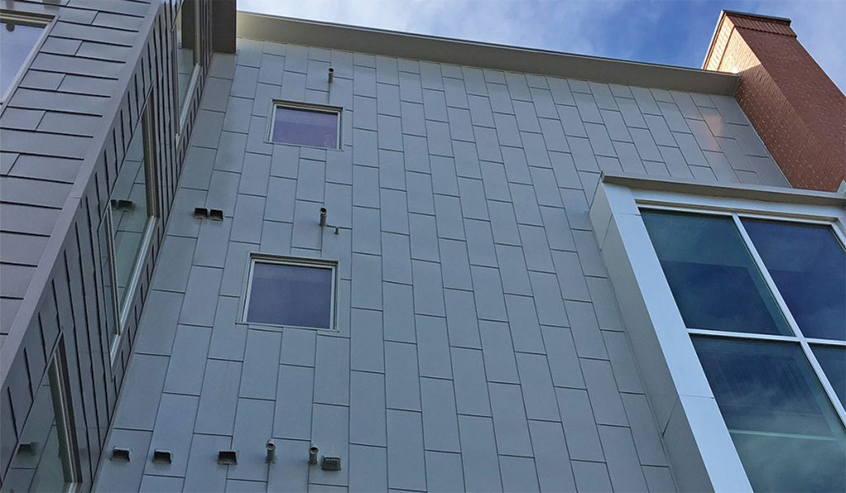 Versa-Lok™, a flat shingle style wall panel, creates classic rectangular shapes with its versatile mix-and-match sizes. Versa-Lok™ is available in many sizes and can be installed directionally right to left or left to right in a horizontal or vertical orientation. The panel utilizes concealed clips and fasteners to provide a metal shingle type application on a wall.
WIND-LOK SOFFIT®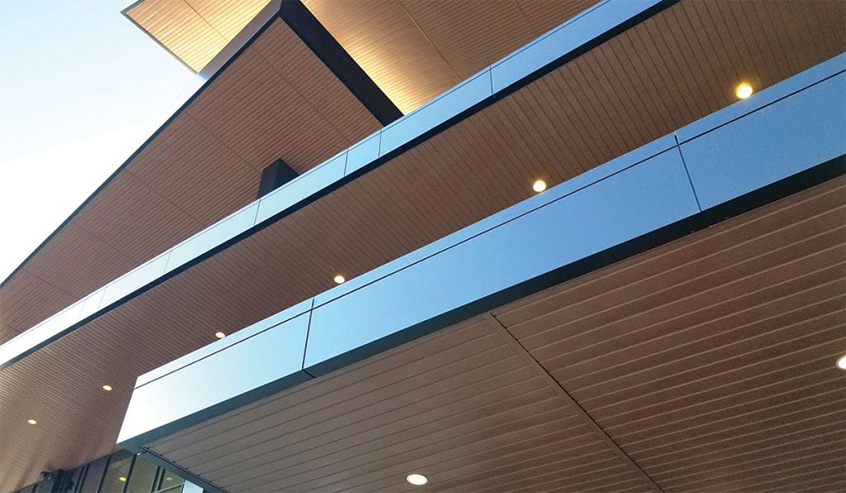 Wind-Lok® Soffit Panel system is a V-groove designed panel with the "hook, pull and fasten" interlock design. This design allows for one of the strongest panel interlocks on the market today and allows for quick, easy and permanent installations with concealed fasteners. Vented Wind-Lok™ Soffit Panels are lanced, which have open space for airflow at both sides of rectangular protrusions allowing for air circulation and reducing condensation. Panels may be solid or vented.
ScanRoof™
ScanRoof™, a scalloped tile with a Northern European flair, is an easy-to-install metal roof panel. The panels are structural, practical and unique for steep slope roof applications. ScanRoof™ is the ideal roof system to stand up against Mother Nature's storms, typhoons, hurricanes, damaging winds and driving rains. ScanRoof™ has a 2" high integral Z purlin allowing for air flow between the panel and substrate. It is lightweight, allowing installation over an existing roof without the need for tear-off and disposal, subject to local building codes.
---
Now Offering Virtual Meetings
You can now request a virtual meeting with a product rep. Potential methods of a virtual meeting can include Microsoft Teams, Zoom, and GoTo Meeting. Request a virtual meeting.
---
2020 Project of the Year Award Winners
ATAS International is proud to announce the winners of our 2020 Project of the Year awards. The six categories within these awards include: Commercial Roofs, Commercial Walls, Residential Roofs, Residential Walls, Accents, and Interiors.
---
ATAS International, Inc. Featured Projects
Founded in 1963, ATAS International, Inc. is a leading manufacturer of metal wall cladding, metal roofing, ceilings, perimeter edge metal, and accessories. The ATAS portfolio features an expansive selection of products available in aluminum, steel, zinc, stainless steel, and copper.
Standard profiles include narrow and wide ribbed wall panels, corrugated styles, standing seam and batten seam roof systems, metal shingles, shakes, tiles, and more. Additional options include curved, tapered, and perforated panels; concealed or exposed fasteners; smooth or embossed textures; horizontal and vertical applications; and a choice of over thirty-five stock colors with 70% PVDF finish.
With sustainability at the forefront of modern building design, ATAS proudly supports green building objectives with high performance solutions, such as solar-ready roof panels, insulated metal panels, cool roofing products, and solar air heating wall panels.
The ATAS team consists of product and market specialists that provide a high level of support for your project, from initial discovery and design to installation. ATAS has three ISO certified manufacturing locations in the United States: two in Allentown, PA, including the headquarters and Mesa, AZ.
Learn more about the ATAS product line, service offerings, and continuing education programs.
---
Continuing Education Courses now Available Online

ATAS offers two online education courses, "Metal Roofing: History, Material, Application" and "Innovative Technologies for Sustainable Building Envelopes" available below. "Metal Roofing: History, Material, Application" is approved for 1 AIA/CES LU/HSW while "Innovative Technologies for Sustainable Building Envelopes" is approved for both 1 AIA/CES LU/HSW and 1 GBCI CE Hour.
Learn more about available courses.
---
ATAS International, Inc. is proud to partner with Let's Build Camp for Girls
Let's Build Camp's 2020 Advanced Camp benefited the Habitat for Humanity of the Lehigh Valley with the design and construction of a custom shed. Learn about this exciting program and the impacts it has on its participants and benefactors. Video produced by ASR Media Productions.
Learn more about Let's Build Camp.
---
Did You Know Series
Our Did You Know Series, a product-focused educational program, was created to provide a convenient, all-in-one overview of ATAS products & services. Learn about roof noise types and how to mitigate, vertical seam panels and applications, and more!