By Trevor Underwood, DECRA Metal Roofing.
You may be surprised to discover which roofing materials are best suited for California's strict building code regulations.
There is a good reason for the rigid environmental and building code regulations of California. Climate conditions in this state vary wildly. The structures built here need to be able to withstand salt air, wildfires and earthquakes. Finding an appropriate roofing material for these conditions can become quite a headache.
Property owners and developers must consider all these factors plus the architectural themes in their region. Regulations only add to the confusion. For example, new buildings in the state will soon require solar panels, and all roofing must be energy efficient.
Considering all this, what roofing material is best for California?
Here are the factors you'll need to consider:
Building code regulations: Is Title 24 applicable to your region?
Performance: What climate and environmental conditions affect your region?
Style: What architectural themes or design elements are you looking for?
Energy efficiency: Is energy efficiency a priority for you?
ROI: Are you looking for long-term value or do you plan to sell the property in the near future
We'll cover what you need to know about each of the five factors to help determine what roofing material is best for your home or building.
One of the first things to consider is whether building code requirements, such as Title 24, are applicable to your region.
Best roofing material for California: Building Code Requirements
Since 1978, Title 24, Part 6 of the California Code of Regulations has required that California residents meet minimum energy efficiency standards in new and altered buildings.
Title 24 regulations cover a broad range of building systems including lighting, HVAC, hot water heating, natural gas and electricity usage to name just a few. Roofing plays a major role in home energy efficiency and Title 24 has very specific standards requiring "cool roofs" for California residents.
Title 24 cool roof regulations are in effect for California homes when:
The roofing project is in an established California climate zone. Homes in zones 10-15 must meet cool roof standards.
Any replacement, recovering or recoating of the exterior surface of the existing roof, where greater than 50% of the existing roof surface area OR 2,000 square feet of the existing surface is re-roofed, whichever is less, is required to meet these standards.
Only Title 24 approved colors may be used, as designated by the Cool Roof Rating Council (CRRC).
If Title 24 is applicable to your roofing project, you'll need to find a roofing product that is approved by the CRRC. However, there's an important caveat to Title 24 that you should be aware of:
2019 Title 24 exception to SECTION 150.2(b)1Hi
a. Air-space of 1.0 inch (25mm) is provided between the top of the roof deck to the
bottom of the roofing product.
In other words, batten installations qualify for an exemption from the Title 24 cool color restrictions.
It's also important to note that, as part of California's ongoing effort to reduce air pollution and greenhouse gas emissions, the California Energy Commission's five-member panel voted unanimously on August 11th, 2021 to require solar panels and battery storage in new commercial buildings and certain residential buildings beginning on January 1, 2023.
If your roofing project will take place in 2023 or beyond, you'll want to find a roofing product that works well with solar installations.
DECRA Metal Roofing spotlight
For roof-overs and direct-to-deck installations, four DECRA Metal Roofing product colors have the required thermal performance to qualify for cool roof status:
DECRA Tuscan Sun CC
DECRA Sicilian Sand CC
DECRA Antique Chestnut CC
DECRA Mist Grey CC
Additionally, all DECRA Tile and DECRA Shake roofing profiles are designed for installation on battens and meet the Title 24 requirements.
Best roofing material for California: Performance
California homes and buildings face an incredibly diverse range of climate conditions. The Golden State is one of the few where it's possible to snow ski in the mountains and surf in the Pacific on the same day. While Californians enjoy pleasant and mild weather most of the year, severe environmental events like fires, earthquakes and Santa Ana winds do occur. It's important to look for a roofing material that can withstand these severe events, as well as protect your home or building from the ongoing impact of the regional climate.
Fire 
In any fire scenario, the roof plays a vital role in your safety. If your region is prone to wildfires, you'll want to look for a roofing product that carries the highest possible Class-A fire rating. 
A Class-A fire rating means the roofing product can protect against flame penetration and has excellent resistance to surface flame spread without the need for chemical treatments or extra underlying roofing materials.
It's worth noting the limitations of some traditional roofing materials when it comes to fire protection since they must rely on additional underlying materials to achieve a "by assembly" rating of Class A fire resistance.
For example, Class B wood shake or shingle products treated with fire-resistant chemicals may still require a layer of 72-pound felt, also known as "cap sheet" to reach Class A fire resistance.
And while tile roofs are fire-resistant, the debris that collects in fractures and gullies on tile roofs is like kindling when embers from wildfires start to fly.
DECRA Metal Roofing spotlight
All DECRA Metal Roofing products carry the highest (Class A) fire rating. Additionally, DECRA products eliminate the roof debris fire hazard with a unique interlocking system to eradicate the voids where flammable debris can collect. A protective interlocked DECRA roof system greatly reduces the risk of the roof deck and framing igniting in regions where there is a high risk for flying embers.

For Californians, it's important that you educate yourself about the Wildland-Urban Interface (WUI) Code. DECRA Metal Roofing offers several fire-rated roof assemblies for consideration. Adequate fire protection involves the entire building envelope, so always consult with your contractor to review your attic ventilation system for wildfire protective measures, as well as any other roof components that may be susceptible to wildfire danger, such as skylights.
Salt air
Coastal homes weather a unique set of challenges, and the roof serves as the first line of defense against the ocean elements. Many traditional architectural themes for homes in coastal regions incorporate the classic beauty of tile or shake roofs.
Resistance to corrosive salt air made clay tile roofs a popular choice for many coastal homes in California back in the day. Cedar shakes were often used for the same reason. Clay tiles, however, are heavy and absorb up to 15% of their weight in moisture, causing undue structural stress on the roof over time. Cedar shakes fail to retain their original beauty, fading to a dull gray after a few months of exposure to the elements.
Even those who have compromised architectural elegance for something slightly more durable, like asphalt shingles, will find it necessary to replace their roof every 12 to 20 years.
If you live in a coastal region, you'll want to look for a roofing material that can withstand the constant impact of moisture and salt air for decades.
DECRA Metal Roofing spotlight
DECRA's acrylic-based stone-coating formula resists corrosion and protects the underlying steel, so the roof retains the same beauty after decades of exposure.
Aluminum and zinc are two of the best metals for preventing corrosion and perform even better when combined in an alloy coating. DECRA metal roofs are manufactured from cold-rolled high-grade carbon steel with a continuous hot-dip process aluminum-zinc coating applied to both sides of the sheet.
The corrosion-resistant alloy coating is applied to both sides of the steel sheet to meet the rigorous DECRA Metal Roofing AZ50 standard for endurance and durability.
Snow and ice 
In colder regions of California, such as Lake Tahoe or Mammoth Lakes, which have average annual snowfalls of 68" and 43" respectively, you'll want to look for a roofing material that provides an extra insulation layer. Additionally, it's important to be mindful of preventing damaging ice dams from forming with a roofing material that keeps the temperature consistent throughout the entire roofing area.
DECRA Metal Roofing spotlight
DECRA products are non-porous, making them an ideal roofing solution for winter homes because they resist snow and ice that can freeze and thaw. All DECRA roofing profiles provide essential airspace between the roofing material and the roof deck, resulting in an extra insulation layer. They also maintain a consistent temperature throughout the entire roof area to help prevent damaging and dangerous ice dams.
Additional performance characteristics to consider
When it comes to selecting a roofing material that can withstand nearly anything Mother Nature has to offer, metal roofing is typically the best choice. In addition to withstanding the climate and environmental conditions mentioned above, metal roofing products like DECRA can also protect your home or building from the following:
Earthquakes: While asphalt shingles, and clay or concrete tiles add excessive weight that results in a top-heavy structure (the worst-case scenario for homes in earthquake zones), they add nothing in the way of reinforcing strength for the roof deck. Lightweight DECRA stone-coated steel provides extra shear strength to the roof deck to withstand tremors in seismically active regions.
Winds: Traditional roofing materials have significant shortcomings when it comes to wind. Wood shakes tend to split and loosen around the fasteners making them extremely prone to wind uplift. Easily fractured clay tiles are also highly prone to wind uplift, with few backed by any warranty at all. DECRA products feature a unique interlocking system to keep the multi-layered panels firmly in place in hurricane-force winds. They even comply with high-velocity hurricane zone requirements, including Miami-Dade, Florida, which is known as the region with the most severe wind in the nation.
Hail and storm impact: The UL2218 Class 4 test, conducted by Underwriters Laboratories, is considered the industry standard for measuring the hail impact resistance of a roof. It simulates the damaging impact of a two-inch hailstone from 20 feet or higher on a roof. Roofing materials are rated Class 1 through Class 4 based on their resistance to the impact of steel balls dropped from varying heights. To achieve the highest possible Class 4 rating, the roofing material cannot exhibit any signs of fracture. All DECRA Metal Roofing products have the highest UL2218 Class 4 Impact rating.
No matter what part of California you're in, a DECRA metal roof can provide the performance, durability and protection from the elements that you're looking for. Not only are DECRA's stone-coated steel roofing products durable — they're stylish too.
Best roofing material for California: style
Just as California has a wide variety of climates, the style of homes and buildings can vary drastically from region to region. Tile roofs are one of the most popular design elements for Mediterranean-style homes and buildings, rustic wood shakes are popular in rural and colonial-style themes and the thick-cut look of asphalt shingles is common in urban neighborhoods.
But the shortcomings of traditional roofing materials like asphalt, tile, and wood can present a challenge to Californians who don't want to sacrifice strength or style.
When looking for the best roofing material for your California home or building, you'll want to find a roofing product that has the design versatility to match the look of your area (and for homeowners, you'll often need to find a product that is approved by your HOA).
DECRA Metal Roofing Spotlight
Prior to learning about stone-coated metal roofing, most homeowners would rule out traditional metal roofs due to their industrial appearance. DECRA's stone-coating manufacturing process changed all this. By adding stone granules to traditional metal roofing panels, vivid colors and distinct textures opened a wide range of design options that replicated the look of shingles, tiles, or shakes without sacrificing durability or longevity.

With stone-coated DECRA Metal Roofing, Californians can achieve the classic look of traditional roofing materials without sacrificing performance.
Achieve the classic look of tile with DECRA Villa Tile and DECRA Tile products.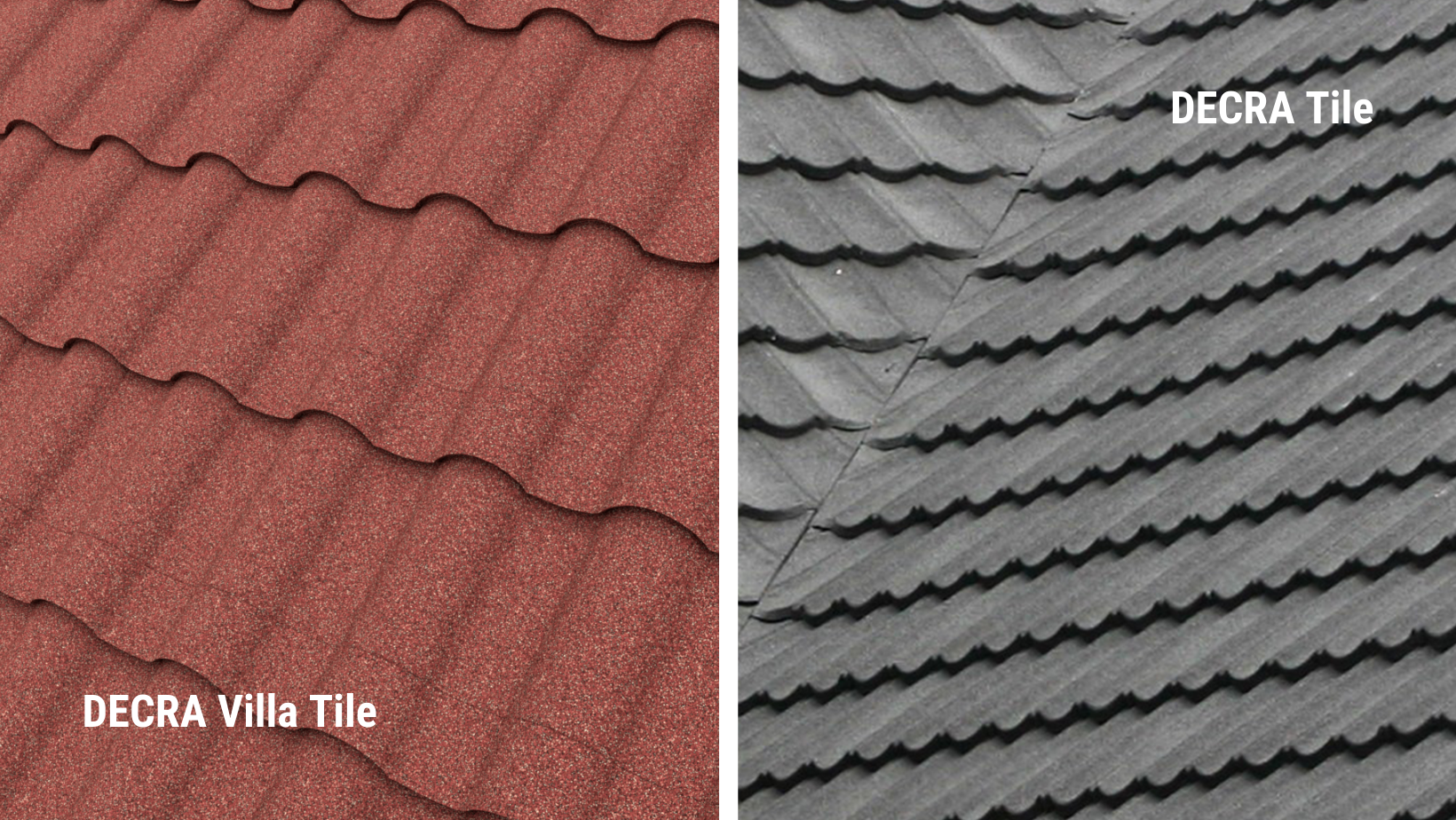 With a lifespan that lasts two to three times longer, DECRA Shingle XD provides the look and feel of asphalt shingles.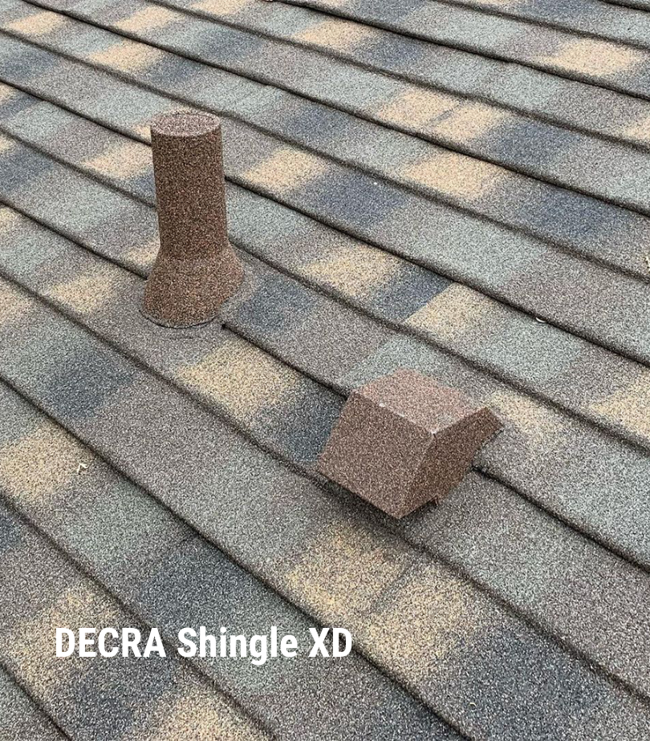 DECRA Shake XD and DECRA Shake products provide the rustic look and feel of wood.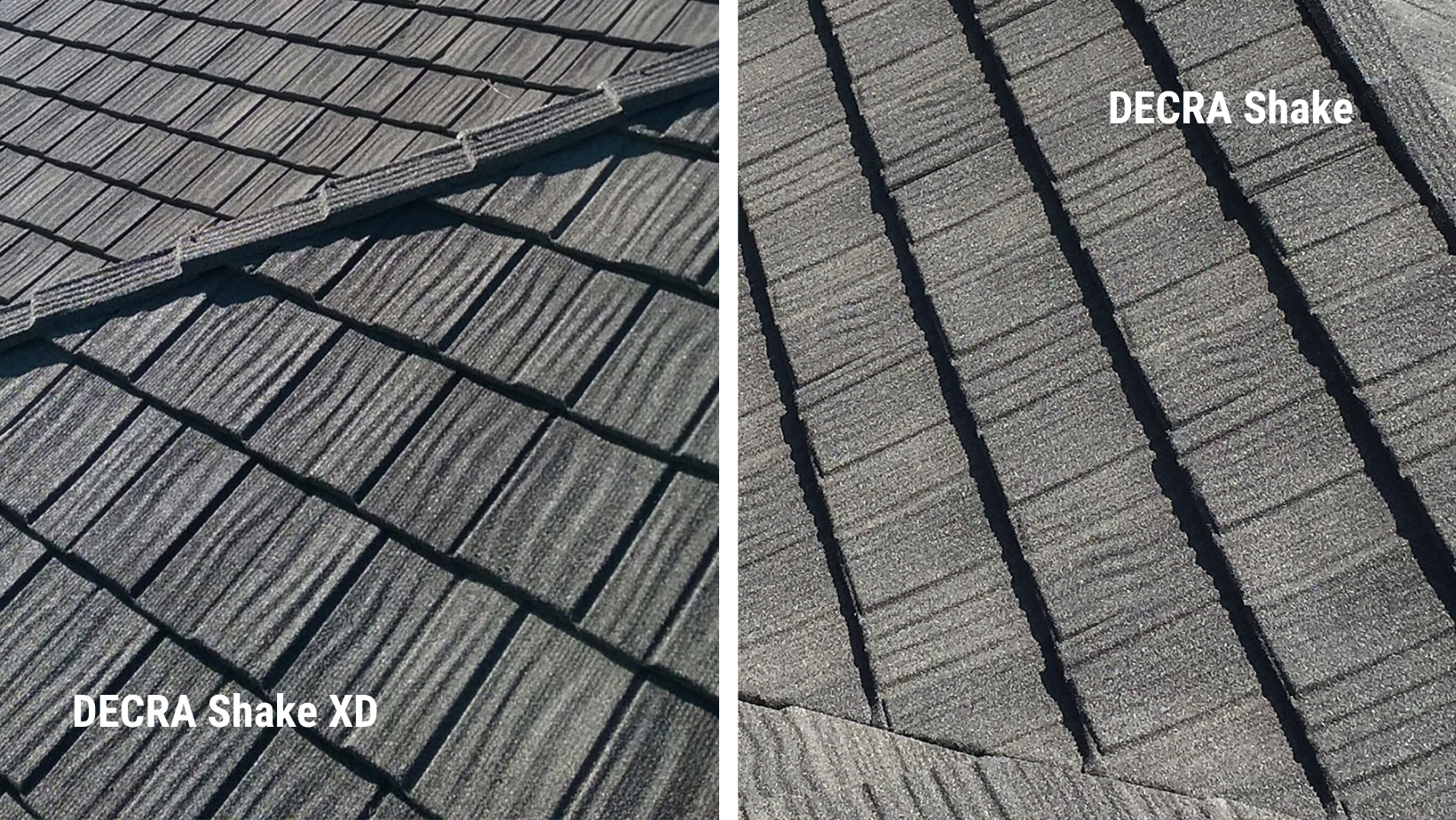 Best roofing material for California: energy efficiency
Energy efficiency is an important consideration for most Californians when it comes to selecting the best roofing material, and many homeowners and building owners are surprised to learn that metal is one of the most energy-efficient roofing materials on the market. A metal roof can even reduce heating and cooling costs by up to 25%.
Metal roofs are known as one of the most energy-efficient roofing materials because they reflect heat up away from buildings. Traditional asphalt roofs, on the other hand, absorb heat like a sponge and radiate heat down into the home long after the sun goes down.
In addition to reflecting heat up and away from buildings, the installation methods of metal roofing also contribute to their energy efficiency.
For example, DECRA metal roofing products can be installed on battens to create a 1-1/2 -to 2-inch airspace between the roof deck and the roofing surface. Even the DECRA direct-to-deck profiles provide an inherent 3/4-inch airspace in each row that significantly improves energy efficiency as compared with the typical asphalt shingles.
This energy-saving technique is known as Above Sheathing Ventilation (ASV). That essential continuous airspace acts as a natural heat elevator, allowing hot air to rise up and away from the home where it can escape through a ridge vent at the highest point of the roof.
DECRA Metal Roofing spotlight
In a 2019 study by an independent lab, DECRA Metal Roofing increased energy efficiency by up to 218% when compared against conventional 3-tab asphalt shingle roofs. 
In addition to having the heat-reflecting properties of metal, DECRA's stone-coated granules have infrared-blocking pigments that increase the natural solar reflectance of the metal roof substantially more than other metal roofing products.
Best roofing material for California: ROI
When selecting the best roofing material for your home or building, cost is one of the most important considerations.
As the cheapest roofing material on the market, asphalt shingles are often chosen purely based on price. But it's important to consider that you get what you pay for when it comes to roofing materials and cheaper isn't always better – and cheaper isn't always cheaper when you factor in the lifespan of the material.
Traditional asphalt roofing materials have an estimated life expectancy of roughly 12 to 20 years. Metal roofs, on the other hand, have a lifespan that is two to three times longer than traditional roofing materials like asphalt, tile and wood.
Even if you don't plan to stay in your home or building for decades, it's important to consider the ROI of premium roofing materials, such as metal roofing, that provide value and ROI in a variety of ways, including:
DECRA Metal Roofing for California homes and buildings
DECRA Metal Roofing has protected homes and buildings since 1957 and our state-of-the-art manufacturing facility is located right here in Corona, California. With a Lifetime Limited Warranty that comes standard on all products, DECRA Metal Roofing has set the gold standard for durability.
If you're looking for the best roofing material for your California home or building, you're looking for a DECRA roof. Ready to see and feel the DECRA difference? Order a free sample here.
Learn more about DECRA Metal Roofing in their directory or visit www.decra.com.
Original article source: DECRA
DECRA Roofing Systems has been setting the standard for nearly 60 years for metal roof shingles and is the original and leading manufacturer of stone coated steel roofing, committed to sustainability, quality and innovative product design. All DECRA panels are easy to use with rain catchment systems and solar panel systems. DECRA products are supported by a Lifetime limited warranty, a 120 mph wind warranty, and all steel profiles are non-combustible Class A Fire rated with Class 4 Impact Resistance to UL 2218. In addition, DECRA is a member of the U.S. Green Building Council, and the Cool Roofing Rating Council. Please visit us at www.Decra.com/.