By Raise the Rank.
Grab Google's attention, use Google messaging to contact leads and prospects and get more reviews to grow your business.
Editor's note: The article that follows is part two of a series that describes a variety of techniques made for contractors to increase their roofing company's online presence and make more money. The methods articulated in this article are provided by the experts at Raise the Rank.
This post on Google My Business will be about everything from the very basics all the way through advanced tactics and will be in order from set up to Google's new features.
5 – Grab Google and your client's attention with compelling photos
I am going to jump out of order as far as the down the page order in your left-hand menu. I have talked about pictures in the post section and mentioned alt text and alt tags and need to show and explain what these are.
What is an alt text and an alt tag & what is it used for?
Pro tip: Most people incorrectly think these are one in the same, they are not.
Alt text, or alternative text, is also known as an alt attribute and not only helps search engines know what an image is but also helps visually impaired individuals better understand the image and the meaning of a web page.
The way you add an alt text to an image is either click the image and add to the bottom of the image and be sure to add a hyphen between words.
Now to really give this image and post some power add an alt tag after your alt text. There is a difference between an alt text and alt tag.
After you add your alt text, right click the image and add your alt tag. It may look a little different on a Mac than on a PC — just look down at your options it will be there.
A good alt text and tag will be relatively short, remember you're describing a picture not writing a book. Most screen readers are going to cut off after 125 characters anyway so the objective is a good description so the search engine and a visually impaired person can see the image in their mind.
Google will read these alt texts and tags and it will help find your pictures, posts and pages in Google search.
Most people do not know what this is much less why it is important. Always remember, go the extra mile and it will pay off. There is a 95% chance your competitor is not doing this, so this is just one more way for you to beat them.
Some people in SEO say Google puts no emphasis on alt text and tags, but what if they do? If they don't it will still help with finding an image and could still ultimately help direct prospects to your GMB or website.
Check out this roofing company in the Baton Rouge and Northshore market of Louisiana.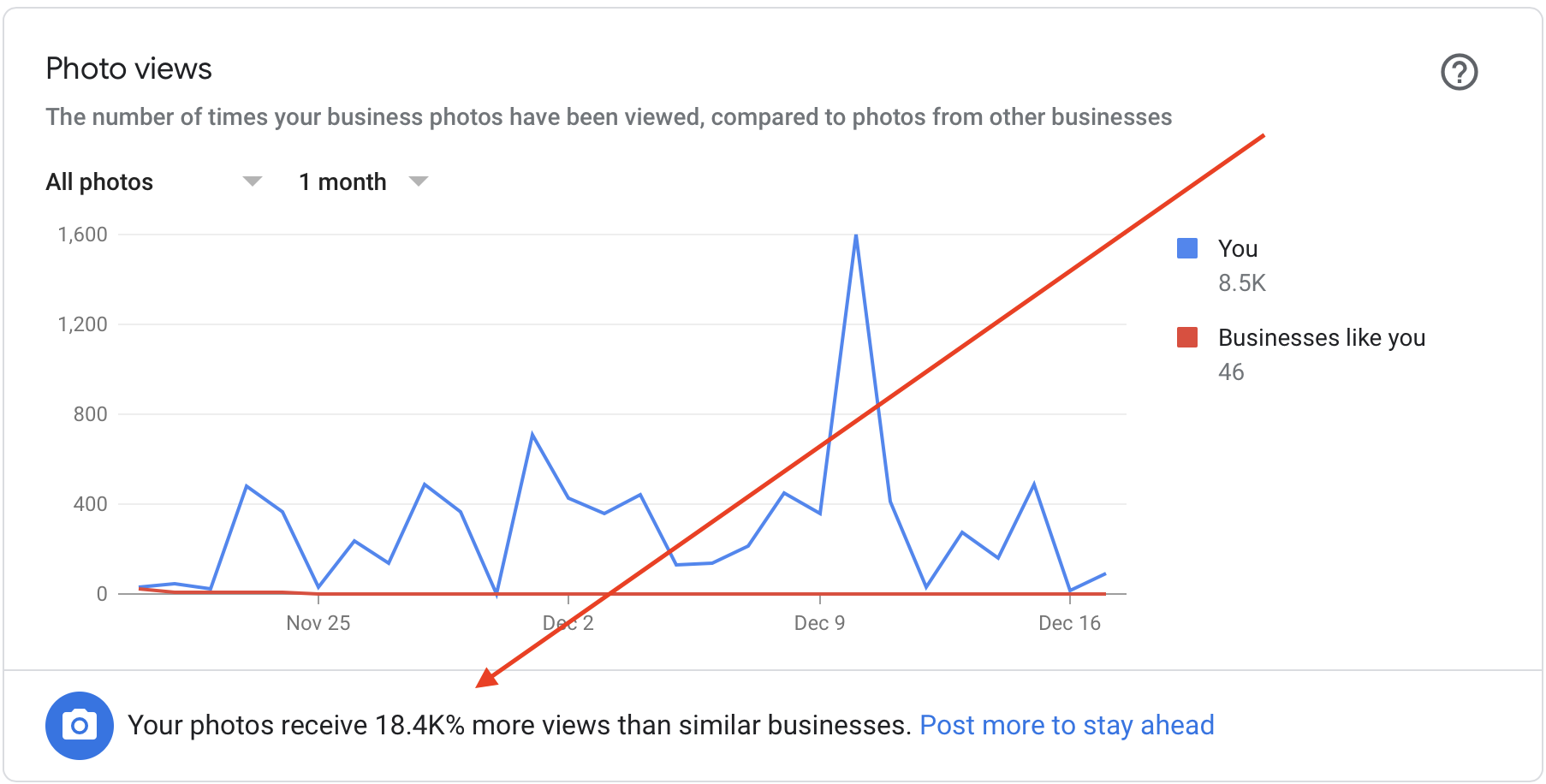 Yes, you are seeing this correctly, 18,400% more views than other businesses like them.
Why? Because no one else is doing alt texts and tags or even adding images to their GMB. Just one more reason this company is crushing it with their GMB.
You can't be lazy with this one, it takes a little effort but that is all, no coding or special knowledge needed, just the want to own your competition.
You need to add ten good meaningful photos a week with good alt texts and tags to at least a few and one video. Why ten? This will help build up your photo library with Google over the course of a year and will not be too much to try and maintain.
What pictures should you add. Always tell a story. Tell a story with your pictures and inside your pictures tell a story about that one image with alt text.
If you are a roofer, add ten pictures in order of a roofing project. Start from set up, to stripping off the roofing shingles, cleaning the deck, adding felt and then the shingles going on, and finally completion pictures.
You have just told a story with pictures of what you do, you also told Google and any visually impaired person with your descriptive alt text and tags the same story.
Unless you are up against someone else that read this post, you will own it with a little time.
6 – Need a website? Google can help with that too
All I am going to do is mention what the website button is. I must assume anyone reading this article will have at least a descent website. The website button is for someone who does not have a website nor much of a budget to build one.
You can build a website right in your GMB. I did one for a friend playing around in less than fifteen minutes, so pretty easy, and since it was free for him it looked pretty good.
It will at least give someone without a website some internet presence and it actually looked good. It is only one page, but better than not having one at all.
7 – Get help working your GMB and add users
The user's button is exactly what it sounds like, to manage users. If you have someone helping you inside or outside your company, you can add them here.
You must add their information and Google will send them an invitation. The additional user must log in and then they can get going to help you.
8 – Use Google messaging to connect to your leads and prospects
If you are new or fairly new to Google My Business you may not know what messaging is.
Google allows you to set up what is basically SMS or texting with a client directly from your Google My Business in Google maps.
The first thing you must do is click messaging in your left-hand menu bar and set it up.
Start by setting the message button to on.
Then you can get a Google number or use a company number here. Then you will need to download the Google My Business App from either the APP store or Google Play.
This message will also email to your email on file and you can message through email if you like.
Last thing is to set your message, I would keep it short and simple like Hi this is NAME with Roofing Company XYZ, how may I help you?
Make sure you click save before leaving this page or you will have to do it all again.
Now you should be all set for messaging with clients that do not like picking up the phone and calling.
9 – The #1 ranking factor with Google is reviews. Here's how to get more.
Alright, I have been waiting for reviews. This is one of my favorites to teach and talk about. Google reviews, you may not know how much power is in those two words.
At this point, unless you are a total caveman or woman, you know Google reviews help you out. But why?
The obvious reason is your leads/prospects can read real reviews about you and see how you handled business with other clients in the past.
But this is just scratching the surface. It means so much more to Google. Why? The first reason is they are not easy to get.
I'm sure by now you have been pitched by numerous companies saying, "Use our service and we will get you hundreds of Google reviews. That's false.
Google knows that a Google review is not easy to get so the sheer number you have is important.
It is very important that you have the most and they need to be good, so you do need to be using an automated service.
We have a Google review service; we automate ours through our CRM for ease of use. The automated system makes multiple attempts with your client, we try twice by text message and twice by email. Even with this system your salesmen and production team need to be setting your clients up for the review for a much better success rate. I promise you, you will get out of it what effort you put into it. This is real life experience talking.
You need to make sure you have notification turned on for your GMB APP so you will know when you get a new review and, in most cases, you will know within minutes that you have a new Google review.
Why is this important?
Because Google can see that you did reply, but Google doesn't stop there, Google measures how long it takes you to reply. Studies also show that most people expect a response after a review.
Google is after the best and if you want to be king in your market you have to be the best.
Being the best on the ground and on the internet is hard, but if you want it, you have to earn it.
Pro tip: Read the review and the reply. You can see that this client was prompted with questions upfront and the salesman's name is in the review.
But you can also see other things like my roof, problems, these things are also seen by Google.
Now look at the reply, you will see this area is not just for thanking your client but also talking to Google and your next prospect. Many SEOs say Google has nothing in their algorithm for keywords in response, but once again, nobody truly knows what is in Google's algorithm, so I say add them but only in a manner that makes sense talking to a client.
Check it out, Google review, Michael the salesman, roofing clients, roofing needs, and then one more shot with your company name, The Roof Crafters Team.
You can change this up a little on every reply, add the city your client lives in, the type of roofing shingles and much more. Be creative and put keywords in the reply for Google. Who knows it might matter, and if not, your client and prospect will like the response anyway.
Just make sure you don't look spammy, make sure you read it back to yourself and it sounds good. Too many keywords in there and it will look keyword stuffed.
Having your salesman's name in the review will help that individual when the next lead he runs reads the reviews.
How do I know my next lead will read your Google reviews? I'll tell you why you need to be serving your clients with this information.
How do you do this? Lead nurturing is how, but that is another story — lead nurturing is something you need to be doing.
Think this will be too hard to do? Nope, you can manage all your reviews right off your phone through the GMB APP.
The GMB APP will make it easy to view and immediately respond to all your clients Google reviews.
Now you know how to maximize your valuable Google reviews, and believe me they are all valuable.
Pro tip: Get your client to upload their own pictures of their roofing project to your GMB, this is also important to Google. Just one last tidbit on reviews.
10 – Settings
I will touch quickly on settings. Not much going on with this one.
Click on the setting link and check off which one of the notifications you want on. I would just turn them all on and be sure you get notice of everything.
11 – Want more leads? Start using Google Paid Ads
Another short one here. This is if you do not have a Google Pay Per Click campaign going. You can start a Google Ads campaign from your GMB dashboard. This one is way too deep to even talk about here. I have plenty of information about Google paid ads. If you would like information on Google PPC just message me and I will be glad to send you some content on the subject.
If you don't have a Google PPC campaign running, I would certainly advise starting one. But if you are not capable of managing it yourself, this is one you should get help with.
You will most certainly spend money with Google, but you can control everything about it, when it runs, how much you spend, what keywords you go after and the list is endless.
12 – Know what business Google is driving with Google My Business Insights
This is another feature in your GMB that is exactly what it sounds like. Your Google insights are where you will go to find out how your GMB is performing.
Your Google My Business Insights will show you many things from how clients searched for your business, what keywords were used, where clients viewed your business on Google, what action they took after they found you, track your phone calls, and photo views.
Look at the chart above, this will be the first thing you will see when you click on Insights from your left-hand-menu bar.
You will see here how clients found you. The branded section is fairly new. This is where a client finds you searching for a brand related to your business.
Next, you will see what queries were made to find your business. You can view them all. At the bottom of this section, you can click the next icon to run through them all.
You will also have all this information in your Google Analytics account, but your GMB dashboard is a nice place to take a look at your GMB stats.
Pro tip: If you really want to drill down with your Google Analytics you need to add a tracking tag or UTM to the end of your URL, it will look like this:
https://theroofcrafters.com/?utm_source=GMBlisting&utm_medium=organic
With the tracking tag added to your URL it will be easier to see what is going on in your GMB from your Google Analytics dashboard — just makes it faster to get to the results.
I will not show how to do this one here. I will have a video on how to make this one happen, because if you mess this one up it could harm your data collection.
You can always leave me a comment that you would like me to help you with this, I read every comment and I will be happy to help.
Next you can see if clients viewed you on Google maps or in the search listings. It is always important to know where your clients find you.
Here is another really good one. You can see client actions here. The number of calls, requests for directions to you, visits to your website and how many people took advantage of the Google messaging feature.
13 – Know who calls you with "Call Tracking"
Pro tip: Add a CallRail number in the info section of your GMB above your office number, so it is the number a prospect will call. Do not take your office phone number out of your GMB. Keep your true office number in the second number field.
Why? It is very important that your NAP, name address phone number, is exactly the same across the entire web.
The reason you want to keep your office number in your GMB is for Google to see it. Google will score you higher if all your NAP information is consistent across the web. If your office number is on your website, you need it in your GMB.
When you add a CallRail number to your website you will want to set it to what is called dynamic insertion. When you do this, CallRail will display your CallRail number anywhere you have it in your website. Header, footer or in the content of your pages.
You will see the duration of the call, even what webpage they visited, and you can even record the call for training.
CallRail is not expensive and not hard to implement.
Conclusion
I know some of the techniques I mentioned above seem simple, but they work. And if I had to bet you a dollar, you don't do many of these "simple" techniques.
No matter what market your company is in, huge like Dallas or even a smaller city, it's at least somewhat competitive. You aren't going to find one technique that drastically moves the needle. You'll find that you need to take advantage of every tip and technique I have mentioned.
But don't take them for granted because all of these little things add up to a massive number of new leads and business over time. Google My Business is a very powerful tool, make sure you are getting all you can from it.
This was a very long page, and if you made it to this point pat yourself on the back because not many will. You are probably also the one making money, or you are the person who just needs a little direction to do so. Good luck with your Google My Business journey and let us know if you need any help.
Learn more about SSA in their RoofersCoffeeShop® Directory or visit www.ssacapp.com.
Original article source: Raise the Rank