Established in 1965, the Roofing Contractors Association of Washington (RCAW) continues to bring the roofing industry together to increase success through advocacy, continuing education, professional collaboration, and consumer awareness. The RCAW is committed to expanding a diverse and inclusive membership that promotes credibility and camaraderie within the roofing industry.
RCAW knows that sometimes all it takes to change the industry is a little support. Since their founding, they have been determined to make an impact. The core of their efforts is to bring fresh ideas, education and passion to the range of activities we're involved in to support the roofing industry in Washington. Through all of their endeavors they hope to display the conviction of their mission to help every member find success and raise the roofing industry to new heights. Their goal is to be every Washington Roofing Contractor's Ladder to Success.
---
Annual Winter Gala & Auction
RCAW's final 2023 event on Saturday, December 2, 2023, is the Annual Winte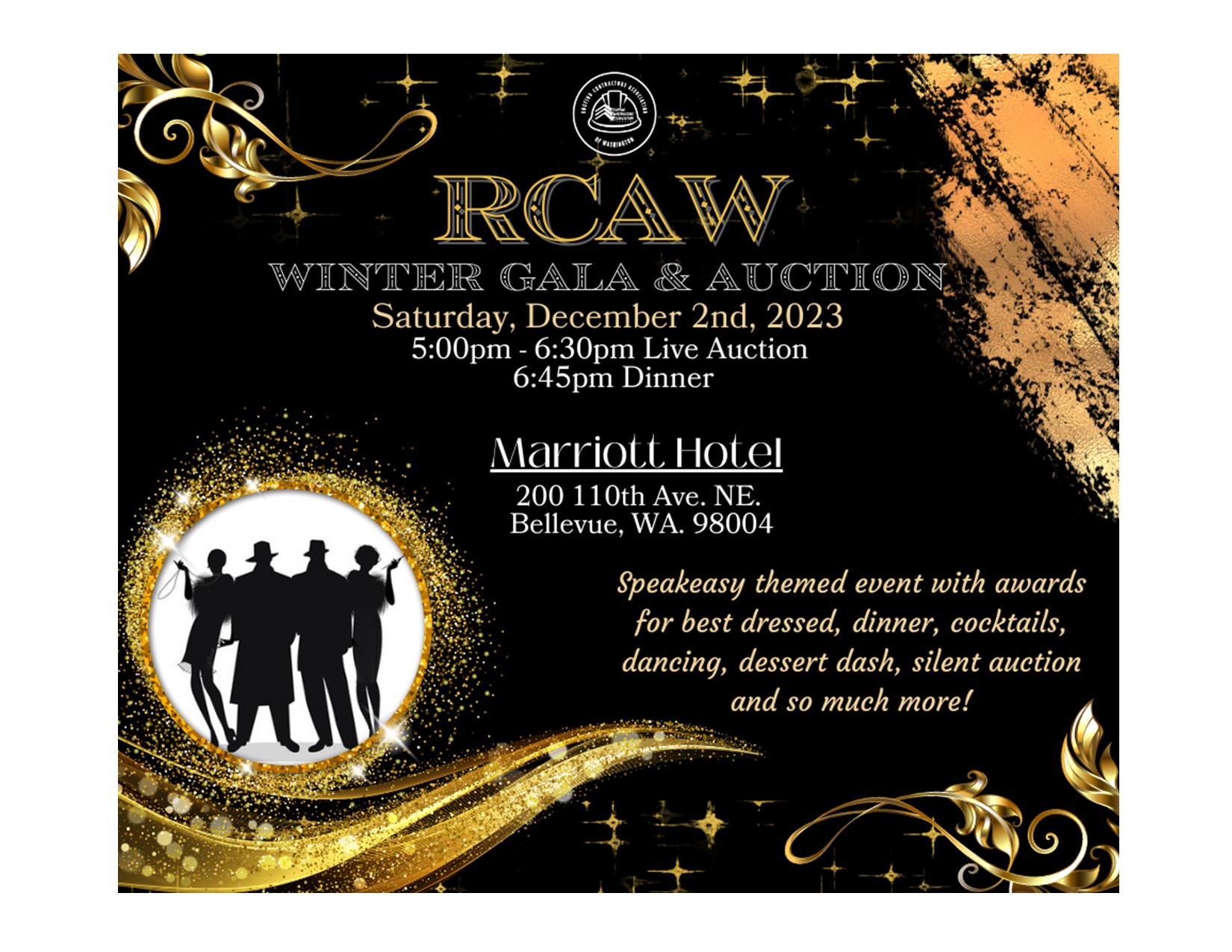 r Gala & Auction being held at the Seattle Marriott in Bellevue starting at 5pm. This year our affair is a 1920's Prohibition/Speakeasy theme where we will provide our infamous Auction (In-Person ONLY) benefiting the US Marines and Toys for Tots, an elegant 4-course dinner, DJ/MC, Blind Dessert Dash, Music, Dancing, Casino Tables, Raffles, Photo Booth, Games and so much more… Please register online TODAY for your table, tickets and/or sponsorship(s) by clicking HERE.
---
Not a member yet? Join now!
The RCAW provides membership benefits that add to your bottom line. While the RCAW is not specifically designed for small or large businesses, it is designed for businesses that want the best for their company and industry. We provide your business with guidance to legal and governmental organizations, reference to insurance companies, publications, speakers, safety information and training, plus professional assistance with issues like safety, governmental regulations, warranties, materials and industry problems. The RCAW also receives many inquiries for qualified contractors. Join today and be part of the pro's network! ---
RCAW operates with a board of 12 voting directors. Each director serves a three-year term, and directors are elected each year as terms expire. RCAW's Executive Committee is composed of the President, Vice-President, Secretary and 1-Year Past President. RCAW's various programs and services are derived from its committees, which are appointed each year.
Nominations for RCAW officers and directors are received from individual members. RCAW puts nominees to a vote of the membership the first week of October and the new board is announced at the October Annual Meeting.
The chief paid executive is the Executive Director. The Executive Director responsible for the function and effectiveness of the RCAW and its personnel. Each staff person has specific assigned areas of responsibility and may work with several committees.
If you are interested in service on our board of directors you must be a member of the association. Please reach out to director@rcaw.com. We would love to have you. The voting member from each member company will have the opportunity for their voice to be heard and vote for the current board openings. We have openings for 1 contractor member and 1 associate (manufacturer, distributor, associated businesses) member to join the board of directors at this juncture.
---

Providing cost-saving benefits to businesses like yours that are associated to Roofing Contractors Association of Washington. For more information, visit us at Savings4Members.com or call us at 844-346-3746.
In just a few clicks, unlock 20 benefits to save thousands - whether you're in the office, at home, or on the go.