RCAW COVID-19 Resources
Reopening Information and Documentation:
Check here for the latest updates regarding the reopening of Washington and Governor Inslee's 30 point safety plan!
Phase 1 Reopening Construction in Washington Webinar - Watch now!
Phase 2 Reopening - Download
Read the General Coronavirus Prevention Under Stay Home - Stay Healthy Order
Fit-testing for N95 Masks - Updated May 1
---
Serve the association you love
RCAW operates with a board of 11 voting directors. Each director serves a three-year term, and directors are elected each year as terms expire. RCAW's Executive Committee is composed of the President, Vice-President, Secretary and 1-Year Past President. RCAW's various programs and services are derived from its committees, which are appointed each year.
Nominations for RCAW officers and directors are received from individual members. RCAW puts nominees to a vote of the membership the first week of October and the new board is announced at the October Bi-Annual Meeting which takes place on the third Thursday of October.
The chief paid executive is the Executive Director. The Executive Director responsible for the function and effectiveness of the RCAW and its personnel. Each staff person has specific assigned areas of responsibility and may work with several committees.
If you are interested in service on our board of directors you must be a member of the association. Please reach out to tracey@rcaw.com ASAP. We will talk about the commitment and if you want to move forward on the ballot which will be presented to the membership on October 1, 2021 for a board term of 2022 - 2023 - 2024 we would love to have you. The voting member from each member company will have the opportunity for their voice to be heard and vote for the current board openings. We have openings for 2 contractor members and 1 associate (manufacturer, distributor, associated businesses) member to join the board of directors at this juncture.
---
Not a member yet? Join now!

Why join the RCAW?
The RCAW provides membership benefits that add to your bottom line. While the RCAW is not specifically designed for small or large businesses, it is designed for businesses that want the best for their company and industry. We provide your business with guidance to legal and governmental organizations, reference to insurance companies, publications, speakers, safety information and training, plus professional assistance with issues like safety, governmental regulations, warranties, materials and industry problems. The RCAW also receives many inquiries for qualified contractors. Join today and be part of the pro's network!
---
Annual Golf Tournament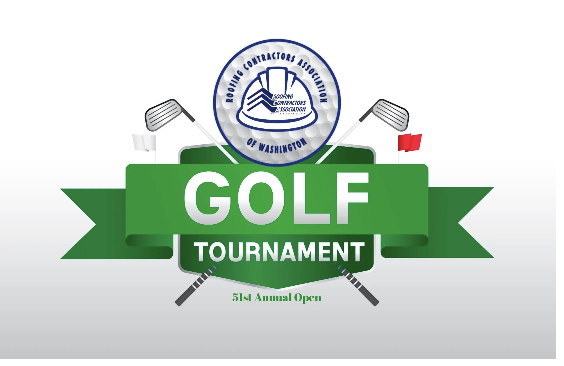 One of the most exciting and competitive events of the year - the 51st ANNUAL RCAW OPEN - never disappoints. Get registered to golf or sponsor or BOTH!
On this custom tournament website you can register your team, pick your add-ons like Mulligans and Raffle Tickets, and sign up for a number of great sponsorships.
This year we will have a couple of hole-in-one contests, the games of skill, and the LPGA golfer, as well as Dixon Golf will be on hand to make everything more exciting. And, you do not want to miss the Hole Sponsors and see what has been cooked up (literally) for you to enjoy and imbibe while golfing your 18-holes in this scramble.
Bragging rights and the trophy are on the line - plus a whole lot of fun and prizes. Space is limited and is filling up fast!
---
Download the member benefits brochure below!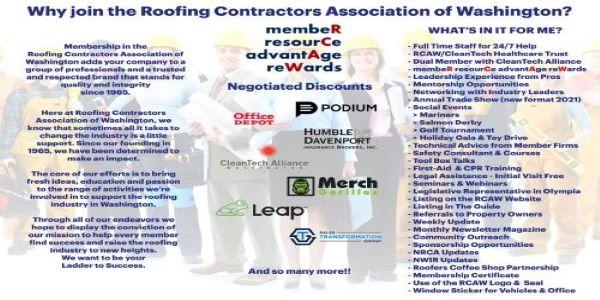 ---

Providing cost-saving benefits to businesses like yours that are associated to Roofing Contractors Association of Washington. For more information, visit us at Savings4Members.com or call us at 844-346-3746.
In just a few clicks, unlock 20 benefits to save thousands - whether you're in the office, at home, or on the go. Start clicking now!
---
RCAW Holiday Gala
You do NOT want to miss this party! We have planned some really fun things to do in addition to a delicious plated dinner and dancing. We brought back CASINO NIGHT! That's right folks get ready play the casino for prizes and you don't have to lose a dime. Where else can you gamble like that?
Purchase tickets.