Beginning with fabrication of custom Hugger sub-purlins that are made using sophisticated punching, shearing and press-braking equipment to allow our systems to match virtually any existing metal roof profile/configuration, regardless whether thru-fastened or standing seam.
This is true no matter what the existing rib spacing is or what the required height is to accommodate varying thickness of insulation.
For our more common profiles, we roll-form several Hugger sub-purlins allowing us to keep inventory in our four locations in Florida, Texas, Indiana and Washington.
Not shown in the video, is our special hat-channel systems that assist with new metal roof systems that do not have required uplift testing over our systems or those projects that are required to meet extreme wind speeds.
Shown near the end of the video are some roofs that illustrate high wind load requirements in the corners, eave and rake locations of the existing roof. This additional framing is based on the ASTM testing of the new metal roof systems that is selected to be installed over our Hugger sub-purlins.
Roof Hugger's metal-over-metal retrofit systems are the ideal application when an old outdated metal roof needs to be replaced. This environmentally friendly option allows the existing metal roof to remain, the new metal roof installed directly over the old roof providing a safe and labor-saving installation.
---
New Website Launch
Roof Hugger, the Go To Retrofit Experts for Metal over Metal re-roofing, is very proud to announce the launching of our exciting new website!
Some of the great new features of the site include:
Our new site is now compatible with mobile phones, and tablets. Now you can be on a job site, search our products, look at installation manuals, or request a quote. If you have any questions, you can tap on our phone number, and call us directly.
Come by and visit our page, take a look around, and even send in a quote request, we will be happy to help you with any of your project needs.
---
RH2 Getting a Good Estimate
Thank you for yourinterest in our metal roof retrofit sub-purlin systems. We have two convenient ways of requesting a quote. You can use our online quote form or you can download the forms and use Adobe Acrobat to fill out and submit them. We look forward to speaking with you soon. For detailed information on how to correctly fill out our quote form please watch the video.
Component quotes assume the new roof panels can meet all code required loads on the existing purlin spacing.
---
Roof Hugger Sub-Purlin System
The Roof Hugger System can fit any existing metal panel, support any new roof panel and be configured to add insulation and solar energy equipment.
The Roof Hugger System Advantages
No need to remove the old roof at a high cost, business interruption
and possible weather damage.
Huggers maintain the desirable "Zee" shape of sub-purlins.
Saves up to 70% of labor on the preparation of old roof.
Requires only standard tools and fasteners.
Precision punched notches act as continuous template.
Punched pilot holes for rapid fastening into existing support structurals.
Unique "nesting" into old panel profile achieves rugged - stable – low silhouette connection system.
Improves the integrity of original design loadings.
Achieves "thermal break" air space between old and new roof sheets. Allows for optional insulation.
Allows for easy upgrade from screw-down to standing seam roofing.
---
Roof Hugger Installation Demo
Roof Hugger providesthe industry's most effective way of installing a metal over metal retro-fit roof, with Roof Hugger Sub-Purlin Systems. The Roof Hugger Systems can fit ANY existing metal panel, support ANY new roof panel and be configured to add insulation andsolar energy equipment between the old and new roofs.
Roof Huggers allow you to install a new long life metal roof over an existing metal roof in a way that is structurally correct, non-disruptive, and cost effective. It is a system that adds strength, is environmentally friendly, cooler in summer, warmer in winter and conserves energy.
Learn more about Metal over Metal!
---
New Construction Details
Created for new metal roof panels that have not been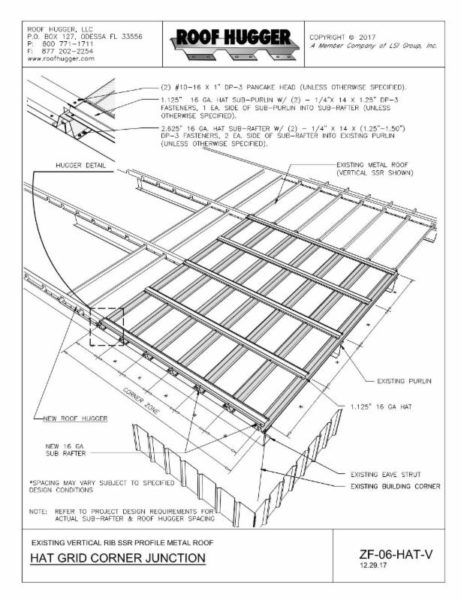 tested over Roof Hugger sub-framing systems.
We recently released two new details ZF-05 and ZF-06 for special hat channel framing at high wind uplift Zones 2 and 3 at roof corners and edges (eave, ridge, and gables).
This type of framing is used only when the new metal roof panel system has not been laboratory ASTM E1592 tested over Roof Hugger sub-framing.
In some cases, this type of framing may also be utilized for extremely high wind speed, code required, locations.
Also, please note that Roof Hugger manufactures its own hat channels and sub-rafter framing shown in these details.