Experience the Power of Roof Hub
Just when you thought it couldn't get any better, Roof Hub is at your fingertips on the desk and on the go! Created specifically for the roofing trade, it's the ideal tool for contractors of all sizes and complexity.
Roof Hub makes it easy to get a new project underway or order more materials for an existing job. Its real-time delivery tracking shows you exactly where your orders are, not just that they're on the way. The delivery confirmation photos help you verify safe and complete deliveries!
---
Features
Real-time Delivery Tracking: View real-time GPS tracking of all your deliveries. Confirm delivery with pictures of your delivered order.
Invoice History: View invoice history complete with order total, proof of delivery, payment status and more.
Easy Online Ordering: Order all your materials utilizing Smart Templates with ItemMatch and ColorMatch Recommendations.
Training: Videos to help you manage your business.
Interactive Storm Maps: Stay up-to-date on all hail and other drastic weather events across the country.
Supplier Promotions: Take out the manual work and let us submit your purchase data for you to the supplier.
---
New Roof Hub & JobNimbus Integration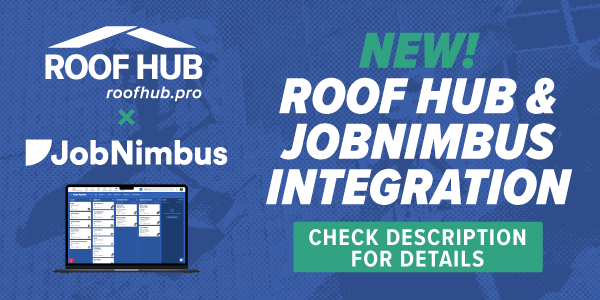 The Roof Hub - JobNimbus integration provides roofing contractors with several valuable features to simplify their material management processes from the JobNimbus platform. Roofing contractors can connect their Roof Hub account to access live pricing and products from their local SRS Distribution branch to build smart estimates and place material orders.
Live Pricing
Order Template Integration
Item Recommendations
Live Delivery Tracking Notifications
Invoices and Photos Feed Back into Your Job File
---
Now Available on Desktop!
The powerful mobile application, Roof Hub, is now available on ALL devices! No matter where you work or how many members on your team, you all have access to the same, real-time information from anywhere!