RCMA is the national trade association representing manufacturers of asphaltic and solar reflective roof coatings and the suppliers of materials, equipment, and/or services to the industry. RCMA has more than 70 members who manufacturer or supply roof coating products, and continues to advance the national and international market for roof coatings through education, outreach, advocacy and technical advancement. For more information on RCMA, please visit us at www.roofcoatings.org.
Mission Statement: RCMA is a leading industry voice, promoting the benefits of roof coatings and providing its membership with up-to-date information on building codes and standards, technical developments and other industry topics of interest. RCMA is the national trade association representing manufacturers of asphaltic and solar reflective roof coatings and the suppliers to the roof coatings industry. RCMA consists of more than 70 members who manufacture in almost every state in the country as well as suppliers to the industry.
---
Virtual Training Modules 2 and 3 NOW AVAILABLE!!!
Virtual Training Modules 2, and 3 are now available at RoofCoatings.com. These virtual training modules provide essential information required to understand roof coatings.

Module 1: Evaluating and Preparing Surfaces for Roof Coatings, is also available online.
RCMA has coordinated with the American Institute of Architects and International Institute of Building Envelope Consultants to secure CEUs for each of our modules to support the continuing education needs of the industry's professionals.
ROOF COATING TECHNOLOGIES Module 2 will cover:
Understanding What a Roof Coating is, and its intended purpose
Understanding the Benefits of Roof Coatings
Understanding the Differences Between Roof Coating Chemistries and Technologies
Understanding the Common Properties to Most Roof Coatings
ROOF COATING APPLICATION BEST PRACTICES Module 3 will cover:
Understanding key product documentation and its importance
Understanding necessary surface preparation
Understanding product application methods and the necessary equipment for each
Understanding necessary maintenance activities
You could win these for free! Details here!
---
Message from George Fischer, Director of Regulatory Affairs: COVID-19
Once again I hope this finds you safe and healthy! As we move toward emerging from this pandemic, I wanted to share a one-pager onto which RCMA has signed with the larger roofing industry coalition, entitled "Back to Work on Americas Roofs". The coalition expects to work toward a press release in the coming weeks.
As an FYI, we expect that there will likely be another round of relief coming (CARES 2.0) with expected additional funding for the PPP.
I have attached a few other documents you may find of interest:
DOL Issues
Paycheck Protection Program
FEMA Fact Sheet
The NAM State Operations COVID Snapshot was last updated May 1 at 5pm EDT, and is attached here for your convenience.
Key state updates include:
Ohio issued a phased reopening plan beginning on May 1
In Indiana, Gov. Holcomb announced phase II of the state's reopening to play out during the first part of May
In Illinois, Gov. Pritzker's stay at home extension is published with suggested best practices for manufacturers
Florida Gov. DeSantis outlined business guidelines under a partial reopening set to begin on May 4
Minnesota extended its stay at home order through May 18, while loosening restrictions to allow curbside pickup from retail businesses
Arizona moved to partially reopen nonessential retail businesses in a new order on April 29
The Federal Reserve has announced that it is establishing a Main Street Lending Program to support lending to small and medium-sized businesses that were in sound financial condition before the onset of the COVID-19 pandemic. This program targets small and medium-sized businesses (less than 15,000 employees or $5B in net revenue for 2019) that were unable to access the PPP or that require additional financial support after receiving a PPP loan. Main Street loans are not forgivable. Page 9 of the FAQ lists eligibility criteria for the program.
Please feel free to contact me at your convenience with comments or questions.
Be well and stay safe.
With kindest regards,
George
---
Learn more about roof coatings and how you can add them to your business model!
Click the image below to download the full informational infographic.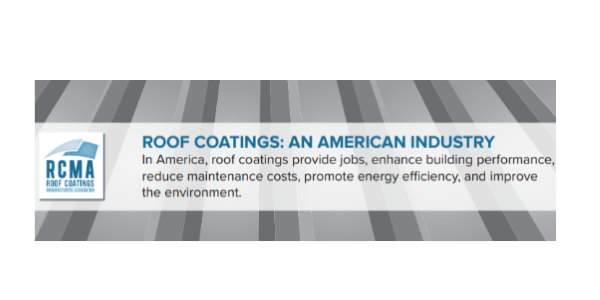 ---