Founded in Sonoma County, California, FlashCo has
grown to be one of the largest manufacturers of roof
flashings and accessories in North America with seven
plant locations in the U.S.
For over 20 years, FlashCo has been a trusted source for dependable pre-fabricated accessories for the immediate needs of roofing contractors, distributors, and industry-leading roofing material manufacturers. A reliable partner who delivers quality products with responsive support, FlashCo prides itself in delivering a timely and dependable experience.
Trusted by major manufacturers for use as part of full system warranties, FlashCo manufactures standard and custom flashings for roofing contractors installing TPO, PVC, BUR, shingle, and clay tile roofing systems. Contractors can find FlashCo products at hundreds of roofing supply distributors located throughout the U.S. and Canada.
---
History of FlashCo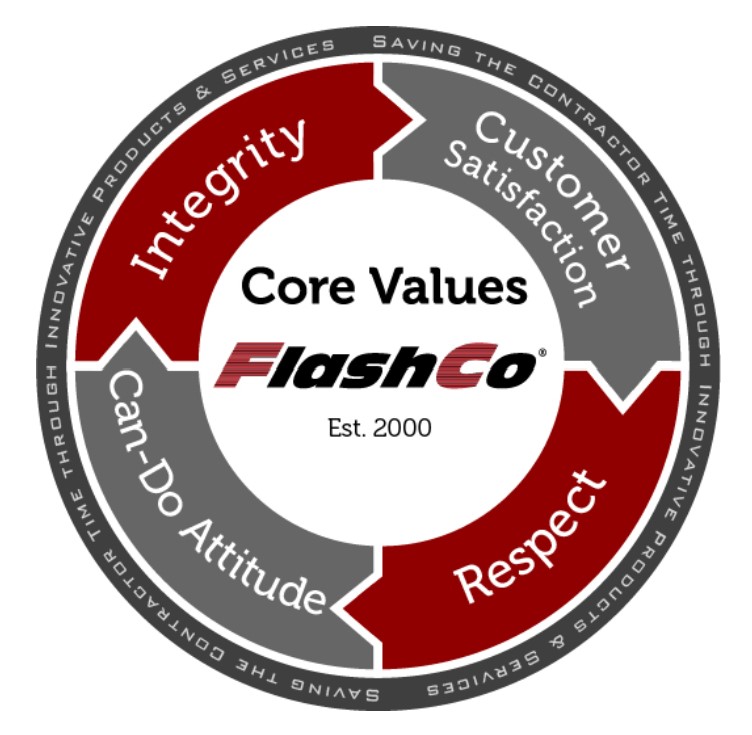 In 2000, FlashCo was established in Sebastopol, California primarily serving the Northern California market. By delivering on the goal of saving the contractor time through innovative products and service, FlashCo has enjoyed tremendous growth since its founding.
In 2004, FlashCo opened a second location in Woodland, Washington to serve the Pacific Northwest. In 2006, FlashCo opened its plant in Kingman, Arizona to serve the Southwest market. (Note: in 2016, the AZ plant was relocated to Los Angeles.)
By 2007, FlashCo expanded its product line to include flashings and accessories for the single ply markets. In 2008, FlashCo was contracted to produce its first privately labeled products and quickly signed up additional manufacturers based on the quality of the products and speed of delivery. With the rapid growth of the single-ply market, FlashCo continued to increase distribution with plants located across the US.
Since 2008, FlashCo has expanded with additional plants in Chicago, Los Angeles, Piedmont, South Carolina, Dallas, Utah, and a distribution warehouse in New Mexico. FlashCo's strategically placed plant locations ensure quick shipment to any location in the US and Canada. FlashCo continues to grow at a rapid pace fueled by the goal of "Saving the Contractor Time" and by the commitment of its employees to provide excellent customer service through integrity, respect and a can-do attitude.
---
FlashCo Adds PVDF Painted Edge Metal To Product Offering
FlashCo is expanding its Edge Metal Systems with the addition of PVDF Painted edge metal for low-slope roofing systems. The new PVDF edge metal will be sold in 25 different colors, including 12 fast ship colors. FlashCo PDVF edge metal profiles include drip edge, gravel stop, and sloped and flat coping. All PDVF edge metal is made to order in 10 foot lengths and manufactured in FlashCo's 8 plant locations throughout the U.S.
"We have had a lot of success with our TPO and PVC coated metal," says FlashCo President, Greg Morrow. "The PVDF painted edge metal is really a natural extension of our Edge Metal Systems. We already have the equipment in place for making the profiles needed in the industry and with our locations throughout the country, that gives FlashCo another opportunity to save roofers time."
FlashCo's PVDF edge metal products are manufactured using 24-gauge, G90 galvanized steel sheet that is painted with Kynar 500® or Hylar 5000® resins. The painted steel provides superior color retention and allows FlashCo to offer non-prorated coating warranties for most applications. In addition, FlashCo will offer 24-gauge galvanized metal cleats as an option for all painted edge metal profiles.
"With our extensive background selling coated metal, we understand the challenges of getting metal to the job site undamaged," says Greg. "Our strategically located plants allow us to deliver most jobs on our own trucks. Therefore, we handle the metal from beginning to end and that makes a huge difference in avoiding damage, or other issues. We know how important it is to deliver on time and ready to use."
FlashCo will debut its new PVDF Edge Metal line at the 2022 Western States Roofing Expo, and at the 2022 RCAT/MRCA Roofing Conference.
Learn more about FlashCo's PVDF Edge Metal Systems.

---
First Ever Louver Wall Vent Designed Specifically For Single Ply Roofing Systems
FlashCo announced the release of the FlashVent™ Louver Wall Vent for single-ply roofing systems. The Louver Wall Vent is a pre-fabricated, gravity vent designed for venting applications of parapet and other walls located on low slope roofs.
The Louver Wall Vent can be fastened between two wall studs, or via the coated metal flange prior to heat welding the pre-attached membrane flange. The FlashCo Louver Vents are a major time saver for roofing contractors.
The vents are made in a controlled, factory environment and can be quickly and easily installed in minutes on the roof, eliminating the need for field fabrication. In addition, the FlashCo Louver Vent removes the need for the caulking, and installs with fewer penetrations thereby eliminating the potential leaks and required maintenance involved with other louver vent options.
---
FlashCo Edge
Have you ever been frustrated by the time and confusion of getting flashings & accessories? If so, meet FlashCo Edge.
WHAT IS IT? FlashCo Edge is the one-stop for singly-ply contractors needing roof flashings & accessories. We have the products, the know-how and the relationships to make the process smooth and painless.
HOW DOES IT WORK? Send FlashCo your list and we'll take care of the rest. You get all the information you need and the ball gets rolling much faster. FlashCo handles all the details and gets everyone on the same page for you.
WHY DO I NEED IT? The old process for accessories is too slow and cumbersome, prone to delays and mistakes. Instead, come directly to the source. We've been making accessories since 2000 and we have great working relationships with all the major manufacturers and distributors throughout the country.