Relying on over three decades of coatings manufacturing experience, EVERROOF brings a wealth of technology, innovation, and reliability to the roofing industry. Our products are proudly made in the U.S.A. at one of our five manufacturing facilities located throughout California and Texas.
Who are we? We have historically manufactured products under private label, with some of the largest roofing companies in the world as our customers. EVERROOF now sells under our own brand label, continuing to use only the highest quality raw materials and incorporating the same stringent quality control processes to guarantee the best possible product to the end user.
EVERROOF is part of a matrix of vertically integrated companies, allowing us to purchase raw materials in very large quantities and to efficiently distribute products through domestic and international networks. Our economies of scale translates into lower prices for all of our customers. Within our network, we operate as a system house, giving us the ability to provide products and systems to meet virtually all of your project needs. We manufacture all of our own products, providing our customers the confidence of knowing that they are purchasing directly from an experienced and knowledgeable source. Our customers have consistently relied on our scientific knowledge and expertise to guarantee quality products at competitive rates. Some might consider EVERROOF to be, in a way, the largest roof coating company you've never heard of.
Visit our website.
---
LIVE From WRE with Everroof
---
Coatings Contractor Panel at the 2023 RCMA Summer Meeting - Sponsored by General Coatings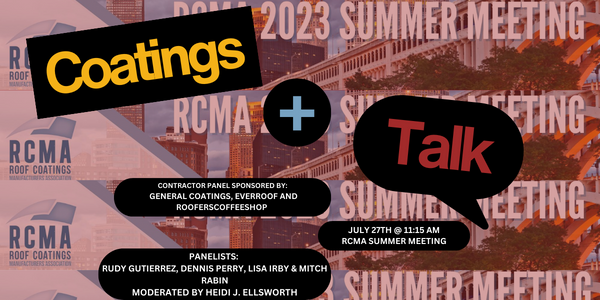 Heidi J. Ellsworth moderates a panel of contractors at the 2023 RCMA summer meeting. They discuss what roofing companies are seeing in the market around coatings, how roof coatings are working for them and what manufacturers and chemical vendors can do better as well as answer questions from the audience. Thank you to General Coatings for making this informative event possible. Contractors in this include: Rudy Gutierrez, Lisa Irby, Dennis Perry and Greg Palya.
---
Our Products
Ever-Silic® LS:
Spray grade silicone base and top coat system. Superior resistance to weathering and UV as well as algae and biologic growth
Learn more about our silicone products.
Ever-Crylic®:
Elastomeric acrylic coating system. Long-term reflectivity for cool roofs.
Learn more about our acrylic products.
Ever-Thane®:
Polyurethane base and top coat system. Superior resistance to impact and abrasion, chemical exposure, asphalt bleed through, and dirt pickup.
Learn more about our urethane products.
---
Everroof Los Angeles Media Park Project
EVERROOF stepped in with our Ever-Silic System when this 80,000 square foot roof was in need of major repairs.
Check out the journey of this roof, from old and worn down to tough and durable!