By Roof Hugger.
Since the adoption of the International Building Code (IBC) in 2002, the way wind and snow loads are estimated changed dramatically.
When looking at wind loads roofs are no longer looked at by engineers as having uniform loading across the entire roof area. The roof is now divided into Zones.
Zone 1 referred to as the "Field" of the roof has the lowest loads.
Zone 2 referred to as the "Edge or Perimeter" of the roof has somewhat elevated loads
Zone 3 referred to as the "Corner" of the roof has the highest loading.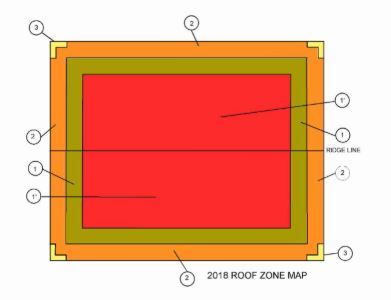 Recently, as more wind tunnel testing has been conducted, the original roof zone plans have been modified again to more accurately reflect the real uplift pressures on roofs. This most recent code changes the shape of the corners and adds an additional pressure zone in the field area of the roof.
Snow loads now require that drifting be evaluated, understanding drifts do not occur evenly across the roof area.
Once the roof areas and the pressures have been determined for wind and snow than the new panel test values are compared to determine the proper support spacing for this panel. Every new roof panel can have a different framing solution depending on its strength.
Contact your local engineer to determine what is needed or contact Roof Hugger. We will use our software to estimate the panel loads and help you select the best panels for your building.
About Roof Hugger
Roof Hugger, LLC, headquartered in Lutz, Florida, is the creator of the Roof Hugger sub-purlin system that provides the industry's most effective way of installing a new metal roof over an existing metal roof. The system is structurally correct, non-disruptive and cost effective. It adds strength, is environmentally friendly, and conserves energy. Roof Hugger is a member company of the LSI Group, Inc. of Logansport, Indiana. For more information visit www.roofhugger.com