By Cass Jacoby, RCS Reporter.
Learn about how Columbia Roofing and their employees are involved with the Walk to End Alzheimer's and the Longest Day and donate to help end Alzheimer's.
Columbia Roofing and Sheet Metal first got involved with the Alzheimer's Association when the father of owner Mark Carpenter was diagnosed with the disease. Mark's family is sadly not the only one at Columbia Roofing and Sheet Metal supporting a family member with Alzheimer's. Six out of 10 employees were found to be full time caregivers while working 35 hours a week.
Wanting to support their employees with family members facing Alzheimer's, Columbia Roofing has actively provided resources to them like the Alzheimer's Association and their 24-hour helpline. In addition, they have also created a company walk team to help raise funds and awareness, granting them the ability to raise $2,000 - $4,000 a year to support the cause.
In 2015 Columbia Roofing became the sponsor of the Walk to End Alzheimer's and in 2017 they became a larger supporter of several events, including the Walk as well as education and a gala. The Memories in the Making Art Auction Gala raises funds for the Alzheimer's Association and the Memories in the Making watercolor painting program for individuals living with dementia. Every dollar raised helps provide critical care and support, and brings joy to people living with Alzheimer's and all other dementia. Through this event Columbia Roofing has been able to donate several thousand dollars as well using silent auction and paddle raises.
Columbia Roofing continues their support as an extension of supporting their employees.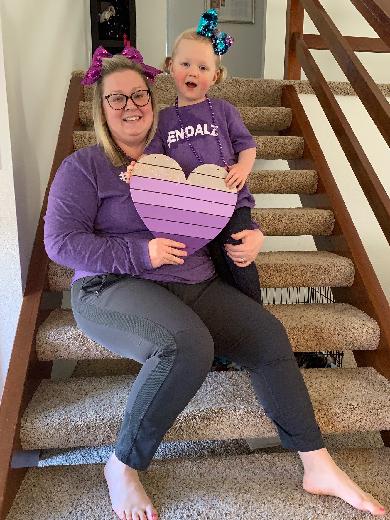 Kendall Ekerson, Columbia Roofing's Director of Marketing, sits on the Walk to End Alzheimer's Committee and helps to plan the event and get other companies involved. For the last six years, Kendall has fought to end Alzheimer's (#ENDALZ). She started walking in the Walk to End Alzheimer's to honor her grandfather, Jack, who died of Alzheimer's. She saw firsthand how families and caregivers are affected and wants to find a cure so that no more families have to go through the heartache of caring for a loved one with Alzheimer's.
Over the years she has become more involved; she now participates in the Longest Day and the Ride to EndAlz. The Longest Day is a fundraising event to advance the care, support and research efforts of the Alzheimer's Association. The Longest Day is the day with the most sunlight — the summer solstice. On June 20, people from across the world will fight the darkness of Alzheimer's through a fundraising activity of their choice.
Kendall has also presented on this topic at the local NWIR Oregon Council meeting about how this disease affects women and our businesses. A few facts to keep in mind: two-thirds of those living with Alzheimer's or dementia are women and women in their 60s are twice as likely to develop Alzheimer's Disease.
Kendall and Columbia Roofing invite you to help raise funds in honor of their employees with family members with dementia and to end Alzheimer's. Donate today!
Learn more about Columbia Roofing and Sheet Metal in their RoofersCoffeeShop® Directory or visit reroofnow.com.