By GE Silicones.
Looking into the future of the roofing industry is key to finding lucrative opportunities.
It is essential today for contractors to stay in the know. Staying in tune with industry changes, product developments, trends in architecture and the customer's shifting priorities could lead to exciting and lucrative opportunities.
This article will look toward the roofing industry's future in the United States and overseas. By examining key trends and exploring diversification, roofing contractors can be prepared to go beyond the roofline and capitalize on future moments.
Evolving to capitalize on a changing marketplace
2020 has been a turbulent year!
The coronavirus crisis, the US election cycle, civil unrest, construction industry labor shortages, a volatile stock-market, the potential rise in minimum wages and predictions from some quarters of a global economic slowdown make it hard to predict what the future holds!
However, this uncertainty does come with new opportunities – and whatever happens in 2020 and the years ahead, it's essential for roofing contractors to prepare for the future.
For forward thinking roofing contractors who are prepared to adapt, diversify and embrace the latest product innovations, there has never been a better time to drive competitive advantage and set themselves apart in the industry.
Industry trends - why replace when you can repair?
For the world's building owners, keeping a handle on costs has always been a key priority. It's why, with the growth in popularity of long-lasting silicone roof coatings such as GE Enduris* roof coating, we're seeing a continued increase in the number of building owners choosing to repair their roofs, rather than replace them.
Should we face an economic slowdown or global recession, the squeeze on financing and cashflow is likely to compound this trend. Building owners simply won't be able to afford or justify a full roof replacement unless it is absolutely essential – and will look towards lasting repairs as the long-term solution.
For roofing contractors, this underlines the importance of developing a competitive, effective roof repair and coating service.
Opportunities beyond the roof
Sometimes, a leaking roof is only one part of a much bigger problem!
Damage and leaks where the roof meets the external walls often go hand in hand with problems on the roof – and to provide an effective fix, the building façade needs to be repaired at the same time.
Some roofing contractors see this kind of repair work as outside their remit, and either bring in specialist sub-contractors, or simply inform the customer, and let them deal with that problem separately.
In reality, there is a solution out there that can allow roofing contractors to make lasting, effective repairs themselves – without the need for any additional skills, processes or specialized equipment. This is where GE Optic* Translucent Silicone Coating comes in.
Same skills – new opportunities with GE Optic* coating
For roofing contractors looking to diversify, open up new opportunities and expand their services – GE Optic™ Translucent Silicone Coating is a turnkey solution that allows you to offer lasting building façade repairs alongside your roofing services, without having to change your business.
It requires no additional skills or equipment – if your team can use a brush, spray or roller, they can apply GE Optic coating. From a commercial point of view, this opens up new opportunities to cross sell services to your existing customers by extending the project scope and taking advantage of additional work on the same building.
They can translate to bigger contracts, more opportunities, and ultimately, more money in your pocket.
Introducing GE Optic™‍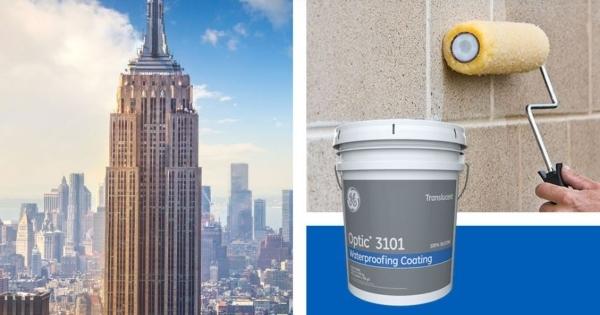 GE Optic Translucent Silicone Coating can provide effective, repair of building façade leaks for the long-term. A refreshing alternative to major renovation work or short-term fixes, it offers a real, lasting solution that comes with 15 years of protection, guaranteedᵼ.
GE Optic coating creates a clear, waterproof, breathable and permanently flexible membrane, sealing minor holes, cracks and irregularities to create a high performance, airtight and weatherproof barrier to protect against water ingress and damaging UV.
Another key feature of GE Optic coating is its transparency. Applied directly to brick, stone, masonry, concrete, wood, copper, glass and more (with primerless application in many cases), it allows the original look of the building to be preserved.
Learn more about GE Silicones on their RoofersCoffeeShop Directory.
Original article source: GE Silicones