By CertainTeed.
"Hail Alley," a vertical stretch of land spanning the middle of the United States from Texas to the Dakotas, experiences the most frequent and severe hail storms in the country.
Throughout the spring and summer, hailstones can pile so high on the streets that snow plows are needed to remove them.
It is not uncommon for homeowners living in Hail Alley to replace or repair their roofs multiple times a year due to frequent battering from storms. Hail larger than an inch in diameter can do serious damage to shingles, and even a single missing shingle can lead to water infiltrating a roof and causing serious damage.
At the 2019 International Roofing Expo, CertainTeed® held its Oh Hail No! contest, which featured a new video promoting its NorthGate® SBS (styrene-butadiene-styrene)-modified asphalt shingle and the importance of installing impact- and wind-resistant shingles to roofing professionals. The winner, announced Feb. 23, was Tyler Seipp of Seipp Construction & Remodeling, LLC in Manchester, Maryland. The prize included two airline tickets to Ft. Lauderdale, Florida, a two-night stay at the Margaritaville Beach Resort in Hollywood Beach and a VISA gift card.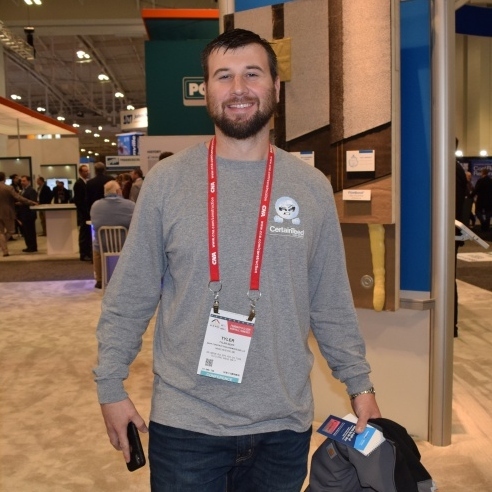 The rubberizing aspect of SBS gives NorthGate superior performance against hail and greater flexibility than typical asphalt shingles, even in cold weather, allowing for year-round installation. SBS also offers superior granule adhesion — one of the key components in protecting the shingle against the elements.
NorthGate shingles also feature CertainTeed's NailTrak™ 1-½ inch wide nailing line for faster and more accurate installation, as well as lifetime-limited, transferable warranty, 10 years of SureStart™ Protection, 15 years of StreakFighter® algae resistance and 15 years of 110-mph wind resistance, upgradeable to 130 mph when installed with CertainTeed starter and hip and ridge shingles.
In a world where damaging storms are more common, one of the most proactive thing someone can do is to invest in shingles with high wind and impact-resistance ratings. A shingle with a 100-mph wind rating will withstand gusts of wind up to 110 mph, so choosing the right roofing product early on can prevent costly repairs later.
For more information on CertainTeed's NorthGate shingles, visit https://www.certainteed.com/residential-roofing/products/northgate/.