By OC Business Journal.
RCS Influencer Charles Antis was featured in this Q&A article in the Orange County Business Journal about his work with Ronald McDonald House and why he gives back.
What inspires you to give?
The first gift that I can remember that was a substantial in my life was when I was in my late teens and was on a mission in Thailand. I went to an orphanage where I met a little girl with spina bifida. She asked me to hold her, and then dug her fingernails in my back and wouldn't allow me to lay her down. I held her for four hours that day and came away deeply moved about the meaning of service and ever since that day, because the experience brought me joy! Why do I give? First it is to grow my JOY! The more I give the more child-like I am and full of wonderment. The second is impact! We truly can change the world. It feels to me that the only way I can keep that which is so precious to me, is to share it, to give it away. Finally, today I truly know what it is that fulfills me… it is to awaken passion in others for social good and I get to do this every day!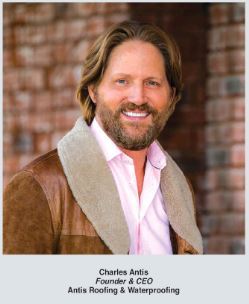 Summarize a personal experience you've had working with a nonprofit organization that has had the greatest impact on you.
Habitat for Humanity Orange County was my first major experience that allowed us to formalize our giving and to learn how to talk about our giving. However, the personal experience that had the greatest impact was the mind-shift that took place for me two years ago when I initiated the relationship between the National Roofing Contractors Association to create the partnership with Ronald McDonald House Charities. I originally believed that our only impact could be to help our community of Orange County. However, when asked what we could do to lift our trade association by NRCA CEO Bill Good, it occurred to me that our roofing professionals across the country could discover the joy and success that we have experienced in Orange County donating roofs. Now an entire trade association is partnered with a great non-profit that affects families across this country. The Ronald McDonald Houses do not worry about keeping the families they serve safe and dry when they need it the most, and we (the NRCA) know what we stand for. We are sheltering families, keeping them close to their sick children.
Learn more about the Roofing Alliance and their partnership with RMHC.
Source: OC Business Journal