Western Roofing Expo 2021
YOU NEED TO BE HERE! Known as the premier regional roofing event in the United States, the Western Roofing Expo 2021 - September 21-23 at The Mirage Las Vegas - features a two-day trade show, 24 educational seminars, two keynote luncheons, the Roofing Games™, golf and sporting clays tournaments, an amazing welcome party & lively-silent auction, and unbeatable networking with powerful industry connections.
DON'T DELAY - the first TEN registrants who use discount code: DISC826 will receive their choice of a FREE education pass - which includes complimentary entry to all seminars for either Wednesday, September 22nd or Thursday, September 23rd. Valued at $125!
---
DAVIS MEMORIAL FOUNDATION EVENTS
BOB PORTER GOLF TOURNAMENT:
Enjoy a day of golf, fun, great prizes and networking. Bear's Best - Las Vegas is a unique golf course made up of 18 holes hand selected by Jack Nicklaus from his 270 designs worldwide. This high-end course includes manicured bent grass greens, challenging designs, and immaculate fairway/tee complexes.
SPORTING CLAYS TOURNAMENT :
Pro Gun Club offers a challenging 21-station sporting clays course, which can give the master class shooter a run for his money, while the beginner shooter can go out and enjoy a day busting clays. Stations are changed frequently so shooters will never get bored at seeing the same targets over and over again. Strap your shotgun in to one of their golf carts and set off into the rolling desert terrain for a fun day of busting clays!
WELCOME EVENT AND AUCTION:
Your experience awaits you with this unique and exciting virtual tour of our Welcome Event & Auction! Bid on fantastic items that range from Lifestyle to Roofing and Sports – you will be able to find that "IT" item and help us reach our goal of raising $50,000 towards the educational fund of the Davis Memorial Foundation.
VIRTUAL-SILENT AUCTION NOW OPEN UNTIL 9/23
TEXT 'DAVIS2021' to 243-725 FOR AN AUCTION LINK
Take a moment to browse this fantastic group of items and then…
STOP – LOOK – SHOP!
---
Delivering over $22,000 in value – Learn more about joining WSRCA Here
Western States Roofing Contractors Association is a non-profit regional association of roofing, roof deck and waterproofing contractors and industry related associate members. The association's close and frequent contact with members and its programs and services are vital to the successful operation of member companies.
The Western States Roofing Contractors Association (WSRCA) was formed in 1974 to preserve and promote the roofing industry in the western region. WSRCA's purpose is to provide assistance to enable its members to operate successfully and competitively.
WSRCA members recognize that the perpetuation of such a healthy business environment is greatly influenced by their professional conduct. The association strongly supports the following practices and encourages its members to do the same.
Professional roofing contractors:
Are honest and straightforward in their dealings with clients, submitting reasonable proposals and answering all questions pertaining to those proposals
Stand behind their work, offering warranties or guarantees where appropriate
Enter into contracts that are fair and equitable, and that clearly assign and delineate responsibilities
Offer evidence that their companies are bonded, insured or licensed in locations where it is appropriate or required
Recognize that the employee's health and safety are of paramount concern to the company and its employees
Support the education and training of their employees
---

---
WSRCA members can use the WSRCA logo, membership seal, and bid-stickers
One of the valuable features of membership in WSRCA is the complimentary use of the WSRCA logo and membership seal. As a member, you are free to use both of these branding tools on your company website, marketing materials, and bid sheets all helping you gain an edge over your competition by distinguishing yourself as an industry leader.
Let potential customers know that you are a part of a top-notch group of roofing professionals committed to the highest standards, and the betterment of the roofing industry!
WSRCA Members value this feature alone as being worth $1,425.00 annually!*
* WSRCA conducted four qualitative research focus groups sessions throughout the western states (Phoenix, Los Angeles, Portland and the Bay Area) The dollar value listed is an average 'ROI' estimate by WSRCA members averaged over those sessions.
This is just one of the many ways WSRCA membership can take your company to new heights. Please contact the Western States office anytime to learn more about what we can do for you.
---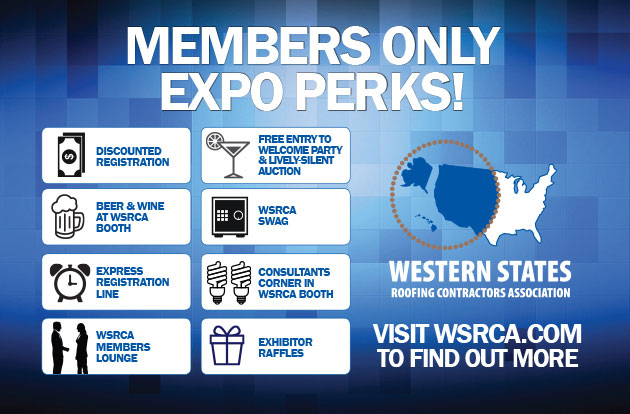 ---
Become a Member

3 (Tech)-HD 1080p from Alec Ward on Vimeo.

Become a WSRCA Member from Alec Ward on Vimeo.

Become a WSRCA Member from Alec Ward on Vimeo.