In her three decades of work as a credit and collections officer, Thea Dudley has trekked across deserts to recover goods, taken FBI interrogation classes to learn negotiators' "tells" and suffered through more lame reasons for extending credit then she can count. She knows how to decide who's worthy of credit and how to go after those who abuse the privilege.
Thea started her career working for her sub-contractor Dad in high school. Her first credit management role was with Nevamar, Inc. a division of International Paper Inc. She then moved into more challenging roles with Louis & Co. as a Regional Credit Manager, Inside Sales Manager and briefly as the Branch Manager-concurrently!
From there Thea went on to work with several leading industry distribution companies, including her husband's family lumber business, and eventually, her own accounts receivable consulting company working with sub-contractors and contractors before accepting a role at Guardian Building Products where she worked her way up the organization. She then went on to serve as Vice President of Financial Services for SRS Distribution, Inc. before branching out to consulting work for the industry with her own company, Pocket Protectors LLC.
Thea has been a major force in the building industry and the credit profession to champion business financial health awareness through education, presenting seminars and webinars for many associations such as: Insulation Contractors Association of America, Western States Roofing Contractors of America, International Building Show, International Roofing Expo, Remodelers Expo, JLC LIVE and many others. Thea was the keynote speaker this year at National Women In Roofing at WSRCA this year moving the conversation forward on women in male-dominated industries.
Thea writes a credit advice column that appears in ProSales Magazine and has contributed to several others. She served as Vice Chair of the National Lumber and Building Material Dealers Assoc. sub-Committee and is currently the secretary of the Mountain States Lumber Dealers Assoc. She is active in National Women in Roofing and the National Association of Credit Managers.
She can be reached at theadudley@charter.net, cell at 864-201-5465.
---
Thea Dudley teaches credit management
In this free online course, Thea coaches you to be the credit manager everyone wants on their team. Register Today!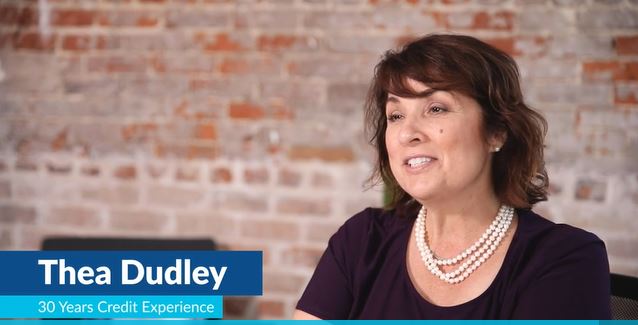 ---
Important information for COVID-19 from Thea Dudley
Roofers Coffee Shop COVID19 & Coffee Conversation with Credit and Collections Resource Page
Thank you all for your time today. As we discussed there are lots of resources out there to help you manage your AR and cashflow during this time. A few recommendations for information:
Federal Deposit Insurance Corporation (FDIC) Website: https://www.fdc.gov
Great source of information on what is going in the banking industry, information on what FDIC is recommending to the banking industry and the latest updates.
Small Business Association (SBA) Website: https://sba.gov
One of the best sources for information on small business lending and resources– they currently have a huge yellow banner across the top of the site COVID19 Releif options and additional resources including guidance and loan resources.
Federal Trade Commission (FTC) Website: https://www.ftc.gov
Information on where businesses can turn for accurate information about financial relief, latest scammer information and updates for both consumers and businesses.
NCS Credit Website: https://www.ncscredit.com
Nationwide (and Canada) provider for mechanics lien and bond service, UCC's, collections and credit and collections education. Currently providing COVID19 State and County updates for the courts in regards to document recording and jurisdictional updates. COVID19 update site if free of charge.
Dun & Bradstreet (DNB) Website: https://www.dnb.com
Business credit reporting. They are currently offering a one time free portfolio "Coronavirus Customer Health Scan" to help you determine what customers are most at risk. Email requests directly to Susan Costello at her email: CostelloSu@DNB.com or call 513-830-9961 Susan on her direct line.
American Collectors Association (ACA) Website: https::/www.acainternational.org
Organization for professional collectors. They have a CODID-19 section with information on the changing data for collection agencies and how they are proceeding during this time period. Great resource for guidance. Usually requires membership but you can create a guest sign in for information.
Fund My Deductible (FMD) website: https://fundmydeductible.com
Financing solution for roofing contractors to offer their customers to help bridge the gap between insurance payout and deductible. Also has options for accounts receivable solutions.
That gives a quick start of some of the options we discussed during our Coffee Conversations. Please feel free to reach out to me directly for any additional assistance or questions! Stay healthy and safe.