Early on in our residential roofing company, we often found ourselves doing a great job on a homeowner's roof — only to get a call later about a damaged bush or a nail in a lawnmower tire. Perfect customer satisfaction felt like an impossible goal, but we kept pushing to find a solution.
We spent thousands at our job sites on the best nail magnets out there, bought metal detectors for our crews, and even paid crews more for extra clean job sites. But
none of those efforts achieved our goal.
Out of this frustration we developed The Catch-All to cover an entire roofing job site.
---
RCS 5% Off Coupon Code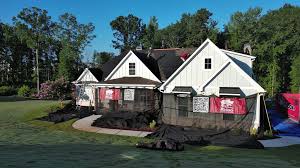 Looking to add The Catch-All to your professional toolkit? When you purchase a jobsite protection kit, you'll receive chute nets, reinforced ground nets, landscape nets and collapsible support poles. Optional gutter protection and NAIL CATCH filters are also available! As part of the RoofersCoffeeShop® community, enter the coupon code RCS at checkout to receive 5% off all purchases.
Use this link and the discount will automatically apply to your cart. Order your Catch-All system today for happy homeowners, fewer callbacks and increased referrals!
---
The Nail Catch

The Nail Catch is the latest revolutionary product from The Catch-All.
These new low-cost, disposable filters are attached to each downspout after a roof replacement and left in place for the next few rains, catching any debris that remains in the homes gutters.
The Nail Catch easily, and cost-effectively, reduces the roofing industry's #1 complaint from customers: left behind NAILS!