SRS Distribution Inc. has long believed that we grow not only by investing in our business but also in our people and our communities. Because of this philosophy, in 2012 the management team of SRS Distribution formed the SRS Raise the Roof Foundation, a non-profit organization whose mission is easily stated in
three words "AND GIVE BACK."
SRS Distribution and our Raise the Roof Foundation truly believe the best way to give back to our communities is to draw upon our company's unique business culture: linking the skills and passions of
our employees with philanthropic dollars.
As a result, SRS Raise the Roof Foundation has become a champion of causes and organizations that support veterans and their families as well as those that address disaster relief and other local community needs.
As one of the largest roofing distributors in the United States, SRS Distribution takes our responsibility of being a good corporate citizen to heart. We are committed to leveraging our business expertise and resources to help those in need in the communities in which we operate and throughout the United States in an effort to help address our nation's most pressing challenges.
---

Our Causes
We Are Here to Serve You!
SRS Raise the Roof Foundation is committed to helping military service members and their families stay strong and connected.
We Help Rebuild and Restore When Disaster Strikes!
SRS Raise the Roof Foundation is dedicated to bringing disaster relief, recovery and restoration to individuals and their communities.
We Support Children and Families in Times of Crisis!
SRS Raise the Roof Foundation wants to ensure a healthy and positive future for children and families in our communities.
All Proceeds Benefit:
Community Needs
Veteran Support
Disaster Relief
Donate to SRS Raise the Roof Foundation today!
---
SRS Raise the Roof Foundation Charity Concert at IRE 2024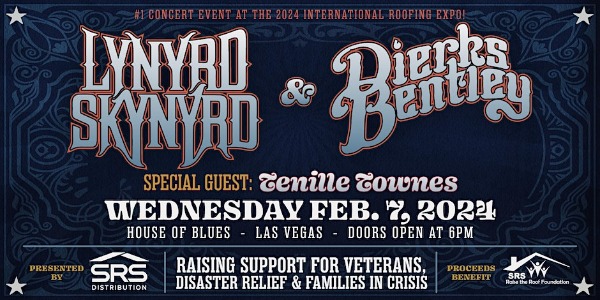 Come join us for an amazing night of entertainment, fun, and fundraising at House of Blues in Las Vegas! We are thrilled to have musical guests Lynyrd Skynyrd, Dierks Bentley, and Tenille Townes! You will NOT want to miss this incredible event.
All food and drink is included, so come hungry and thirsty!
---
"And Give Back"
These three small words that define our mission carry a great big promise to support
our three primary pillars - assist veterans, help with disaster relief and serve our local communities. SRS Raise the Roof Foundation is committed to give back - through the time, talents and resources of branch and corporate team members in our locations across the country and through the generous donations from our supporters - customers, suppliers, vendors, employees and other friends of our foundation who
open their hearts to our mission. To us, it's just that simple... "And Give Back!"