Registration is OPEN for RCAT's Annual Conference!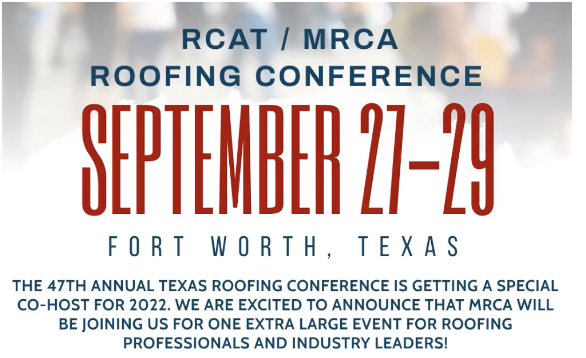 The 46th Annual Texas Roofing Conference is getting a special co-host for 2022. We are excited to announce that MRCA will be joining us for one extra large event in Fort Worth, TX.
WHO ATTENDS
The Texas Roofing Conference is for commercial and residential roofing contractors, builders, re-modelers, architects, consultants and their employees.
THE TRADE SHOW FLOOR
The trade show floor will feature manufacturers and suppliers of all sizes displaying the full range of products, value-added services and the most innovative ideas in roofing materials and technology. From major corporations to innovative new start-ups, you will find every conceivable segment of the industry in one place, at one time.
EDUCATIONAL OPPORTUNITIES
Learning is a vital part of the conference and we offer a wide range of programs that feature industry leading speakers, fresh ideas and continuous inspiration to grow and build your business. Whether your interest is safety, technology, or professional and business building, our courses have it covered.
SPECIAL EVENTS
Experience fun events while making those all-important connections during our Conference networking opportunities. Special events include our Golf Tournament, Welcome Reception, Awards Luncheon and more!
---
The Roofing Contractors Association of Texas (RCAT) is a statewide trade association of roofing and waterproofing contractors. This group of professionals collectively represents the voice of the roofing and waterproofing industry in Texas. RCAT's mission is to help its members operate successfully by providing up-to-date continuing education, technical research data, industry contacts, consumer help and a forum for governmental and public relations.
---
Become a Sponsor for the Texas Roofing Conference, download this sheet with all the great opportunities.