We make the best ventilation and accessories for metal roofs — period. With the most tested and certified products on the market, you can trust Marco for solutions that perform in even the harshest conditions, protecting your roof and everything underneath. That's just who we are.
Investing In Quality
For more than 25 years, we've assembled the best people and capabilities in order to deliver superior quality and performance. But earning multiple Top 10 Product Awards, Rural Builders Gold Key Awards and more aren't the goal. Customer satisfaction is.
That's why, in addition to industry-leading testing and certifications, we invest in innovative design and manufacturing, including the only specialized non-woven material manufacturing capabilities in the industry. This competitive advantage allows us to use specially formulated polyester in our ventilation products—manufactured from recycled material—to prevent moisture absorption and hold together to help keep out pests. (Polyurethane products soak up water, causing them to constantly expand and contract, eventually disintegrating.)
Perfectly Positioned To Deliver
Our corporate headquarters and almost 220,000 square feet of made in the USA manufacturing and warehousing are centrally located in Tulsa, Oklahoma. From here, and through five distribution facilities across North America, we deliver Marco quality coast to coast.
The Weather-Tite™ System
Only Marco offers the Weather-Tite System, a comprehensive line of metal roofing solutions that offer easy installation, remarkable building ventilation, lower utility costs, extreme durability and outstanding warranties. In short, quality metal roofing products that are economically and ecologically smart. That's why customers trust Marco products to deliver the industry standard in performance and reliability, time after time, through all kinds of weather.
---
Marco Earns 16th Gold Key of Excellence Award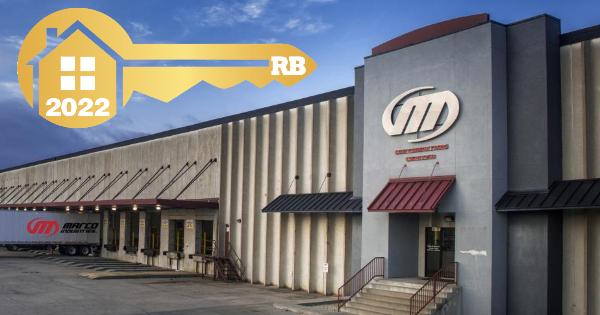 Earlier this month, we wrote about it being hail season. May brings more than hail, however. For Marco, it also brings recognition for a job well done. This May, Marco was awarded our 16th Gold Key of Excellence Award by Rural Builders Magazine.
As a 2022 Gold Key Award winner, we receive a commemorative plaque to display alongside our other accolades, mention in the July edition of Rural Builder Magazine and, of course, the pride that goes with the honor. After all, only the top 10 percent of those companies considered for the award receive the honor, and typically, more than 100 companies are nominated. But this award means more than all of that to us.
---
Python™ Single-Layer Ridge Vent
Our recycled polyester, single-layer ridge vent can be used
under ridge caps, ridge shingles and as a fascia vent to
keep attics cooler in summer and dryer in winter.
Ideal for all roof applications, Python helps reduce utility costs, and its non-wicking performance helps keep out insects, dust and moisture. Miami-Dade County
Approved*, Python is backed by a 50-Year limited
warranty.
Python is not fabric covered and comes in a coil. It's a strong, durable, modified polyester and can be used
under ridge caps, under ridge shingles and as a fascia
vent with all roof applications.
Python's non-woven, non-wicking, fiber-based matting has no external baffle, which greatly reduces dirt and snow trapping. When used as a fascia vent, Python helps eliminate mold build-up. As a ridge vent, it helps keep out insects, dust and moisture. This versatile product allows fresh air to be drawn into the attic and hot or stale air from inside to be drawn out through the ridge vent, reducing utility costs year-round.
---
Proper Metal Roof Ventilation
Stands up to the elements. And your expectations. Our exclusive nonwoven polyester material delivers long-lasting resiliency and breathability to help prevent moisture absorption that can lead to costly rework, repairs and high energy costs.
---
Resources
Check out these product sheets for technical details on MARCO Solutions including specs, tech drawings, and more.
---
Choosing the Right Fastener
Fasteners are such a small part of roofing that their importance can easily be overlooked. But selecting the right fastener for your project is vital. Without the proper fasteners, your panel system can fail.
Check out this quick overview to help you select which Marco fastener is right for your project.
---
Roofing and Ventilation Terms
Like every industry, metal roofing has its own lingo and technical terms.
Check out some of the most common roofing and ventilation terms.