Who We Are
For over 70 years, Leister has been the global leader in plastic welding and industrial hot-air applications.
Whether you're welding PVC, TPO or Modified Bitumen membranes, the performance and reliability of our
products makes Leister the preferred choice of
professional roofing contractors worldwide.
With our cutting-edge technology; high rate of innovation; extensive process expertise; unmatched stability and reliability (not to mention our decades of experience); we work with our qualified employees toward achieving the highest possible product quality.
These standards are the benchmarks for which all product lines that carry our brands, LEISTER, AXETRIS and WELDY, strive to meet. Our innumerable patents and registered designs highlight our development ability and strength in innovation.
---
Introducing the UNIDRIVE 500 - Roof Welding Close to the Edge Made Easy
The new UNIROOF AT/ST roof welder is your flexible
partner for welding thermoplastic roofing membranes
on flat or pitched roofs (up to 30°).
Thanks to its slim design and construction, as well as the
movable transport axle converting of the machine is no
longer needed. Now, you can effortlessly weld close to the
edge (to 100 mm ) at the parapet or on the parapet and as
easily in narrow circumstances.
The UNIDRIVE 500 closes the gap between manual and
automatic welding in a small, 9.9 lbs. lightweight and
easy-to-handle semi-automatic hot-air welder.
Radius welds quickly and efficiently with the UNIROOF AT / ST. Pipe collars can be welded easily and quickly with the flexible axle of the UNIROOF AT / ST. Weld roofing membranes up to three times faster than hand welding with the UNIDRIVE 500. It's rotating nozzle and reversible drive makes UNIDRIVE 500 ideal for welding close to the edge and in tight spaces, either on or at the roof parapet, flashing wall, edge and curb details, as well as horizontal and vertical surfaces. The tool is equipped with three handles to provide ultimate welding comfort and balance. In addition, the UNIDRIVE 500 can be easily operated via its digital display.
Reliable: Ergonomic handles for balanced pressure and comfort while welding

Fast: Up to three times faster than manual welding

Versatile: Rotating nozzle and reversible drive for dual-direction welding

Practical: Compact and lightweight at 9.9 lbs.

Economical: Low-maintenance due to its brushless motors

Intuitive: Simple user guidance and operation via digital display

No converting: Thanks to the movable transport axle the UNIROOF masters welding closte to edge at or on top of the parapet.

Swiss Quality you can rely on: Field tested design for ergonomic handling, flexible relocating and optimal machine guiding.

The direct-driven, maintenance-free pressure wheel [drive motor integrated in pressure wheel] leads to clearly optimized overall performance and is easy to service.

Greater efficiency at construction sites: The new UNIROOF class brings an additional 38% (ST) to 66% (AT) higher welding performance compared to similar machines.

Welding roof structure profiles with special profile kit.
Watch more videos.
---
Radius welding with UNIROOF AT/ ST
---
Single Ply Roof Membrane Welding with the LEISTER Triac ST
The Leister Triac ST plastic welding tool being shown in use on the roof for single ply membrane welding
The TRIAC AT shows, at the push of a button, the current mains voltage (quality checking before the welding process)
The built-in motion sensor knows when the tool is not in operation and reduces the blower level to its minimum speed, which means up to 40% energy saving and noise reduction
Handiness, reliability and versatility are the key arguments in favor of the TRIAC ST. Its two-component handle gives users perfect grip, while the low weight of less than a kg ensures optimum weight balance. The innovative motor and turbine design, combined with the heating element familiar from the TRIAC AT, enhance the value even more. More than 80 nozzles fit onto the TRIAC ST; these are also compatible with the TRIAC AT and TRIAC S.
100% Swiss made quality

60 years of expertise in making hot-air tools – brought together in the new TRIAC ST

The sturdy, professional hot-air tool that weighs less than 1 kg/2.18 lbs

Functional design: two-component handle grip and optimum center of gravity ensure ergonomic working

Quick clean air filters

Automatic carbon stop (collector protection) and heating element protection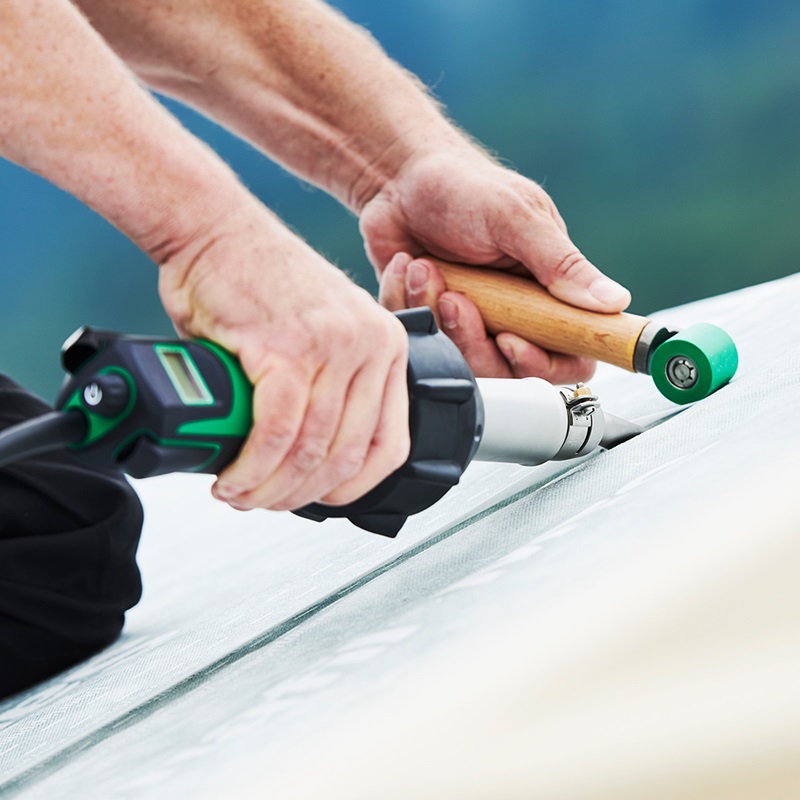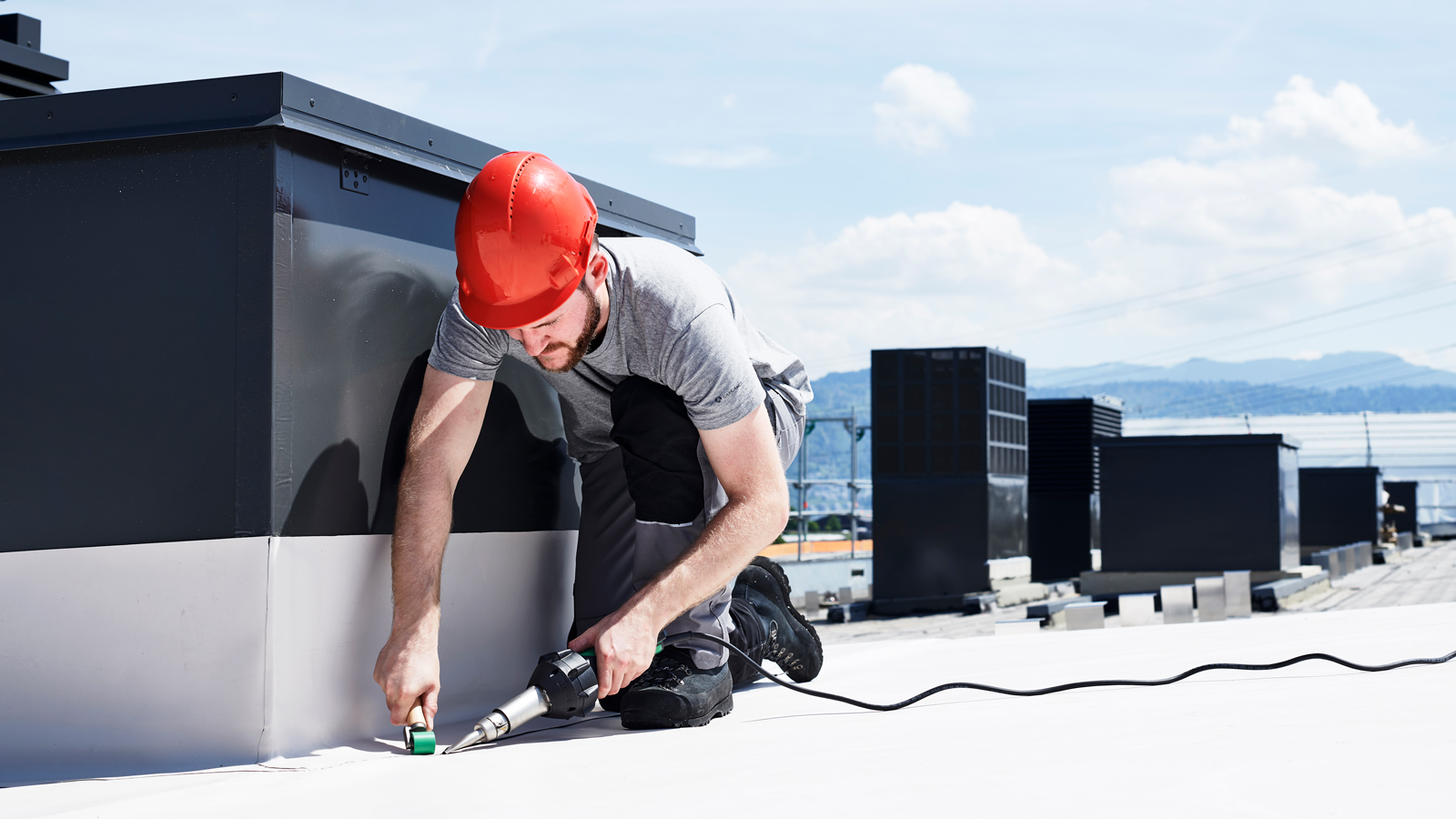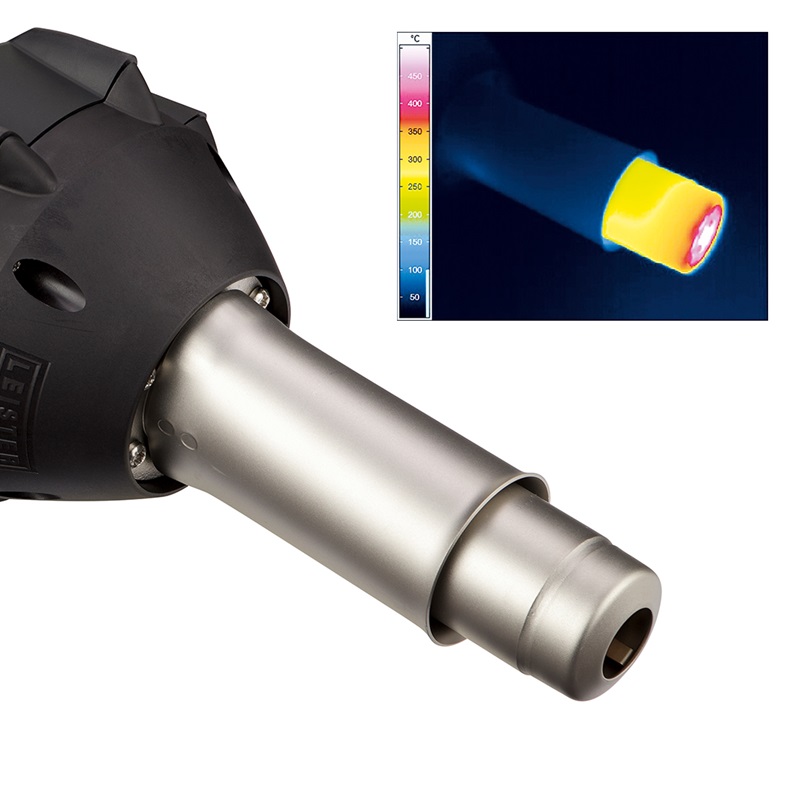 ---
Check out the Roof Structure Profile Kit - Now available in the US!