Founded in 1974, the Geocel brand has built a strong reputation of providing innovative sealants specially designed for tough construction and repair applications in commercial, residential, industrial and transport (non-automotive) markets.
Quality is a key ingredient in every Geocel product and service offered. This is why professionals have come to trust and depend on Geocel products to help them do the job right the first time. The quality line of sealants helps professionals save time, lower costs, and reduce callbacks.
Geocel has a long history of setting the standard in quality. Geocel was the first U.S.-based sealant manufacturer to receive ISO 9001 Registration. Standards like these, along with contractor participation in new product development have brought about many of the innovative solutions that are relied on today with confidence.
Geocel strives for and succeeds in maintaining the following values:
Integrity
Quality
Health & Safety
Customers
People
Community
In all that we do, we are committed to excellence. Without our customers and employees, we would not exist. We value initiative and innovation, and will continue to work to improve the quality of life in the communities where we live; leaving them better places for those who follow. We will periodically take time to recognize and review our progress and celebrate these values that contribute positively to the achievement of our goals.
For peace of mind, look to the one who is setting the standard in sealants. Look to Geocel.
---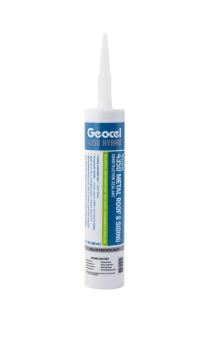 Geocel 4350™ provides a strong, long-lasting bond to PVDF, SMP, and polyester coated steel, bare galvanized, Galvalume® metal panels, aluminum, copper, skylights, glass, brick, block, wood and vinyl siding. Stay flexible and can be applied in extreme wet or dry conditions, even down to 0 degrees F. Learn more.
---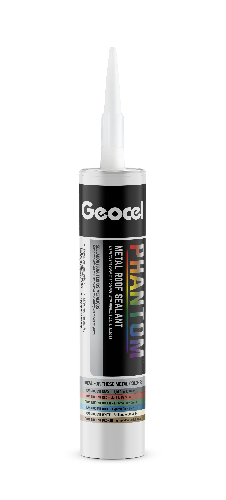 Phantom™ Metal Roof Sealant has six translucent, customizable colors that allow any panel color to shine through and blend with the surface for a great look and superior protection – saving you time and money.
Features
• Weatherproof plastic cartridge
• Exceptional elongation and flexibility
• Excellent adhesion to coated metal panels, even when damp
• Remains flexible
• UV resistant
• Resealable, may be applied over itself
• Paintable
• Asphalt shingle compatible
• Easily applied, non-stringing formulation
• Tools and cleans up easily
• Cured sealant is mildew resistant
For Use On
Wood, concrete, metal, glass, tile, brick, asphalt shingles, primed TPO, primed PVC, EPDM, vinyl, skylights, HVAC applications, and other common building substrates
---