The CRRC Rated Roof Products Directory is a free, online database that can be used to identify roofing products that comply with various building codes, financial incentives and voluntary green building programs (e.g., LEED, Green Globes). Each of the products on the CRRC Directory has a CRRC product rating that indicates the radiative performance (solar reflectance, thermal emittance, and Solar Reflectance Index (SRI)) of the roofing product. Knowing the radiative performance of roofing products is important for understanding the roof's impact on building energy use, occupant comfort and the surrounding environment.
The CRRC Directory currently lists over 3,000 roofing products and is the only database of its kind in the U.S. since the sunset of the US EPA ENERGY STAR program for roofing products in June 2022. Learn more here.
Mission
To implement and communicate fair, accurate and credible radiative energy performance rating systems for roof or wall surfaces
To support research into energy related radiative properties of roof or wall surfaces, including durability of those properties
To provide education and objective support to parties interested in understanding and comparing various product options
By pursuing this mission, the CRRC will become the recognized informational resource for reducing the urban heat island effect, increasing building energy efficiency, improving occupant comfort and mitigating the global climate effects of greenhouse gas emissions.
---
CRRC Annual Meeting and 25th Anniversary
Join the CRRC for their 2023 Annual Meeting and 25th Anniversary celebration in Las Vegas on June 14! The meeting will feature engaging presentations from CRRC members and guest speakers, as well as a complimentary cocktail reception. Registration will open in early March. Visit coolroofs.org for more details!
---
What is a Cool Roof?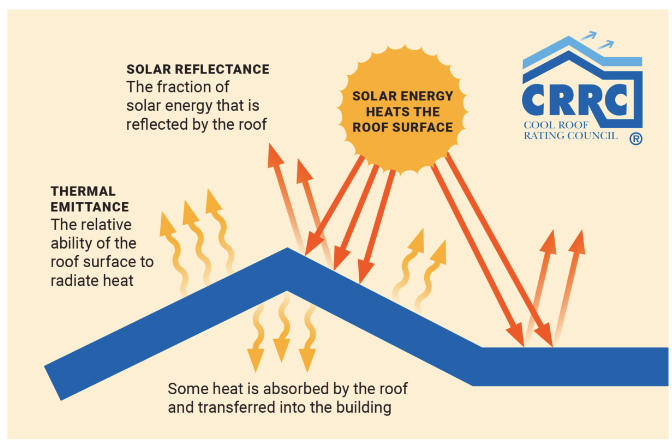 A cool roof is one that strongly reflects sunlight (solar energy) and also cools itself by efficiently emitting any heat that was absorbed. The roof literally stays cooler and reduces the amount of heat conducted into the building below. If a building does not have air conditioning, this keeps the building cooler and a more constant temperature. If a building has air conditioning, the equipment does not have to work as hard. Imagine wearing a white or a black T-shirt on a hot day. By wearing the white T-shirt you will remain cooler than if you wore a black T-shirt because it reflects more sunlight and absorbs less heat. Cool roofs, like a white T-shirt, keep the internal temperature of the building lower.
However, a cool roof does not need to be white. There are many "cool color" products which use darker-colored pigments that are highly reflective in the near infrared (non-visible) portion of the solar spectrum.
---
Become a Member!
CRRC membership is open to any individual or organization with an interest in the building envelope, energy efficiency, urban cooling, and/or the testing and rating of solar-reflective building surfaces. CRRC membership is divided into two classes.
Why Join?
To have a voice in the direction of the CRRC
To demonstrate your organization's leadership in the market
To vote on critical issues
To interface with other industry leaders and actors interested in the building envelope, energy efficiency, urban cooling, and surface reflectivity
To elect Board members
To serve on the CRRC Board of Directors
To serve on a CRRC committees
---
IRE 2023