Watch Who We Are...
Only by eating, sleeping, and dreaming asphalt can you hope to keep up to date with the latest news, trends, innovations in the asphalt roofing industry. Or you can visit this web site, where all the work has been done for you… by ARMA.
The Asphalt Roofing Manufacturers Association (ARMA) is a trade association representing North America's asphalt roofing manufacturing companies and their raw material suppliers. The association includes the majority of North American manufacturers of asphalt shingles and asphalt low slope roof membrane systems.
Information that ARMA gathers on modern asphalt roofing materials and practices is provided to building and code officials, as well as regulatory agencies and allied trade groups. Committed to advances in the asphalt roofing industry, ARMA is proud of the role it plays in promoting asphalt roofing to those in the building industry and to the public.
ARMA's vision and mission is to be an association committed to the long-term sustainability of the asphalt roofing industry and to advocate and advance the interests of the asphalt roofing industry by leveraging the collective expertise of its members.
Vision Statement To be a progressive association committed to the long-term sustainability of the asphalt roofing industry.
Mission Statement To advocate and advance the interests of the asphalt roofing industry by leveraging the collective expertise of its members.
---
ARMA's Excellence in Asphalt Roofing Awards Program
Now through December 1, 2022, the Asphalt Roofing Manufacturers Association (ARMA) will accept submissions for the

2023 Excellence in Asphalt Roofing Awards Program

. Roofing contractors across North America can submit their best low- and steep-slope asphalt roofing projects from the past three years for a chance to win.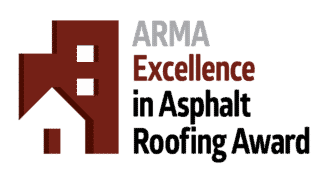 In recognition of this achievement, the winners (Gold, Silver, and Bronze) receive:
A monetary prize (Gold – $2,000; Silver – $1,000; Bronze – $500)

Features in national roofing and/or building and construction publications

Press releases notifying industry press and local media

Social media promotion

Formal recognition during the

2023 International Roofing Expo

and the opportunity to network with major asphalt roofing manufacturers

An official ARMA certificate and other authority-boosting materials

Recognition on the

ARMA website

for the winning project
It is free to participate in the program, and there is no limit to the number of entries a contractor may submit as long as each project meets the specified criteria. So, if a contractor has completed several projects over the previous three years, start online applications early to ensure adequate time to draft the strongest entries possible to increase the chances of winning. Entries will likely stand out more with detailed information and eye-catching images
Entrants have until Thursday, December 1, to enter the awards program. This will be the final deadline, so contractors must submit entries before this time.
---
ARMA Releases 2022 Q3 Report on Asphalt Roofing Product Shipments
The Asphalt Roofing Manufacturers Association (ARMA) has released its Quarterly Product Shipment Report for the third quarter of 2022. The report covers asphalt roofing product shipments in the United States and Canada in the third quarter, as well as year-to-date shipment information and a comparison with the prior year's data.
"The shipment report provides valuable insight into the asphalt roofing industry to trade professionals and interested parties," said ARMA's Executive Vice President Reed Hitchcock. "Asphalt roofing data is relevant and meaningful to a number of industries."
Roofing product shipment data is collected from participating manufacturers by an independent third party, Association Research Inc., and aggregated to create this report. Companies that are not members of ARMA may examine the free quarterly summaries, and those ineligible for ARMA membership can subscribe to the full, detailed report on the
ARMA website
.

---
Why Asphalt Roofing?
When it comes to roofing, whether it's steep slope or low slope, commercial or residential, asphaltic roofing materials are the most popular, widely used products in North America. In fact, approximately 80% of the homes in North America have asphalt roofing. Versatile, durable, beautiful, affordable, and reliable. All of these attributes add long-term value to your investment and keep North America working. Now more than ever, sustainability is a paramount quality. Asphalt roofing materials are being recycled and repurposed for other construction applications such as road paving and maintenance projects. Variety and texture, style, cut, and color help achieve any desired look without having to spend a premium. For commercial and residential systems; durability and robust fire and wind resistance means performance you can count on. Most homeowners only replace their roof once, making the decision on what material to use so important. Asphalt shingles are a proven roofing technology, providing homeowners an unmatched level of beauty, affordability and reliability.
---
The Beauty of Asphalt Roofing
An asphalt shingle roof provides homeowners with years of protection from the elements as a result of its reliability, durability and longevity. Asphalt roofing offers unparalleled beauty and versatility, which allows homeowners to pick a variety of unique colors, styles and textures that can increase a home's value and raise its curb appeal. Today, four out of five homeowners in the U.S. choose asphalt roofing. For most homeowners, choosing a type of shingle roof is a once in a lifetime decision, so deciding on what color and style fits their personality and one which blends with the character of the neighborhood is an important one. This new short, educational video from the from Asphalt Roofing Manufacturers Association (ARMA) examines the "The Beauty of Asphalt Roofing" for low and steep slope applications. Asphalt roofing manufacturers work with color consultants to create a wide variety of appealing styles, looks and tones to provide homeowners with different options to satisfy all of their needs and desires. The video explains the process of how different colors for asphalt shingles are created and what the latest design trends are in asphalt roofing systems.
---
Click the photos below for more details.
---
2022 Excellence in Asphalt Roofing Awards Winners
ARMA's Excellence in Asphalt Roofing Awards Program seeks to recognize contractors across North America who choose asphalt to install beautiful, high-performing roofing systems. Asphalt is the selected roofing solution due to its range of colors and designs, ability to meet stringent project requirements, and the peace of mind they bring to a homeowner or building owner.
ARMA received a record-breaking number of awards submissions this year, which were judged by a panel of industry experts and members of the trade media.
Award Winners
Gold: Black Hills Exteriors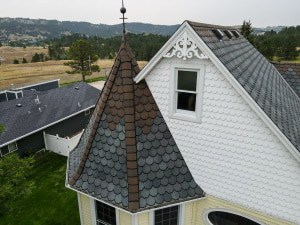 The Scull Residence is a Queen Anne Victorian-style home located in the heart of Black Hills, a mountain range in Rapid City, South Dakota. This style of home was introduced to America in 1880 and is characterized by elaborate color schemes, grand architecture towers, and high-pitched roofs with patterned shingles. The project was challenging due to a 2020 hailstorm that damaged the entire roof and the homeowner's desire to maintain the timeless exterior. Black Hills Exteriors integrated two shingle colors to preserve the home's distinct characteristics, giving the roof a unique curb appeal. Black Hills Exteriors achieved an elegant look for this Victorian-style home by understanding the historic character and applying the versatile design of asphalt shingles.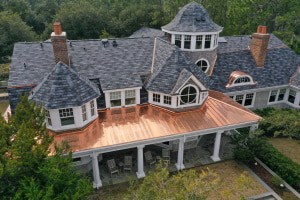 Silver: Weatherguard Roofing
The Island House illustrates how the reliability of asphalt shingles to protect structures from the elements can be integrated with unique design requirements to produce exquisite architectural finishes. The project required a roofing solution that provided versatility and artistry, making asphalt the clear choice. The roof selection was driven by the desire to intergrade a roof with a slate-like appearance to complement the copper additions while maintaining the durability and strength of asphalt shingle construction.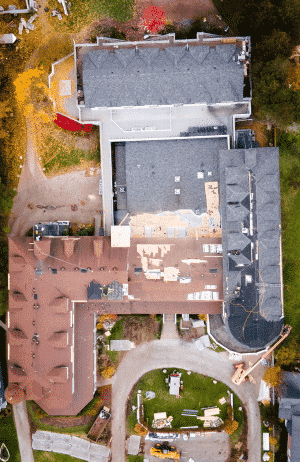 Bronze: Green Horizons
The Island House Hotel was originally built in 1852 on one of the most valuable historic sites in the State of Michigan. Due to its unique location and the island-wide ban on motorized vehicles, every single material that arrived at the job site had to be delivered to a mainland ferry, loaded onto a freighter boat, and then transported to the project site by horse. Furthermore, the contractor was under heavy time constraints to finish the work after the summer tourist season and before the ferry system shuts down due to ice buildup in the straits of the Great Lakes. Green Horizons utilized asphalt shingles to maintain the historic aesthetic while providing the necessary strength and durability to protect this island property.