Episode 81 - RT3, New Coffee Conversations and Lots of Upcoming Shows!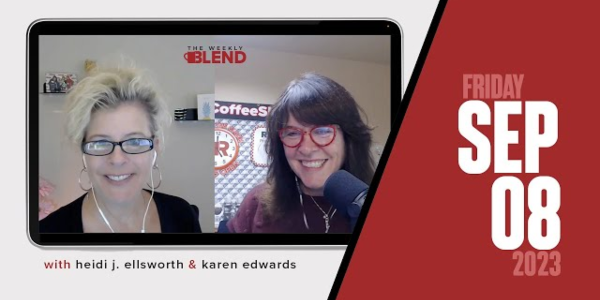 Join Heidi and Karen every Friday to learn the latest roofing industry updates.
The 81st episode of The Weekly Blend is here! Join the Coffee Shops' President Heidi J. Ellsworth and COO Karen L. Edwards for the newest episode of this Coffee Shop original web series.
This week, Heidi and Karen discuss our next episode of Coffee Conversations on Thursday, September 14, 2023 at 7 am PT / 10 am ET. We'll be meeting with industry experts from the National Roofing Contractors Association (NRCA) as we discuss next year's International Roofing Expo (IRE) and what attendees should be planning for the show.
They also discuss how they'll both be hitting the road soon for the fall season of trade shows and industry meetings. Their first stop will be at the Roofing Technology Think Tank (RT3) meet-up in Milwaukee at the MTL Holdings headquarters! There, RT3 members will tour the facility and learn about their new metal construction technology.
Tune in to this week's episode of The Weekly Blend to stay up-to-date on all the roofing and metal industry happenings. And don't forget to subscribe to our YouTube channel so you never miss a new episode!
---
Share this: