Veteran CDL Scholarship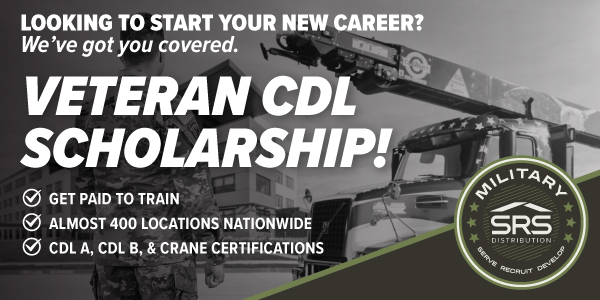 Logistics Specialist Trainee
At SRS Distribution, we believe in honoring our Veterans and dedicate ourselves to investing in their futures. Due to this commitment, we are offering CDL Scholarship to Military Veterans in which SRS will not only cover all the cost of training but will employ scholarship recipients as they train.
Scholarship Details:
As a CDL Scholarship recipient, you will be hired as a Logistics Specialist Trainee and participate in a 90-day training program. Within the first 30 days, you will be introduced to our industry, working alongside drivers and warehouse staff, preparing, and delivering building material to our customers. Within 60 days, you will attend our CDL Academy, with required travel, housing, and meal cost paid by SRS as part of the scholarship. Within 90 days, you will test for your Commercial Driver's License.
Upon successfully obtaining your CDL and meeting all the below qualifications, you will be promoted to Logistics Specialist, becoming a full-time Driver for SRS and receive a $1000 bonus.
We are committed to the personal and professional growth of our team members. We reward you for safety and provide continuous opportunities for your professional development. Recipients within some regions will receive additional training and opportunities to be certificated Crane and Moffett operators.
---
Share this: