For Charles Antis, wardrobe serves a dual purpose.
Charles Antis - Aside from a polished look, he's after that second glance, a conversation starter he'll use to recruit you for his latest passion project to make the world a better place.  "I believe everything you do has a reaction, so I plot my day to send ripples for good," said the founder and chief executive of Irvine, California based Antis Roofing & Waterproofing.
If you run into Antis, chances are you will notice the candy-striped socks he's been wearing every day for the past 15 months in support of the Roofing Alliance and National Roofing Contractor Association's support of Ronald McDonald Houses across the U.S.
The lining of the suit in photo inset here, bears a printed message as you can see with his United to End Homelessness coat. That's two of about a dozen organizations he said he lends his support to, "Whenever I join a board I buy a suit so I can get the word out," he says.
The nods to charity causes – he has 26 pairs of official Ronald McDonald House clown socks- also serve as a personal reminder of this mission to help others.  "Every morning when I put them on I cannot not think about why I'm wearing them."
For more about Antis Roofing's initiatives or how you can give support in your own communities click here. https://www.antisroofing.com/impact/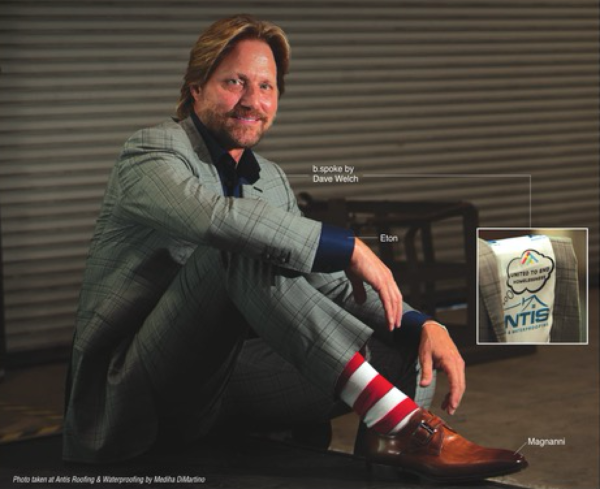 Photo credit: Mediha Dimartino