Exclusive R-Club Quarterly Training with Cotney Consulting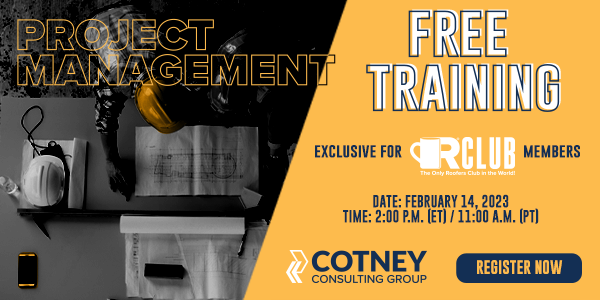 As an R-Club member, anyone in your company has access to receive five FREE live trainings each an hour long with John Kenney of Cotney Consulting
Project Managers are responsible for planning and controlling every stage from pre-construction to completion of roofing installations for multiple concurrent construction projects to be completed on time and within budget while ensuring that roofing teams work in safe conditions. They play a pivotal role in the success of your company. This training will cover the most vital requirements for successfully managing projects from organizational and strategic aspects.
Superintendents oversee roofing installation for compliance with plans, specifications, safety, quality, and schedule and supervise roofing personnel. They are a crucial player in the success of your company. This training will cover the most relevant information for multiple crew management, planning, scheduling, organizing, and directing work.
Crew leaders are one the most valuable resources in your company. Your frontline managers are crucial to helping your employees succeed and fostering your company's growth. You trusted them enough to run your crews, so ensure you empower them to succeed. Roofing crew leaders today face a challenging future. As more experienced roofers retire and the workforce pool continues to shrink, they will need to be more hands-on with new hires. Invest more time to ensure employees understand their work assignments and look for more ways to train and coach their people. This training will cover the essential skills and how to develop them that are needed to become effective crew leaders.
Launching or growing a service division can be daunting. This training will cover the foundation of what you need to implement to create or expand your commercial or residential service division. Some of the components we will cover include; pricing methodology, an overview of service operations procedures, and service culture.
Watch past trainings with John below:
Roofing Estimating Training
August 9, 2022
---