By AEP Span.
While there are a variety of material options for roofing, metal provides many positive features that make it worth the extra investment compared to other materials.
Materials such as asphalt shingles are a very popular option for residential roofing, but there are perks that asphalt lacks compared to metal roofing. While the cost of using metal roofing can vary depending on the features and projects, metal is by far worthy of the investment considering its positive features. The experts at AEP Span highlight the benefits of choosing metal roofing for your next big roofing project.
Longevity
While an asphalt shingle roof may be the least expensive at first glance (on average a 1,600-square-foot simple gable, low-pitch roof costs about $9,000), a metal one (typically ranging from $10,375 to $14,075) will end up saving you in the long run. Metal roofs last a lifetime (over 50 years), so you save on the installation and removal of several roofs for the cost of one. Asphalt shingles need to be replaced approximately every 25 years, so spending more initially on metal just makes sense from an investment standpoint.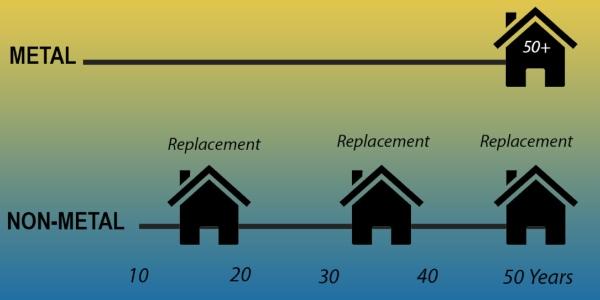 Non-metal roofs need to be replaced far more frequently than other roof types
Energy savings
Metal saves you money on energy bills by keeping homes cooler during sweltering months. You could save up to 25% on your cooling costs with metal versus asphalt shingles. Why such a drastic amount? The use of 'cool colors' helps our metal roofing reflect infrared light to minimize heat buildup. This helps you save on cooling costs during hot months.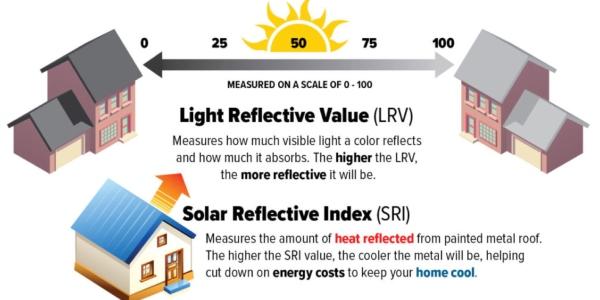 Low maintenance
Metal roofs are practically maintenance-free! With less upkeep, you will save a lot of time and hassle. To properly maintain a metal roof, you only need to remove leaves, branches and debris. This can be done with a window washing brush on a long pole to minimize damage. Other best practices to have are keeping the gutters clear and trimming nearby trees to prevent rubbing on the house.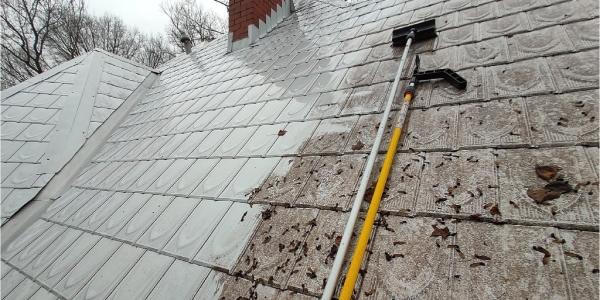 Metal roof being cleaned
Durability
Steel is an extremely durable material! A metal roof can stand up to the harshest environmental elements on top of lasting two to three times longer than asphalt shingles. If you live in an area with extreme weather conditions, having a more durable exterior could be a huge cost and energy saver. Steel roofs are also fire-resistant as metal is non-combustible. some insurance companies even offer lowered rates after installing metal roofs. Discount or not, metal roofing is the safest option to protect what matters most to you.
Appearance
Painted metal offers you a contemporary appearance in a variety of aesthetic options. Having many color choices allows you to make bold expressions and helps you get the look you want. No matter the style you are going for, there are metal options available to bring your inspiration to life.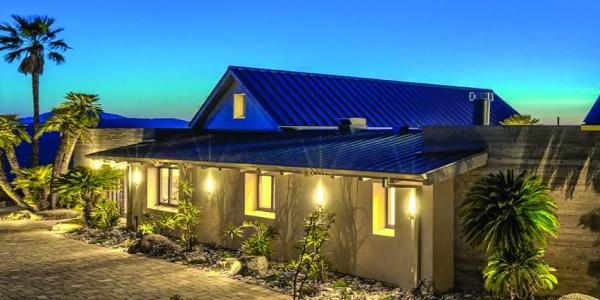 Energy Efficient Cool Colors in Today's Metal Roofing
At AEP Span we specialize in the development of authentically painted metal. To learn more about the painted metal used for metal roofing and siding, visit our learning center.
If you need any metal product assistance, reach out via ask AEP Span.
Original article source: AEP Span
AEP Span is a premier manufacturer of commercial metal roofing and siding products, offering an unrivaled commitment to the success of contractors. AEP Span offers a broad portfolio of extensively tested and accredited products (including Building Code and LEED accreditations).
AEP Span offers extensive support to contractors, including technical and architect support, detailed installation resources, weathertight warranties, and estimation services.