By Ann Iten, Westlake Roofing Solutions.
Visit our new website to take advantage of various contractor resources at the touch of a button.
As part of the new, enhanced Westlake Royal Roofing Solutions website, the company has expanded numerous resources for its valued contractor partners, making many of them available and accessible online. Contractors looking for everything including design inspiration, product literature, installation guides, visualization tools, marketing support and much more can now source what they need here.
Among the vast suite of resources are the following with direct links to where they can be found on our site:
Inspiration gallery
A great roof solution often starts with a search and review of various design options. The online Inspiration Gallery features homes in all types of architectural styles shown with Westlake Royal roof materials in an array of profiles and colors. Visit the inspiration gallery here.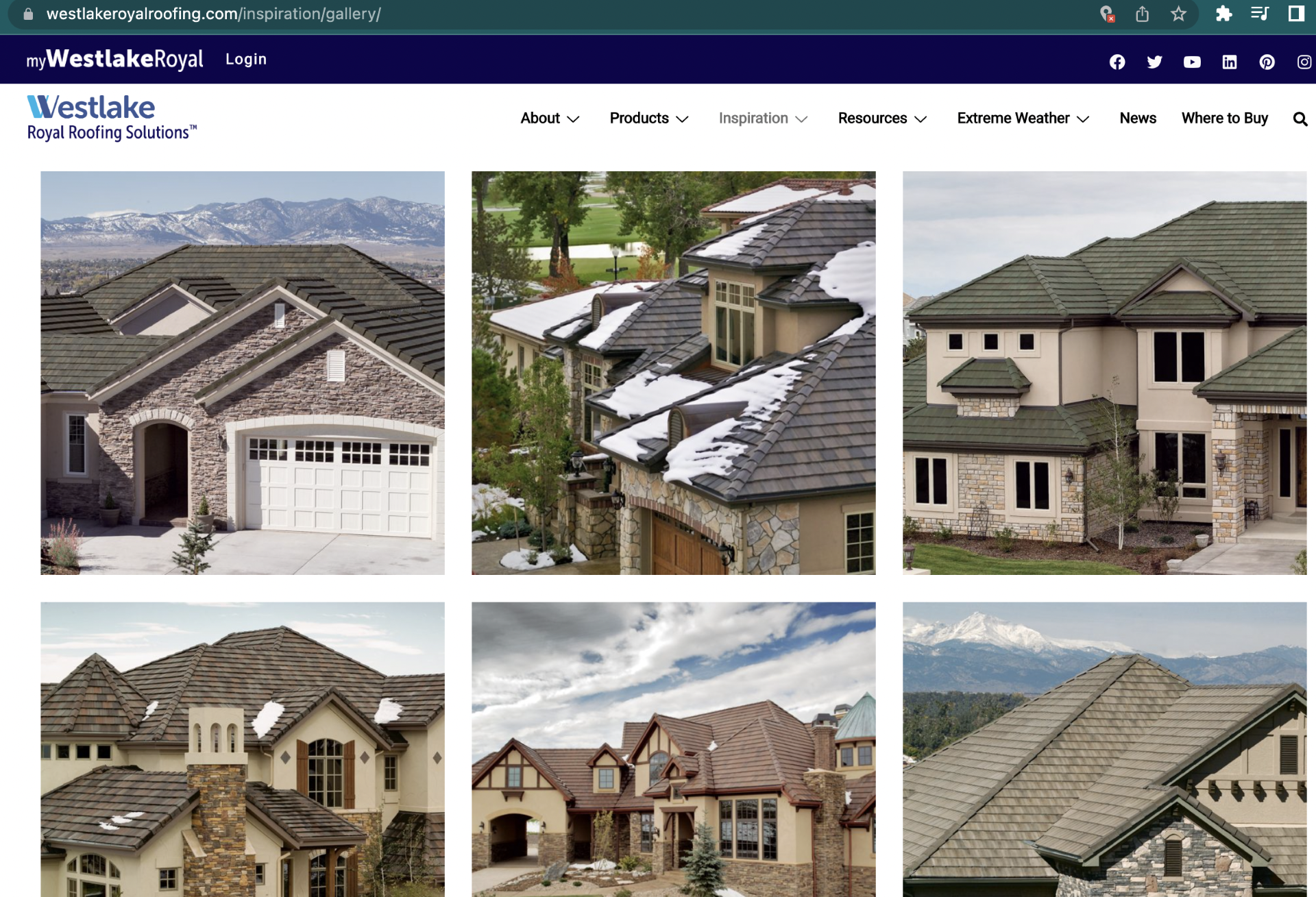 Visualization tools
The ability to visualize a roof can be incredibly helpful for contractors working with their clients on roofing projects. The Westlake Royal Roofing Solutions site includes three helpful visualization tools, each offering its own benefits:
Clay design-a-blend tool
The clay design-a-blend tool provides an easy way for contractors to create and visualize custom color blends for U.S. Tile® Clay Roofing Products. The intuitive online tool allows users to identify preferred installation styles, realistic colors and personal blending preferences for the home or project. A regular or staggered deck installation type is selected followed by pan color, and, finally, tile color. Users click on the deck to view results and may also view the blend results on a four times larger deck, save a .png to their desktop for CAD renderings, print or email to clients or others for review. Explore the clay design-a-blend tool here.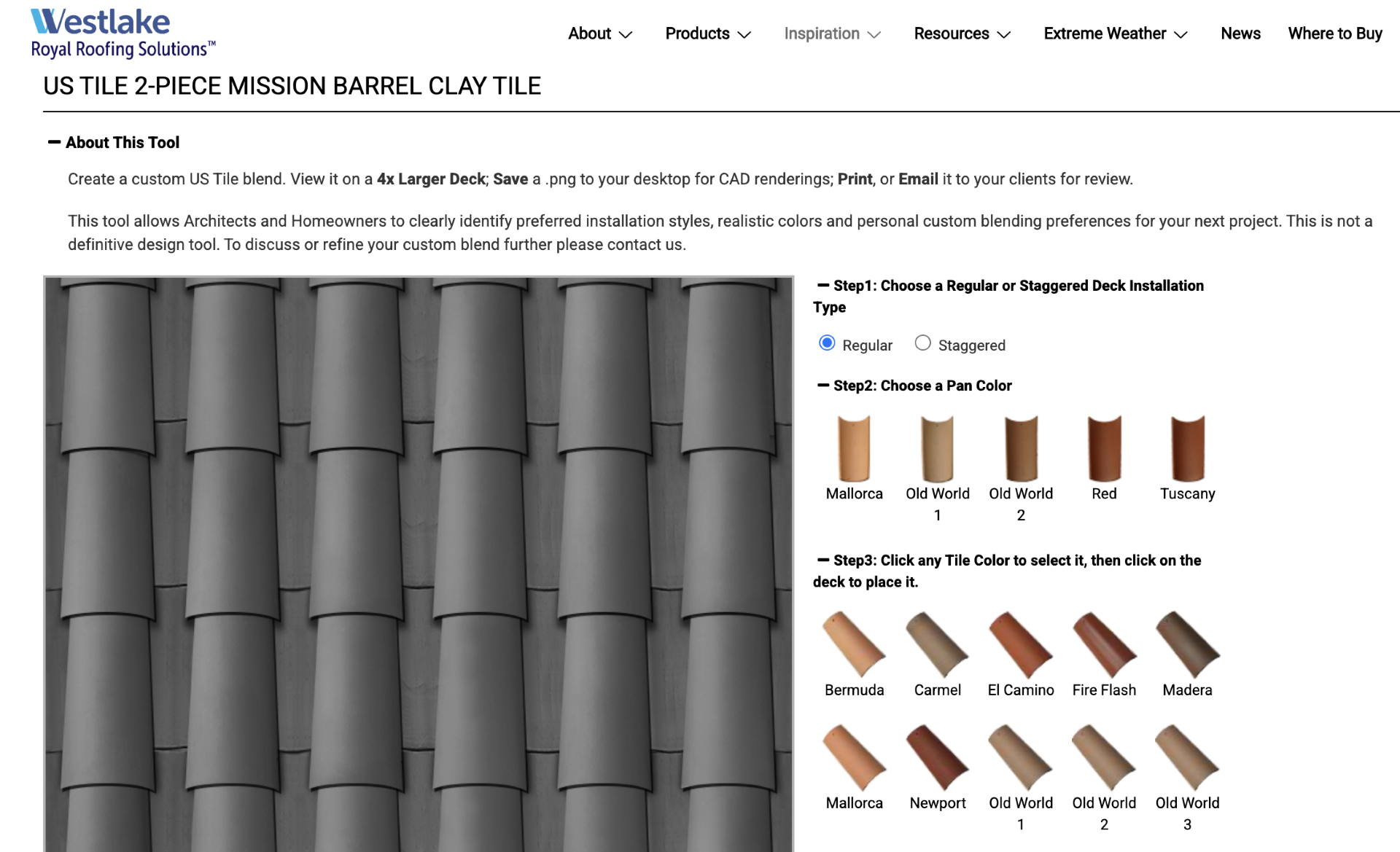 Dream home visualizer
The dream home visualizer is an interactive design tool that allows contractors, builders, remodelers and homeowners to visualize the exterior of a home with a multitude of different roofing material and trim options. The tool matches the user with energy efficient, resilient roofing materials available in his/her/their region and a comprehensive design report may be created and shared. No special photo editing skills are needed. The intuitive, stress free visualizer enhances both the design and buyer experience. Product samples may be ordered directly through the tool and it also offers optional custom design services for a more tailored experience. Experience the dream home visualizer here.
Westlake Royal immersive experience
The new Westlake Royal immersive experience is an online 3D interactive tool that allows users to explore product, color and texture options for enhancing the exteriors of three unique homes with different price points. The tool's avatar introduction provides an overview of each home and product selections where users can interact and select key hotspots to learn about product details and color options. Users can easily travel around the front and rear elevations of the home, engaging with different interactive features along the way. Roofing contractors using the tool are able to view and select Unified Steel Stone Coated Roofing options to view on the homes, along with a boundless array of additional materials available from Westlake Royal Building Products. Explore the Immersive Experience here.
Extreme weather resources: Hurricane, hail, fire
As the world's climate continues to warm, severe storms and weather events are increasing in both frequency and intensity. It is more important than ever that roofing systems provide increased resistance and protection for homes and their inhabitants. As such, Westlake Royal Roofing Solutions has introduced a series of extreme weather resources for both contractors and the homeowners they serve.
Document library
The Westlake Royal Roofing Solutions website features an expansive document library where contractors are able to source and review all the materials they need for U.S. Tile® Clay Roofing Products, Newpoint™ Concrete Roof Tile, Unified Steel™ Stone Coated Roofing, and Westlake Royal™ Roofing Component.
Unified Steel contractor portal
Designed to assist contractors in their customer marketing of Unified Steel Stone Coated Roofing, this online portal is easily accessible via login. Contractors can easily select from a variety of predesigned marketing items - including signs, banners, flyers, brochures, door knockers, direct mail programs, digital marketing and promotional branding – and then order them for use. All ordered items will be cobranded with the contractor's company. Contractors can register to use or log into the Unified Steel contractor portal here.
About Ann Iten
Ann Iten is director of marketing for Westlake Royal Roofing Solutions, a leader in resilient and efficient roofing systems and solutions. Visit the company's new website at www.WestlakeRoyalRoofing.com.